The best apple picking near NYC
Go apple picking near NYC at these sweet local farms and orchards—it's a fun activity the whole family will love!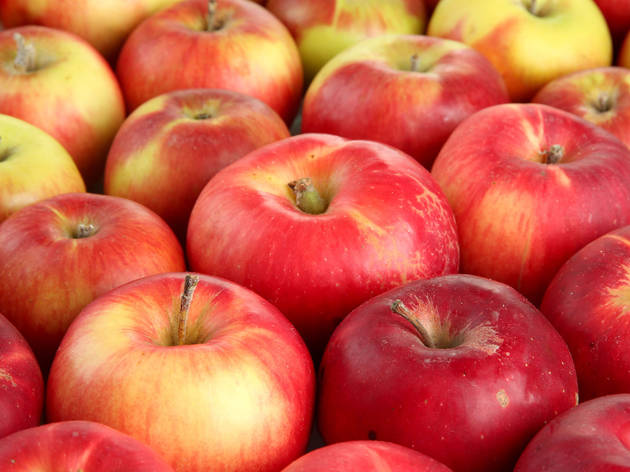 Get in on some great apple picking near NYC! Cooler temperatures mean sweater weather, hot cups of tea, back-to-school season and—of course—apple season! We're so lucky to live within reach of some of the area's best apple orchards in NY, so why not rent a Zipcar or head out on Metro North/LIRR to get in on some autumnal fun? Just be sure not to bring more than you can manage back with you—you'll find that your kiddos can pick fruit and ride in that wagon forever, but when it comes time to haul their findings home, you'll be left (literally) holding the bag.
RECOMMENDED: Full guide to where to pick your own fruits and vegetables near NYC
Looking for inspiration on where to find the best apple picking near NYC? Browse our list for sweet family recommendations, including apple picking in CT, apple picking in NJ, apple picking in PA and the best apple picking NY has to offer (because duh, New York's pretty cool). Beyond your usual apple picking opportunities, many of these wonderful farms also offer things like petting zoos, photo op areas, cider mills, hay rides and even pumpkin patches later in the season. Apple varieties available vary depending on the month, so be sure to call ahead to confirm what fruits are currently on offer. For additional info on apple picking in NY and the surrounding area, visit nyapplecountry.com or pickyourown.org.
Apple picking NJ
Alstede Farms
When it comes to great apple picking near NYC, families want the best. This Garden State homestead has a lot more than apples to pick from (though it's got plenty of those)! Visitors can load up on peaches, pumpkins, Indian corn, blackberries and raspberries throughout the fall. For Farm Family Fun, little ones run wild in a bouncy house, take a pony ride, go on a wagon train ride, hop along at the bunny run and trot along the new goat walk. There's also a cornucopia of corn activities, including a maize maze and a corn kingdom (like a ball pit, but filled with corn and toys). All those ears will probably make folks hungry—so reward the whole family with homemade ice cream, flavored with bounty from the farm. 1 Alstede Farms Lane, Chester, NJ (908-258-6245, alstedefarms.com). Daily 9am–6pm through end of October. Apples $2 per pound, pumpkins 65c per lb. Admission Mon–Thurs 9am–11pm free, Mon–Thurs noon–6pm $6, Fri 9am–6pm $6, Sat, Sun 9am–6pm $7.
Battleview Orchards
In operation since 1908, this orchard, country farm and bakery has everything you need to start fall off perfectly. At Battleview this year, 14 varieties of apples are ready for picking and feature varieties such as Fuji, Rome Beauty and Granny Smith. Pick your own gourd at their pumpkin patch (open Sept. 23–Oct. 29) or visit on a weekend for a hayride through the countryside (starting Sept 30). Battleview's country store offers fresh pressed apple cider, apple cider donuts, pies, breads and seasonal fruits and vegetables, and it also features specialty gift baskets and boxes that you can customize yourself. 91 Wemrock Rd, Freehold, NJ 07728 (732-462-0756, battlevieworchards.com) Country store 9am–6pm daily. Apple picking times vary based on the variety of apples. Please call ahead to confirm hours and supply. Apples $1.40/lb. Cash Only.
Demarest Farms
Demarest Farms' PYO won't disappoint—you can pick your own apples, peaches and pumpkins, depending on the season (August through October is prime time for picking). It's also a great place to cruise through a corn maze, sip freshly pressed apple cider, taste local ice cream, grab a handful of Indian corn to decorate the house and pick up seasonal flowering plants like mums. 244 Wierimus Rd, Hillsdale, NJ (201-666-0472, demarestfarms.com). Mon–Sun, general farm hours 8am-6:30pm. Apple picking begins Sept 2, apple picking hours Mon–Fri 3–4:30pm, Sat, Sun and holidays 9am–4:30pm. $7 entry fee, which includes a hay wagon ride, petting zoo, adventure playground, wooden playsets, crooked house village and corn box; plus $10 for bag for your apples, holds approximately 10lbs.
Giamarese Farm & Orchards
For over seven decades, this 32-acre farm, which prides itself on being GMO-free, has been serving the East Brunswick community. Giamarese offers tons of seasonal fun, including Fall Harvest Weekends featuring Hayrides, a corn maze, pony rides and lots of cute farm animals. You can also visit their pumpkin patch and pick your own pumpkins. Stock up on goodies at their farm market which has a wide variety of seasonal fruits and vegetables, baked goods, jams and more in stock. Stop by from Thanksgiving to Christmas Eve to choose and cut your own Christmas tree, when various spruces and firs will be available.
155 Fresh Ponds Road, East Brunswick, NJ (732-821-9494, giamaresefarm.com) Pick your own Tue–Sat 10am-6pm, Sun 10am–3pm through Columbus Day. Free admission, prices vary per individual activity. Call ahead for pricing and seasonal apples.
Hillview Farms
At this Central Jersey farm, fill your barrel with Cortland, Empire, Fuji and Granny Smith, or sweeten the pot with in-season peaches. Kids love the tractor rides that start in late-September and run through the top of the orchards to picking areas, and in October, families can pick their jack-o'-lanterns and enjoy a bumpy hayride on weekends only for an extra fee. At the nearby roadside market, visitors can load up on fresh produce, and homemade doughnuts, apple cider and pumpkin pies. 223 Meyersville Rd, Gillette, NJ (908-647-0957). Daily 9am–6pm through late Oct. Pricing varies.
Sun High Orchard
Kids can pick their own apples beginning September and then take a breather from their harvesting duties by playing checkers or Candy Land by a beehive oven. A slice of fruit pie baked right in the oven will sweeten the whole deal. On the weekends, hop on for a hay ride around the farm, or meet its furry residents, including sheep, rabbits, ducks, donkeys and Jersey Gold, the lovable alpaca. Head home with armfuls of fresh produce, crafts and baked goods. 19 Canfield Ave, Randolph, NJ (973-584-4734, sunhigh.com). Daily 9am–6pm until late October. Pricing varies.
Terhune Orchards
Right around the corner from Gary and Pam Mount's main farm, the couple's Van Kirk Road Orchard is ideal for apple picking, with dwarf trees planted in blocks so that they're easy to find and plunder (no ladders or poles necessary). On Tuesdays, children ages four to eight are invited to Read and Pick events, where they'll hear stories about a fruit or vegetable, then select their own ($7; includes fruit of season). Guests can also meet farm animals, get lost in a corn maze, take wagon rides, visit the theme story barn—and, naturally, pick plenty of apples and pumpkins. Wooded trails and the barnyard (filled with sheep, goats and ducks) are open year-round. And for mom and dad, there's the Terhune Orchards Vineyard & Winery tasting room, where adults can taste award-winning wines grown on the farm. 330 Cold Soil Rd, Princeton, NJ (609-924-2310, terhuneorchards.com). Opens last week in August, daily 9am–5pm through October. $1.69/lb.
Wightman's Farms
Think your kid has mastered corn mazes? The Wightman family—which started this homestead in 1922—has a plethora of labyrinths, including a crawl maze, giant hay maze, pipe maze and a challenging rope maze (kids under 7 can play in the Kiddie Corn Pit, a giant corn-filled sandbox.) After plucking some peaches and Granny Smiths, swing by the market for healthy produce and not-so-healthy homemade apple-cider doughnuts. 1111 Mt. Kemble Ave (Rte 202), Morristown, NJ (973-425-9819, wightmansfarms.com). Sat, Sun 9am–5pm through October. PYO Club $15 pick-your-own per family of 5, includes two reusable bags, coupons for the farm and water bottles, valid June through October.
Apple picking PA
Solebury Orchards
The 80-acre orchard has amassed a devoted following—not just for its bountiful apples, flowers and pumpkins but also for its legendary cider. Winesap, Braeburn and Fuji apples are up for grabs in the pick-your-own area, or choose pumpkins from the farmers' market. Leave time for a leisurely drive through scenic Bucks County. 3325 Creamery Rd, New Hope, PA (215-297-8079, soleburyorchards.com). Apple picking (approx) August 20–Nov 6. Apple picking hours: Thu–Sun 9am–6pm.
Weavers Orchard
Visit Weavers Orchard, located in beautiful Berks County (south of Reading) for pick-your-own apples, blackberries, blueberries, cherries, kiwiberries, peaches, pears, plums, pumpkins, raspberries and strawberries. Weavers generally has apples on offer beginning in August, so if you waiting on the season's first cool day, the orchard might be a winning day trip for all; check out wristband rules, new in 2017, on the farm's website. Weavers also has cider in the year-round farm market, alongside a bakery and deli. On Mondays and Wednesdays through the end of August, kids can attend Read and Pick Story Time ($5) to hear a story about an in-season fruit and then head out to the orchard to pick it! Bonus for parents: Looking to impress your partner? Get in on a cooking class inspired by seasonal fruits and vegetables. 40 Fruit Ln, Morgantown, PA (610-856-7300, weaversorchard.com). PYO Mon–Fri 7am–7pm, Sat 7am–5pm. $1.29 per lb for 24 lbs or more, $1.79 per lb for less than 24 lbs.