The best carousels in New York City
Visit these stunning carousels to ride a bunny, horse, dragon, fish or even a grasshopper round and round!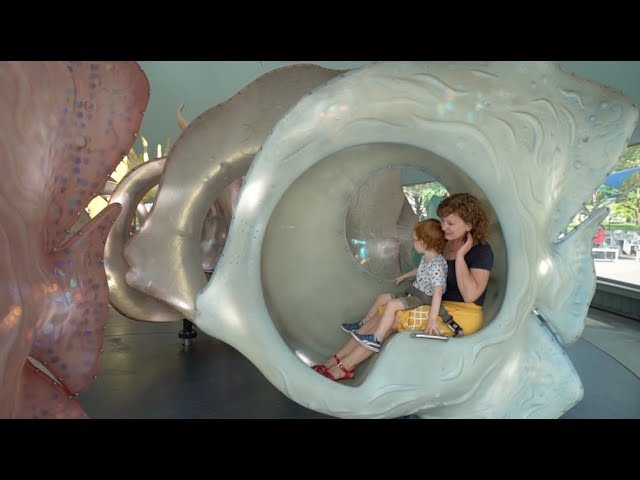 New York City's carousels are easily the world's best, some with intricate designs even dating back to the early 1900s! Kids will love the thrill of hopping on the beautifully painted ponies at Central Park Carousel, exploring the sea inside an iridescent fish at SeaGlass Carousel or hopping on an insect at the Bronx Zoo's Bug Carousel (eeek!).
RECOMMENDED: Full guide to outdoor activities for kids in NYC
Out and about already? Thought so. Take a detour and explore the best local kids' playgrounds, stop by some spectacular family attractions, visit these wonderful parks for kids or grab a mouth-watering scoop at one of our favorite ice cream shops.
Best carousels in NYC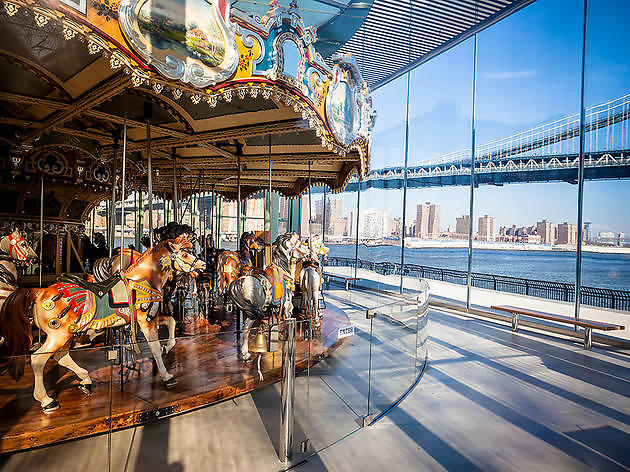 Jane's Carousel (Brooklyn Bridge Park)
Season opening date: Winter through May 14, Summer May 15 to September 17
Hours: Winter hours: Th–Sun 11am–6pm through May 10; Summer hours: 11am­–7pm daily May 11–September 27 (closed Tuesdays).
Price: $2 per ride; kids 3 and younger (or less than 42" tall) free if accompanied by paying adult; 12 tickets $20.
Crafted in 1922, Jane's Carousel boasts 48 hand-carved horses and two large chariots within a glass enclosure. It came to Brooklyn Bridge Park from Idora Park in Youngstown, Ohio! Children's birthdays can be hosted here on weekdays and weekends for $325–$375 (ten kids) and include unlimited rides for two hours.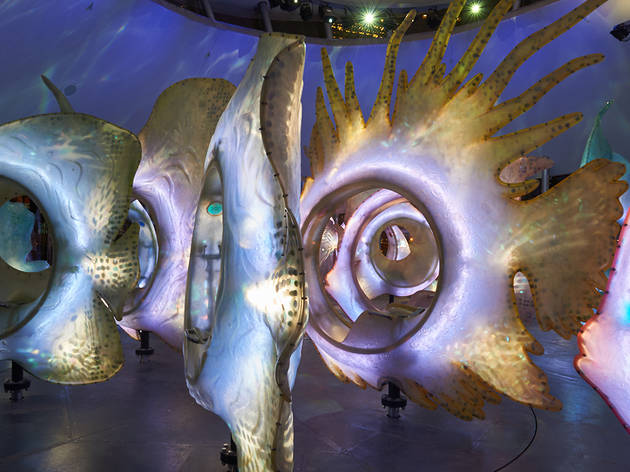 Season opening date: Open year-round
Hours: Daily 10am–10pm (weather permitting)
Price: $5 per ride
This giant nautilus shell houses 30 luminescent fish—a perfect pick for little mermaids! It was made to honor of The New York Aquarium at the Castle (closed in 1941) and features Angelfish, Clearfin Lionfish, Betta, Clown Triggerfish and more.
Read more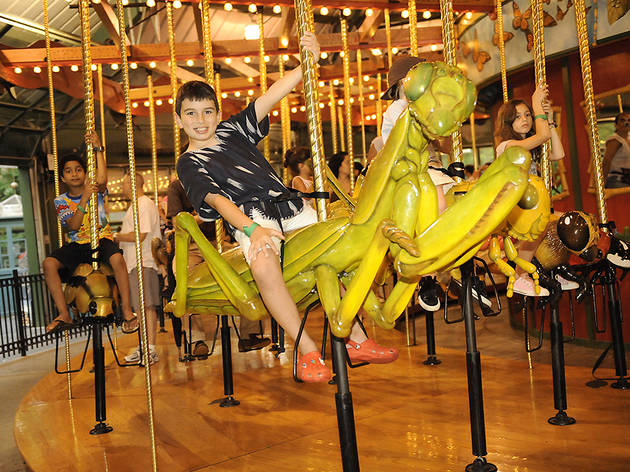 Bug Carousel (Bronx Zoo)
Season opening date: Open year-round
Hours: Mon–Fri 10am–5pm, Sat, Sun 10am–5:30pm, free Zoo admission Wednesdays.
Price: Zoo admission ($36.95, children 3–12 $26.95, children under 2 free) + 6 per ride
Why should ponies get all the fun? This Bronx Zoo attraction forgoes tradition and celebrates creepy crawlies with giant insects. Kids can choose among creatures like praying mantis, grasshoppers, caterpillars and even dung beetles. When the weather gets cold, these bugs (and their riders) stay warm: a glass enclousure surrounds the carousel.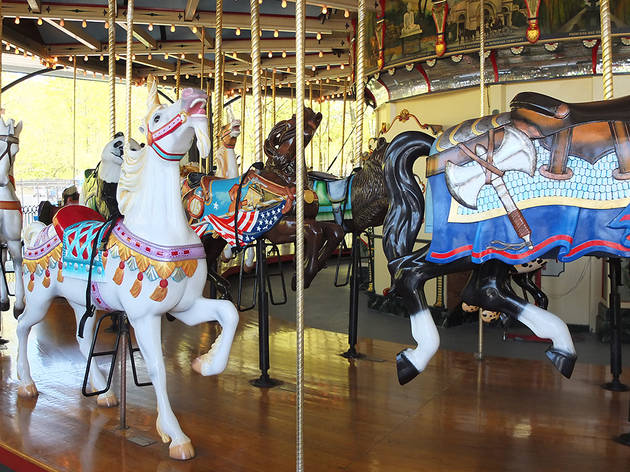 Carousel for All Children (Willowbrook Park)
Season opening date: May 6
Hours: Daily June–October 11am–5:45pm
Price: $1.50 per ride
Kids can choose from 51 hand-carved traditional wooden carousel horses, mythical beasts and even creatures like zebras, giraffes, panda bears and gorillas. The carousel's wooden structure boasts 40 hand-painted images of Staten Island and was built in 1957; it was originally located at the Midland Beach Boardwalk.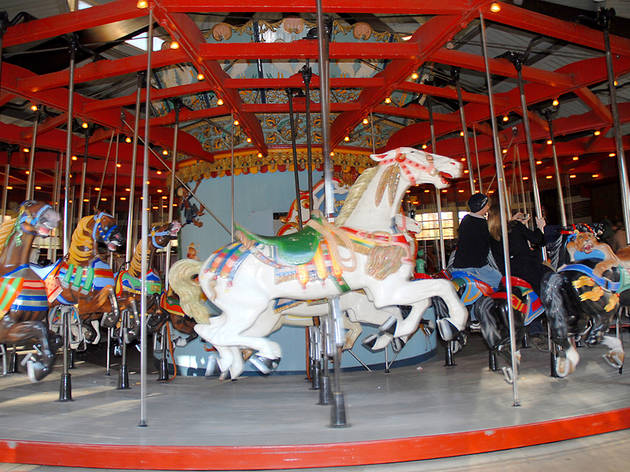 Central Park Carousel
Season opening date: Open year-round, weather permitting (November­­–March call before you go, 212-439-6900 Ext. 12)
Hours: Daily April–October 10am–6pm
Price: $3 per ride (cash only)
Since 1871, visitors young and old have flocked to Central Park to merrily "go-round" this carousel. Though the original ride—which was powered by a mule and horse hidden in a compartment under the attraction—has long been replaced, the current carousel (the park's fourth) too has a cool story. Created in 1908, the attraction was found abandoned in an old trolley terminal in Coney Island. It features 57 hand-carved horses and is one of the largest merry-go-rounds in America.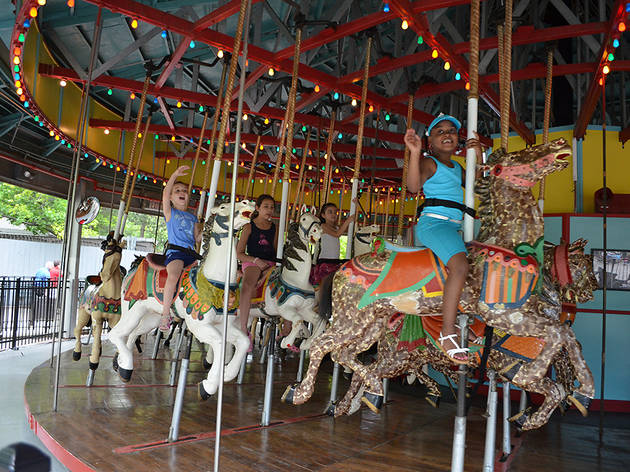 Flushing Meadows Carousel (Flushing Meadows Corona Park)
Season opening date: Daily May 2–Oct 11, Fri–Sun October 13–November 26.
Hours: Mon–Fri 11am–6pm, Sat, Sun 11am­–8pm
Price: $3 per ride
Located in the Fantasy Forest at Flushing Meadows-Corona Park, this carousel offers plenty of horses and chariots for pint-size guests. It was created for the 1963-1964 Worlds Fair by combining two Coney Island carousels.
Totally Kid Carousel
Season opening date: 2017 opening date TBA
Hours: Various times
Price: $1 per ride

Located in Riverbank State Park, Totally Kid Carousel is one of the only carousels in the world designed by children! Each animal (like an alligator, chihuahua, dragon, elephant, kangaroo...) was designed by a Riverbank Park neighborhood tyke.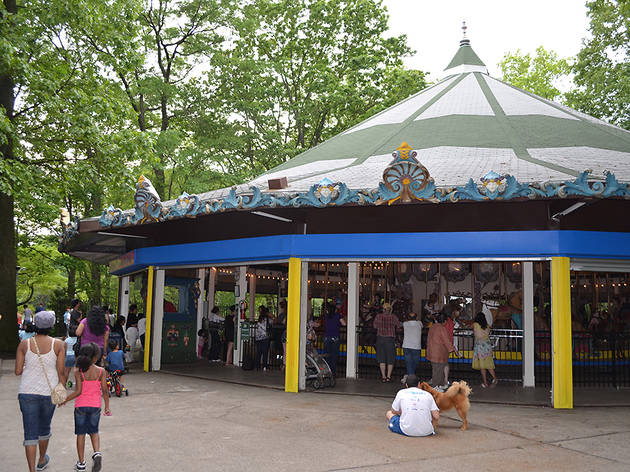 Forest Park Carousel
Season opening date: May 5–Nov 26, weekdays 11am–6pm, weekends 11am–7pm. May 6–May 28 and Sept 5–Nov 26 weekends only).
Hours: Various times
Price: $3 per ticket, 10 tickets for $23
This colorful carousel was carved by Daniel Muller in 1903 and has served as a showpiece in the park since 1973. It was originally commissioned for Lakeview, an amusement park in Massachusetts. As of 2013, the carousel stands as Designated Landmark of NYC.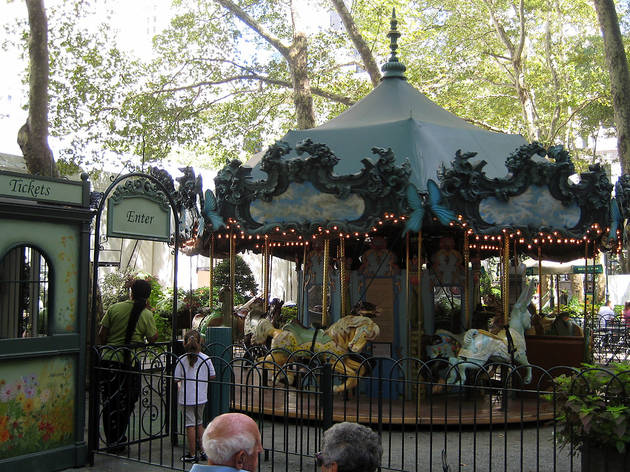 Le Carrousel (Bryant Park)
Season opening date: Open year-round

Hours: Various times
Price: $3 per ride; discount card $10 for 20 rides
Though certainly not in the running for biggest carrousel in the city, this charming ride is a true gem. Created with Bryant Park's French classical style in mind, the 14 animals (mostly horses, but also a few surprises like a rabbit and a fanciful frog) were crafted to blend traditional 20th century European designs with American traditions. The detailing around the canopy and center of the attraction is particularly elegant.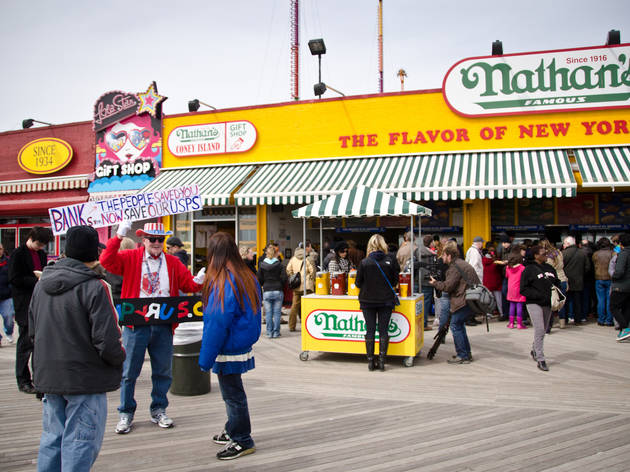 B&B Carousell Coney island
Season opening date: Various dates and times April 8–Oct 29
Hours: Various times May–October
Price: $3 (3 credits)

A signature ride at Coney both for its age and beauty, this early 1900s carousel features 50 hand-carved horses (36 move, the rest are fixed) and two chariots.