Heads up! We're working hard to be accurate – but these are unusual times, so please always check before heading out.
The best summer camps NYC kids love
Looking for summer camps NYC parents? We're here to help your kids have an amazing summer with these selections.
You're in luck: We found the best summer camps NYC kids love, so start taking notes, Mom and Dad!
Look no further than the city's coolest spots: your favorite family attractions, kids' museums in NYC and local parks. They have fun programs that'll teach little ones nifty skills, introduce them to new friends and explore the best parts of Gotham. (Truthfully, we'd sign up for these sweet deals if we could.)
Be sure to also have a look at our favorite day camps for kids, sleepaway camps and family camps if you want to get in on the action, too!
It's time to make summer 2020 one for the books!
Want your NYC or local camp considered for our features? Please review our submission guidelines here.
Summer camps NYC kids love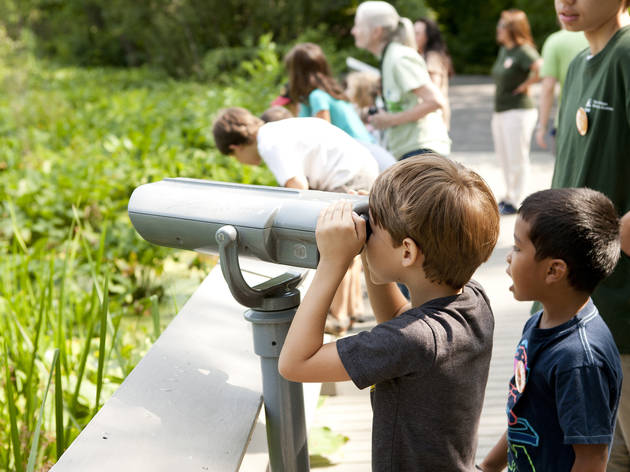 Your future biologist can step outside the classroom and into forests, wetlands and other ecosystems to learn about their function as well as their indigenous plants and wildlife. But don't overlook the range of creative-arts sessions, including one in which budding chefs harvest and cook veggies from NYBG's gardens and another in which blooming artists use a variety of media to explore nature. Grades K–8.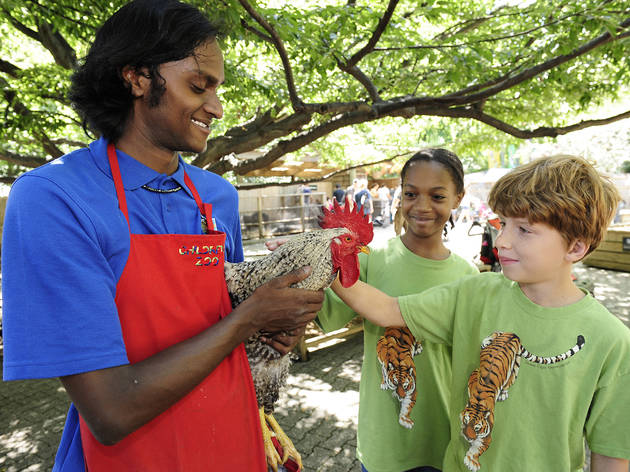 Animal lovers will rejoice at the chance to spend some quality time with the creatures and keepers at this beloved zoo. In July, there's a specialist after-camp program, "Little Zoo Vets" (third– fifth grade, additional $250 per week), in which campers shadow veterinarian Dr. John Sykes as he cares for everything from fish to walruses and tigers: The first session covers eyes, teeth and the upper gastrointestinal tract (GIT), while the second session is on ears, bones, the lower GIT and anesthesia. Grades pre-k–8.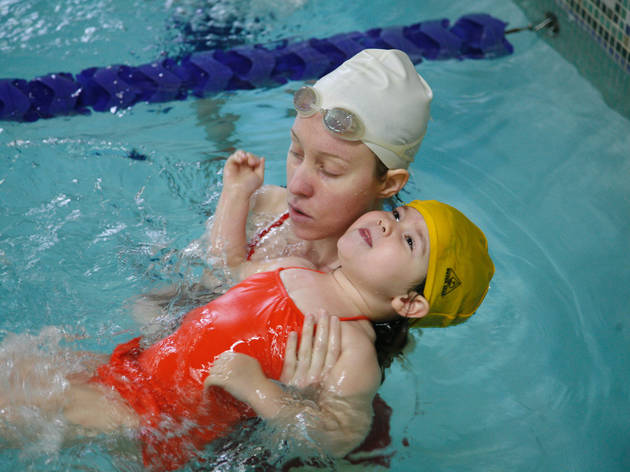 For those worried about sending their little one off to camp, 92Y offers a program created especially for preschoolers, which should make your teary goodbye easier to bear on the first day. Early childhood educators plan a variety of activities touching on music, science, movement and more. Tots can also splash around in 92Y's three pools under the supervision of Red Cross–trained instructors, and those staying till 1pm can participate in the soccer program—just for kicks. Ages 3–5.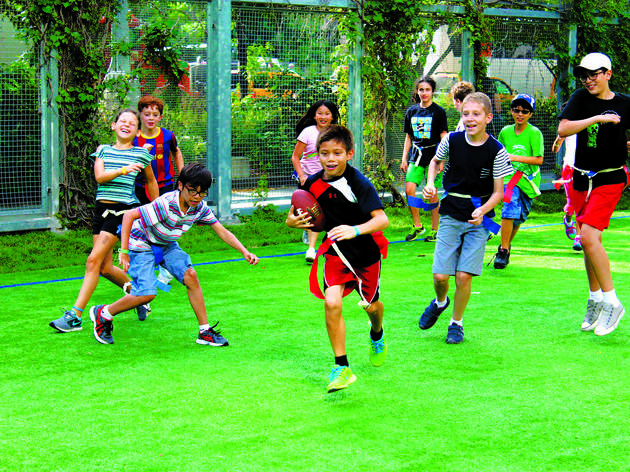 Your ball of energy can choose between a swim, sports or arts camp with expert instructors. Swimmers can tucker themselves out with endless pool time; young athletes will be in their element as they play basketball, tennis and other team sports; and creatives can express themselves in many media, including the circus arts and film. Each program includes exciting weekly field trips that'll appeal to all, such as a Mets game or rock climbing at the Cliffs in Queens. Ages 4.5–13.
For those youngsters who can't resist an American Ninja Warrior marathon, this offering is a kid- friendly version of the reality show, complete with fun obstacles in a safe environment. Campers will take breathers during the day to enjoy lunch and recreational activities before embarking on an athletic challenge. Ages 7–13.
Give your little metropolitans the gift of nature this summer! These hands-on day camps encourage kids ages 2 through 10 to get down and dirty planting seeds and sprouts while playing in a verdant setting. Sixth- to ninth-grade naturalists will be challenged to think about sustainability and the importance of ecosystems as the class forages for edible plants and learns to identify various wildlife. Ages 2–15.
Mathematics might get a bad repin school, but MoMath makes the subject a whole lot more interesting, especially when there's no homework or tests! Campers are divided by grade level: the Epsilons (first to third grade) and Deltas (fourth to sixth grade). Throughout the week, they tackle creative projects and interactive programs while exploring new and unfamiliar areas of the field that often aren't taught at school. When it's time to refuel, the groups venture across the street to Madison Square Park for lunch, weather permitting. Ages 6–12.
Where better to fine-tune your young creative's skills than at one of the best museums in the country? Two educators guide each 25-kid class through a project that teaches design vocabulary and a four-step design process: defining problems, generating ideas, prototyping and testing. Visits to galleries and exhibitions are included, as are fun outdoor activities. At the end of each weeklong session, students display their work in an open exhibition. (Campers must bring their own lunch and snacks.) Ages 6–13.
At this camp, kids will get a taste of college life a few years ahead of schedule. Manhattan College opens up its quaint campus to youngsters looking to explore new areas that might not necessarily be on their school's syllabus. Educators across the Bronx gather for the summer to help campers tackle coding, moviemaking, photo editing and many more exciting subjects. Ages 6–12.
10. City Sail Summer Camp
It's easy to forget that New York is a city of islands, and that's where Hudson River Community Sailing steps in. During weeklong sessions, participants spend their afternoons out on the water. They don't need to know the difference between a square knot and a reef knot yet to join in on the fun—all skill levels are welcome. Plus, the boat size (which is capped at five people) allows for individual care. Pier 66, Chelsea. June 29–Aug 28. • Dyckman Marina, Inwood. July 20–Aug 14. • hudsonsailing.org. Mon–Fri 9am–4pm; $595/week. Sibling and multiweek discounts as well as scholarships available. Early drop-off $100/week, late pickup $100–$175/week. Ages 9–16.
11. New York Hall of Science Design-Make-Play Innovation Camp
Ever wonder exactly how we function? Campers can explore the mind-blowing science of the human body during this weeklong session courtesy of the New York Hall of Science's Design-Make-Play Innovation Camps. Your wee anatomists will learn about the digestive and respiratory systems—they'll even make a model lung!—as well as how our immune system defends itself from infections. Bonus: All participants receive a complimentary six-month student membership to the museum! Other camps occur throughout the summer for a range of ages. New York Hall of Science, Corona (nysci.org). July 20–24 9am–3pm; $400. Sibling discounts available. Ages 6–7.
12. Brooklyn Children's Museum Camp
Although the Brooklyn Children's Museum's Summer Camp meets in P.S. 189 the Bilingual Center, that's just its base of operations from which kids can explore the city. Campers will spend time with the institution's 30,000-piece collection of artifacts and specimens, but they'll also go on field trips to encounter art, culture and science. Bonus: Breakfast and lunch are included! Registration runs from Feb 28–Apr 17. Crown Heights (brooklynkids.org/education/summer-camp). July–Mid August: Mon–Fri 8:30am-5:45pm, specific dates TBA. Ages 6–12.
Consider the NYC Parks Experience Summer Day Camp to be one more reason to love your local green space: The seven-week adventure turns parks across the five boroughs into a summer of fun. Kids can golf, swim, fish with Urban Park Rangers, play tennis, develop STEAM skills and other activities. Spots are awarded by lottery, so be sure to register online from March 6 to 15. Various locations (nycgovparks.org/reg/summercamp). July 6–Aug 21: Mon–Fri 9am–5pm; $500. Extended days available. Ages 6–13.
New York's largest day camp, which divides children by grade level, is gearing up for a spectacular 2020 season, complete with a generous helping of indoor and outdoor activities such as basketball, crafts, GaGa, fashion design, rock climbing, laser tag, science experiments and many, many others. Swimming takes place on a daily basis, while field trips to local attractions (the Intrepid Sea, Air & Space Museum and Brooklyn Cyclones games, for example) happen weekly. To be honest, we'd sign up for this sweet deal if we were eligible. Mill Basin (millbasindaycamp.com). Various dates June 29–Aug 21: Mon–Fri 9am–4:10pm, preschoolers 9am–3:10pm; $2,250–$2,850. Extended hours available. Grades pre-K–9.
15. Queens College Education & Sports Camp
Queens College Summer Camps give children an early taste of campus life. Separated by age group, the education-and-sports program splits each day between academics and athletics. The mornings start with subjects like literature (reading and writing) and STEM (basic math), and the afternoons are full of alfresco activities: basketball, soccer, tennis and volleyball for the youngsters, as well as relay races, parachute games and an introduction to soccer for the tots. Queens College, Flushing (queensknights.com). June 29–Aug 21: Mon–Fri 9am–4pm; $1,000–$3,575, registration fee $250, extra-hours fee $50. Ages 5–14.
Make the most of the warm weather on Governors Island. Play:groundNYC offers 11 weeks of activities at the Yard, the island's 50,000-square-foot playground that's chock-full of cool materials (think cardboard, rope, wood planks and tires) for kids to tinker with to their heart's content. Budding engineers and artists will discover how to use new tools and customize a project, both solo and with the help of friends. Plus, they'll get to explore the rest of NYC's favorite summer spot! The Yard, Governors Island (play-ground.nyc). June 22–Aug 28: Mon–Fri 8:30am–3pm; $625/week. Aftercare available. Ages 6–12.
17. Brooklyn Music Factory
Two Kings County powerhouses join forces for a rockin' summer! Brooklyn Music Factory kicks off its weekly sessions by exercising kids' creative muscles in a recording studio. After a morning spent playing the guitar, drums, the keyboard and other instruments, campers will flex their actual muscles via rock climbing and playground visits with Brooklyn Boulders. At the end of each week, parents can tune in for a special performance. Gowanus (brooklynmusicfactory.com). One-week sessions July 6–Sept 4: Mon–Fri 9am–3:30pm; $695/week, extended hours $100–$150/week. Ages 4–12.
More summer camps for kids
Related summer camp stories