Election day events
By Raven Snook Tue Nov 4 2008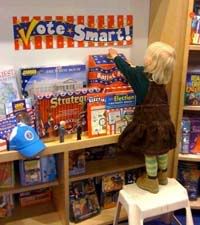 Yay! The polls are finally open. Yikes, the kids are off from school, and after taking them to the voting booths you're not sure what you're going to do with them. Before you gripe that Election Day should be renamed Election Minute, check out these special November 4 activities that will keep you busy for a while … if not until the results come in.
After watching you make your Presidential pick, minors can make their own major choice at Kids Get Out the Vote at the Scholastic Store. In addition to casting their ballot for the country's next commander in chief, they can enter to win a prize package filled with books, toys and games. And of course you can always exercise your right to buy them a little something too.
FREE Kids Get Out the Vote Tues 4 10am-7pm. The Scholastic Store, 557 Broadway between Prince and Spring Sts. Subway: N, R, W to Prince St.; 6 to Spring St. For more information, visit scholastic.com.
In honor of 2008's multicultural election, remind your progeny of New York City's melting pot roots with an Election Day Kids' Tour of the Lower East Side. Jeffrey Altman intertwines immigrant tales with stops at the nabe's historical highlights, including the Chasam Sopher synagogue and a legendary matzo bakery. Bring extra cash in case you elect to eat some starchy treats along the way.
Election Day Kids' Tour of the Lower East Side 10:30am. Meet at E Houston and Forsyth Sts. Subway: F, V to Second Ave. $23. Ages 9 and up. For more information, visit lovereastside.com.
The history lesson continues with the Newcomers to New York Family Tour. Participants get an up-close look at famed Lower East Side landmark the Eldridge Street Synagogue and, in honor of Election Day, folks of all ages are invited to weigh in on a number of historical dilemmas faced by congregations of the past, including membership issues and the upkeep of the 19th century institution.
Newcomers to New York Family Tour 1pm. Museum at the Eldridge Street Synagogue, 12 Eldridge St between Canal and Division Sts. Subway: B, D to Grand St.; F to East Broadway. $10, children under 13 $6. For more information, visit eldridgestreet.org.
For the preschool set, the whole concept of Election Day may be a bit vague (although they do enjoy pushing those levers!) School them in the electoral process with a special episode of WordGirl, premiering on PBS at 4:30pm, in which protagonist Becky Botsford runs for fifth-grade class prez. Tots will be introduced to words such as "elect" and "candidate." For trickier verbiage like "pundits" and "carpetbaggers," you're on your own.
Wordgirl 4:30pm on PBS. Fore more information, visit pbskids.org.
Share your thoughts