The Armory Show guide
Here's everything you need to know about the Armory Show, New York's biggest and most exciting international art fair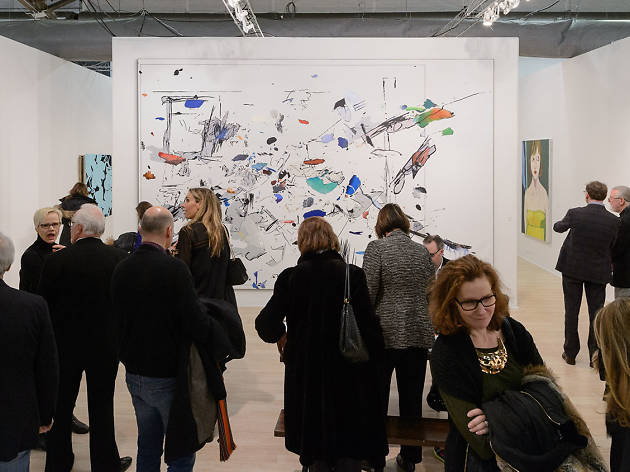 The Armory Show is one of the art world's biggest international art fairs, rivaled only by Frieze New York and the anchor for the city's Armory Arts Week, during which some seven different art fairs set up shop in New York. The Armory Show's roots go back to 1995, a time when the market for contemporary art was at low ebb. In an effort to jump-start business, a group of Soho art show dealers—Colin de Land, Pat Hearn, Matthew Marks and Paul Morris—organized the Gramercy International Art Fair, named after its initial location at the Gramercy Park Hotel, where exhibitors showed their wares in the hotel's rooms. The idea took off, and in 1999, the event moved to the more spacious 69th Regiment Armory on Lexington Avenue. It was there that the legendary Armory Show of 1913 introduced modern art to America, and in homage to that watershed exhibit, the Gramercy International Art Fair renamed itself the Armory Show. The fair moved to the West Side Piers two years later, and in 2009 started a spin-off, The Armory Show-Modern, a section devoted to 20th century master artworks. Some 200 art galleries from 30 countries are taking part in this year's festivities. If you want a comprehensive look at the latest trends in contemporary art, a visit to the Armory Show is a must.
When is the Armory Show?
The Armory Show runs from March 8, 2018 to March 11, 2018.
Where is the Armory Show?
The Armory Show takes place at Piers 92 & 94 , 711 Twelfth Ave (W 55th St & the West Side Highway).
How do I get tickets to the Armory Show?
Tickets can be purchase on line at the Armory Show website or at the fair entrance.
What's the best way to get to the Armory Show?
Take the C, E to 50th St; M12bus to Twelfth Ave/W 54th St.
Archive Armory Show content