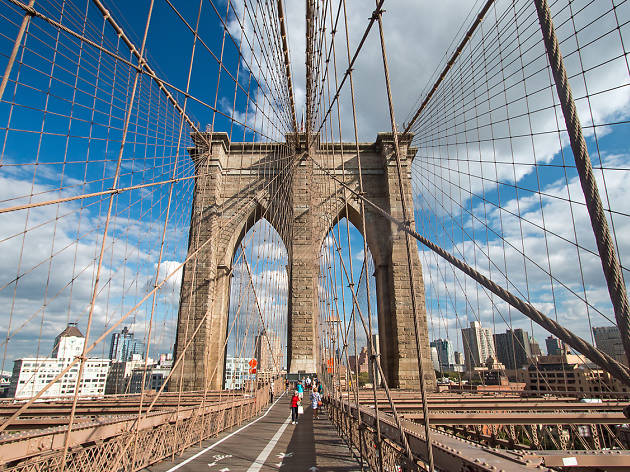 The best time of year to visit the biggest New York attractions
Avoid unnecessary crowds with our guide to the best time of year to visit the biggest New York attractions
Wading through the slog of pedestrians in Times Square on December 31 is a hopeless proposition. Likewise, attempting to walk across the Brooklyn Bridge in the middle of summer vacation season isn't going to be any fun. Sightsee smarter with our guide to the best time of year to visit the biggest New York attractions. Whether you're dying to experience Christmas in New York, want to spend a peaceful afternoon at the Metropolitan Museum of Art or absolutely need to see one of the best Broadway shows in NYC, we've got you covered.
RELATED: Full guide to New York attractions
Summer
The vast galleries of New York's most encyclopedic art museum are a wonderful place to spend the day anytime of year, but the air-conditioning is especially welcome during the sticky summer months. Once you've had your fill of antiquities, head upstairs to the summer-only rooftop for a drink and a look at this year's newest art installation. The museum also hosts its star-studded Met Gala each year in early May, though most of us would never be able to score an invite. Still, the Costume Institute usually puts on an exhibit to accompany the gala. Us plebeians can still admire the couture during regular museum hours.
Hordes of green thumbs and amateur photographers flock to the New York Botanical Garden each spring for its admittedly breathtaking orchid show. But summer isn't too shabby, either: Colorful posies bloom all over the lush grounds. Bring a picnic to enjoy in the Clay Family Picnic Pavilion, then spend an afternoon wandering the 250-acre lawns and gardens. The garden also hosts summer concerts and a solstice celebration that featured yoga, poetry readings and live music this year.
As Luna Park only opens from April through October each year, roller coaster enthusiasts have no choice but to go during the peak summer season. It also happens to be the most fun time to be on the boardwalk. After you ride the 90-year-old wooden Cyclone and heart-pumping Thunderbolt, grab an Italian ice and walk along the beach to cool down.
Looking for more sightseeing tips?
Guided tours aren't just for the most well-known New York attractions: They can also give you a behind-the-scenes look at what some call the "secret New York."