Coney Island Mermaid Parade guide
Mermaids, mermen and other creatures covered in glitter proceed down Surf Avenue during the Coney Island Mermaid Parade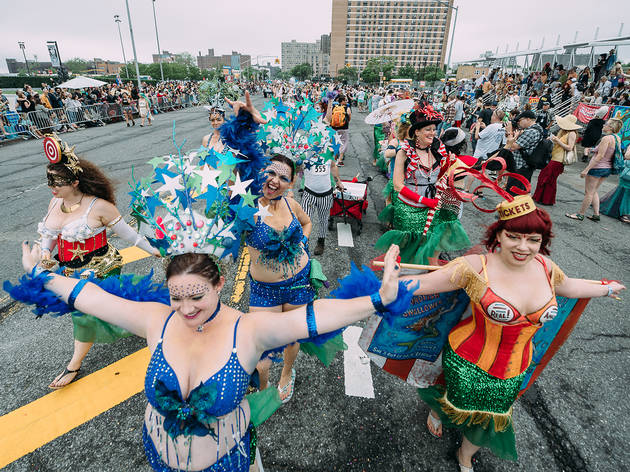 Stock up on glitter and nautical attire: The Coney Island Mermaid Parade returns to one of the best Brooklyn attractions for its 37th year. Thousands of spectators flock to Surf Avenue—Coney Island's main drag—to watch King Neptune and Queen Mermaid lead a procession of beglittered semi-nude marchers in costumes during one of the best NYC events in June. The annual event, started by Coney Island USA founder Dick Zigun in 1983, has become a neighborhood mainstay ever since. Read on for everything you need to know about the event from how to join, where and when the parade starts and more. Don't miss your chance to enjoy a whimsical and wild afternoon at one of the best New York beaches!
RECOMMENDED: Full guide to Coney Island in NY
What is the Coney Island Mermaid Parade?
Half-naked mermaids and mermen and other creatures covered in glitter and scales invade the streets of Coney Island for this annual bacchanal by the sea. Leading the procession this year? Musicians Nora Guthrie as Queen Mermaid and Arlo Guthrie as King Neptune.
When is the Coney Island Mermaid Parade?
The Coney Island Mermaid Parade takes place Saturday, June 22, 2019 at 1pm.
Where is the Coney Island Mermaid Parade?
The Mermaid Parade begins at Surf Avenue and W 21st Street, traveling along Surf Avenue and the Boardwalk before ending at Steeplechase Plaza. For the best chance of getting a good spot, show up by 11am. Or if you're willing to shell out $200, you can become a Coney Island USA member and snag a spot in the covered Judge's Stands.
How can I participate in the Coney Island Mermaid Parade?
You still have time: There are various registration levels—for families, "artsy marchers," antique cars and more—and different fees apply for each one. All the details are available at Coney Island USA's website. Be sure to stop by one of our favorite costume stores beforehand to get all the supplies you'll need for a glitzy, glittery outfit.
Coney Island Mermaid Parade
Archive Coney Island Mermaid Parade coverage