Heads up! We're working hard to be accurate – but these are unusual times, so please always check before heading out.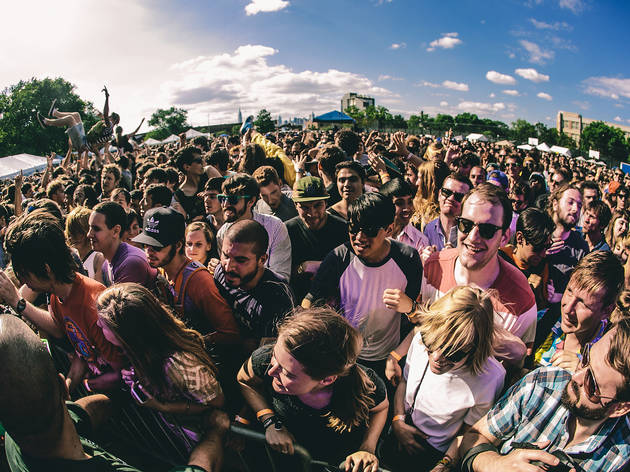 30 things that made NYC rule in 2016
As the year comes to an end, we award the magical moments and places that made life in New York City rock in 2016
2016 has had its ups and downs (and downs and downs), but that didn't stop the city from killing it this year. So let's toast for the best things we saw, ate and generally were amazed by in the last twelve months. For more 2016 love, check out the best music videos of 2016, best TV shows of 2016 and the best new artists of the year.
RECOMMENDED: Full guide to the best of 2016
30 things that made NYC rule in 2016
Alamo Drafthouse Cinema
After years of delays, this Austin import, a film geek's paradise, finally hit Brooklyn in October. And it was worth the wait, with seven crystal-clear screens and booming sound, a cocktail bar, a vinyl shop and that chain-famous queso and chips. What has us most excited, though? Alamo's strict no-talking-and-texting policy: Two infractions, and you're kicked out. Some rules were made not to be broken.—Joshua Rothkopf
445 Albee Sq West #4, Brooklyn (718-513-2547, drafthouse.com)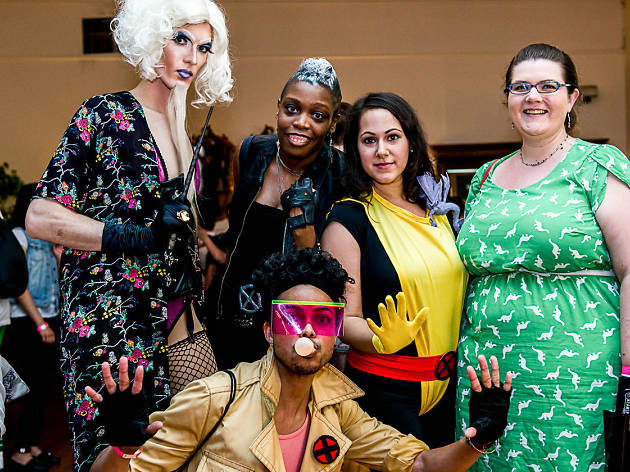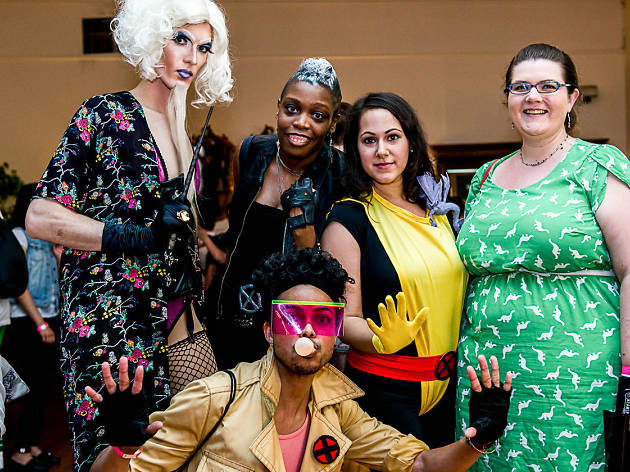 Photograph: Louisa Wells
Best platform for LGBT folks to go full nerd
Flame Con
A year after its first small gathering, Flame Con—that's a queer comic convention if you couldn't tell—emerged this summer as an essential source of inspiration, expression and community for LGBT fans of comics and games. The August weekend of activities seemed like a dream of diversity and inclusion: Gender-bent Magnetos and Maleficents mingled with gay comic-book creators like John Jennison and Kate Leth; fans discussed race, gender and superheroics at panels like "Supergirl's Not Black"; and costumed partygoers owned their bodies and desires at parties like Firestarter and X-Men: Swimsuit Edition.—David Goldman
In bringing Dave Malloy's immersive pop opera Natasha, Pierre & the Great Comet of 1812 to the Imperial Theatre, director Rachel Chavkin and set designer Mimi Lien have accomplished something magical: They've remade the 1,400-seat venue in the image of the 70-seat space where the show began at Ars Nova. Russian-nightclub scenery sprawls out into the audience and climbs up into the mezzanine; musicians are scattered throughout the space, and some audience members are at tables in the middle of the stage. It's a red-and-gold gilt trip that looks and feels like nothing else on Broadway.—Adam Feldman
249 W 45th St (greatcometbroadway.com). $59–$349. Through July 2.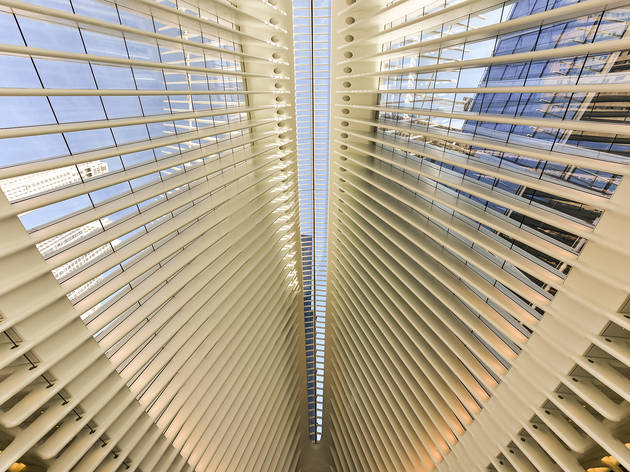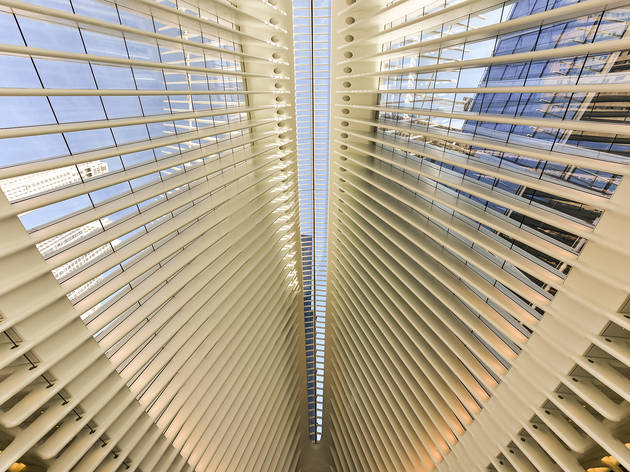 Photograph: Shutterstock
Best new public space that makes us feel like we're living in the future (in a good way)
The Oculus
Okay, so Santiago Calatrava's World Trade Center Transportation Hub had that exorbitant $4 billion price tag. Still, the futuristic structure, reportedly meant to resemble a bird in flight, is architecturally an absolute stunner and certainly one of the most interesting buildings New York has unveiled in years. Stand under that stark-white, vaunted ceiling, and just try to argue with us. We dare you.—Will Pulos
Panorama Festival
The food lineup at year one of this Randalls Island fest was not only as awesomely diverse as its impressive music bill (Kendrick Lamar, LCD Soundsystem, FKA Twigs), but it also offered a serious upgrade from usual fest eats. (No sad corn dogs here.) Sweaty, tired festivalgoers could refuel with hand rolls and hummus bowls from Michelin-starred spots like Sushi Azabu and Nix, respectively, along with In-N-Out–esque burgers from the Beatrice Inn and cooling ice-cream sandwiches built with one of the city's best cookies, from Maman. The masses might have come for the music, but they partied as long and hard as they did because of the food.—Christina Izzo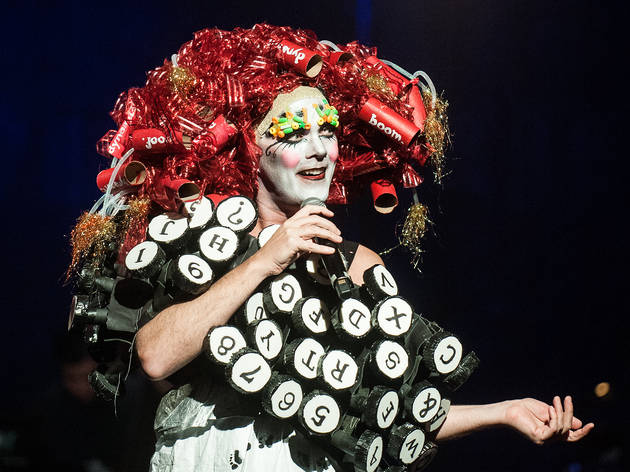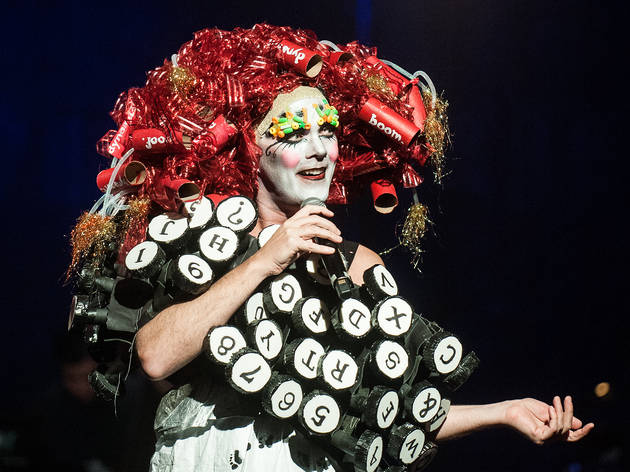 Photograph: Teddy Wolff
Best marathon spectacle to end all marathon spectacles
Taylor Mac's 24-Decade History of Popular Music
Hard-core theater fans think nothing of five-hour epics. Most, though, have never sat through a 24-hour nonstop theatrical event. From October 8 to 9 at St. Ann's Warehouse, 650 lucky souls did, watching genderqueer performance-art genius Taylor Mac plow through a megasurvey of catchy tunes from 1776 to 2016, somehow not shredding his vocal cords on a 240-plus song list. The show had everything: 161 performers, 24 dazzling costumes, audience members ranging from teens to octogenarians getting down together onstage, a red, white and blue giant inflatable penis balloon and, yes, even floor pillows for napping—not that those in attendance dared miss one minute of the once-in-a-lifetime event.—David Cote
Pride Weekend high jinks and activism
We awoke on Sunday, June 12, to our worst nightmare: the murder of 49 innocent revelers during a massacre at the LGBT-oriented nightclub Pulse in Orlando. Two weeks later, 2 million New Yorkers took to the streets to pray, protest and party at the annual Pride Parade. On the dance floor and in the march, we fought to elevate our world from grim black-and-white to full Technicolor and, in the process, created the loudest and proudest Pride yet. At the parade itself—which seemed to take over the city—I AM PULSE signs, Gays Against Guns demonstrations and veiled activists walking with images of the dead around their necks abounded. And even the soirees had an air of reverence. Take June 26's Pride at Littlefield, an all-star comedy-show benefit for Everytown for Gun Safety, during which local scenesters like John Early, Cole Escola, Hamm Samwich, Isaac Oliver, Jean Grae, Ilana Glazer and Justin Vivian Bond brought everything they had to the show: political satire, demented characters and, yes, heartbreaking personal stories.—DG
Northside Festival
This October felt a little empty without the bustle of the CMJ Music Marathon, the annual multiday festival that failed to materialize for its 36th year. While its loss should be rightly mourned, June's annual Northside Festival, which has been pulling its musical weight since 2009, filled the void, celebrating local bands and gathering music fans en masse. There were up-and-comer showcases and PBR-filled day parties, plus the addition of a few big outdoor gigs. This year's fest corralled Brian Wilson for a moonlit set of Beach Boys classics in the park, packed Saint Vitus for a drone-laden avant-performance by Breadwoman (who utilized actual day-old bread) and gave us a bunch of reasons to mark it on the calendar for next year.—Andrew Frisicano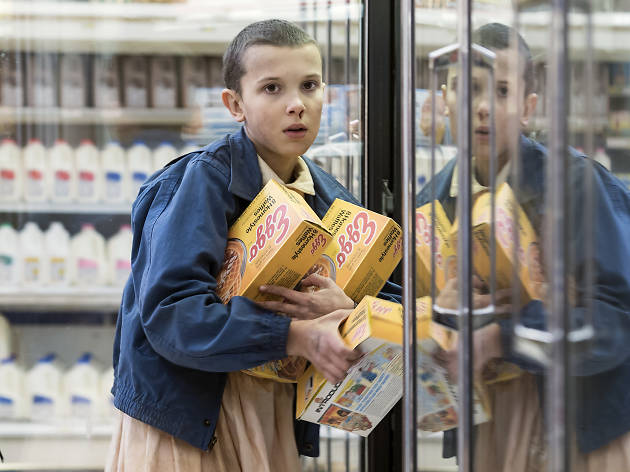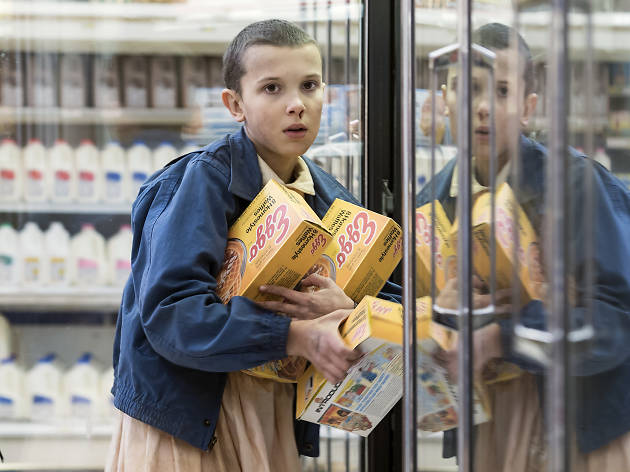 Photograph: Courtesy Curtis Baker/Netflix
Best reason for Netlix addicts to turn off Netflix
Stranger Things parties
Sure, anybody can string up Christmas lights at a house party and say they're summoning the Demogorgon. But when it came to getting down for Halloween, Hawkins, Indiana–style, NYC really went upside down: At Videology, bewigged Winona Ryder fans watched '80s movies on a loop while jamming to the show's first-season soundtrack on vinyl; Lot 45 gave revelers three nights of nonstop dancing and Dungeons & Dragons gaming; and Gemini & Scorpio transformed a Brooklyn warehouse into an immersive interdimensional Hawkins complete with a blanket fort, a séance and Barb-inspired burlesque. Oh, and did we mention the Eggos?—DG
Giant soup dumplings at Drunken Dumpling
For all of its cultural refinement, New York isn't above food gimmicks. One of the year's finest was the extra-large xiao long bao (soup dumpling) at Drunken Dumpling, which has dominated social media feeds and attracted long lines since debuting in September. Owner Yuan Lee's mother, Qihui Guan, is the star of the kitchen: She got her dough-crimping bona fides at Joe's Shanghai, a training seen in the remarkably thin wrapper that cradles a meaty six-to-eight-hour stock made with chicken, pork and vegetable broths that bob with hunks of crab meat and shrimp. The best way to eat one? Stick a big straw directly into the big-as-a-steamer-basket dumpling ($11.75), and get sipping. Sure, it's a good 'gram, but it makes for an even better slurp.—CI
137 First Ave (212-982-8882, drunkendumplingny.com)
Show more
But what about the worst moments of the year?
We've got those, too. Check out the things that made NYC absolutely suck in 2016.