The MoMA PS1 Warm Up 2016 guide
The Warm Up party returns for another summer of live music, DJs and dancing outdoors at Long Island City's MoMA PS1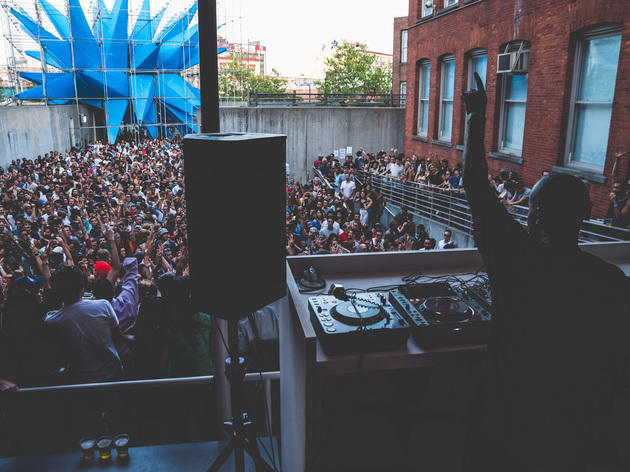 Almost two decades of packing the Long Island City museum courtyard with NYC's music aficionados and sun-worshiping revelers, MoMA PS1's Warm Up is bigger than ever, with as strong a lineup of bands, DJs and producers as it's had in years. Based on last year's highlights (which included a whole day's worth of Night Slugs, Lotic and Vessel from Tri Angle Records, as well as the usual out-of-this-world outdoor art), we can't wait for this year's series to kick off. Here's the lowdown on the biggest weekly summer party.
RECOMMENDED: Full guide to things to do in the summer in NYC
What is MoMA PS1 Warm Up?
Warm Up is an outdoor music series taking place every Saturday in MoMA PS1's courtyard. The museum combines elements of music, sound and the performing arts, with unique lineups of artists and exclusive installations.
When is MoMA PS1 Warm Up?
The weekly series takes place every Saturday, beginning June 11, 2016, and ending August 27, 2016.
Where is MoMA PS1 Warm Up?
Warm Up takes place in the courtyard of MoMA PS1, which is located at 22-25 Jackson Avenue in Long Island City, Queens.
How do I get tickets to MoMA PS1 Warm Up?
Buy advance tickets at the official website. MoMA PS1+ members receive discounted tickets, and LIC residents receive one complimentary ticket per event with proof of residency.
What's the best way to get to MoMA PS1 Warm Up?
Take the 7, G trains to Court Square.
See a map of MoMA PS1 Warm Up
MoMA PS1 Warm Up 2016 info
Archive MoMA PS1 Warm Up content
Things to do near MoMA PS1 Warm Up