The best Caribbean restaurants in NYC
At a Caribbean restaurant in NYC, kick back and ease the stress of city living while basking in Caribbean hospitality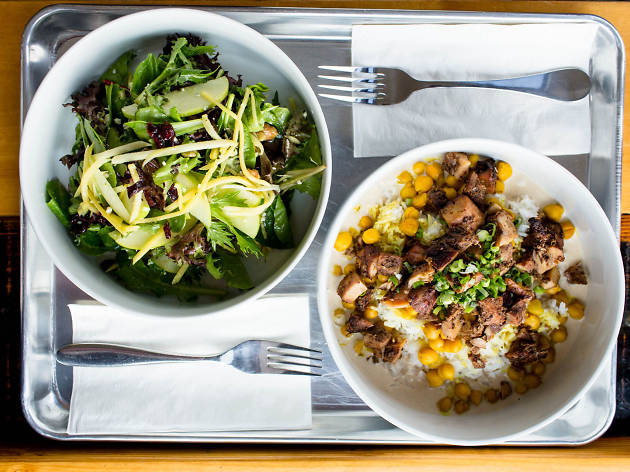 The history of the food at a Caribbean restaurant is steeped in culinary mash-ups. It welcomes experimentation but treasures traditional favorites, and it encourages the best attitude from its chefs and patrons. These qualities make the Caribbean food scene indispensable to locals and tourists alike. How can anyone resist the savory blend of soul food with chicken roti? Or Jerk seafood with hand-crafted rum cocktails in NYC? Whether you're looking for cheap eats or freewheeling with your wallet, New York's Caribbean restaurant scene has something just for you.
RECOMMENDED: Full guide to the best restaurants in NYC
Best Caribbean restaurants in NYC
Need some grub in Harlem?
Head uptown for old-school soul food and world-famous Italian fare at the best Harlem restaurants in NYC
Read more
Sponsored listing
Nha Minh
Would you like a side of art with your meal? Every visit to Nha Minh in Williamsburg comes with a dose of the art world, since the restaurant regularly hosts exhibitions for local artists like oil painter Steph Terao and photographer Beth Perkins. Don't get so caught up in the art on the walls that you ignore the menu of modern Vietnamese cuisine, though. For breakfast, you might order a grain bowl topped with vegetables of the day and a fried egg or two ($10.50 for one egg, $11 for two). Need more protein? Add-ons like asparagus seitan ($2), house-cured salmon ($5) and smoked Vietnamese ham ($5) allow you to customize your bowl to your heart's content. Other menu items include an adzuki bean tempeh sandwich with hijiki seaweed, pickled carrots, daikon radish and avocado spread on herbed focaccia ($11), a smoked trout bun served with vermicelli rice noodles and vegetables ($13) and scallion egg noodle pancakes ($6).
Venue says: "Vietnamese American Restaurant and Coffee Shop that hosts Art Shows!"