The best halal restaurants in NYC
These are the best halal restaurants and food carts for pitas, shish kabobs and baba ghanoush in NYC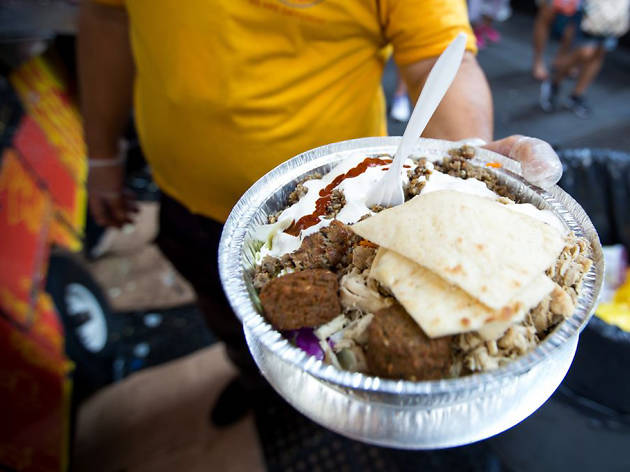 You probably think of halal restaurants as those food trucks you go to for edible respite from late-night drunkenness. But they're not just 24-hour restaurants for cheap eats: Halal (also spelled hallal or halaal) actually means "permissible," in a similar vein to "kosher," like at kosher restaurants. With that in mind, you have our permission to try out these halal eateries.
RECOMMENDED: Full guide to best restaurants in NYC
Best halal restaurants in NYC
1
This restaurant's bag is producing consistent staples of halal cuisine. Go for simplicity: humus, shish kabob and Turkish coffee. For both its authenticity and reliability, this Hell's Kitchen joint should be promptly placed on your personal list of go-to food.
Book now
Read more
2
The word on the street—specifically, the word on 14th Street—is that this vendor whips up better foodstuffs on four wheels than many a starred restaurant. You should go out of your way to walk past it and try it. Food carts FTW.
Read more
3
What began 25 years ago as a modest Midtown hot dog cart has since exploded into a downright global phenomenon. Cab drivers have known the skinny for a hot minute—when they wanted a solid halal meal, they'd cruise over to visit the Halal Guys on 53rd and 6th. Nowadays, it's no secret: It's expanded its reach to more than 14 cities, and the characteristically canary yellow halal carts can be found everywhere from Chicago to Jakarta.
Read more
4
New York is no stranger to delicious collisions of cuisine, and this spot provides a case in point. Why should you have to choose between pizza topped with buffalo chicken and a pita sandwich stuffed with fried chicken? You shouldn't—and you don't have to. If you're feeling especially hungry, you can order 100 chicken wings for $70 (that's 70 cents a wing). We're not here to judge, so eat up.
Book now
Read more
6
We don't know Sammy, but we do know his green sauce is legendary. We also don't know what sort of alchemy leads to its production (mint and cilantro, maybe?), but we do know that it's both unique and scrumptious. Get whatever you want, but be sure to douse whatever fills your takeout container to the brim with the green stuff.
Read more
Looking for Middle Eastern food?
New York's best Middle Eastern restaurants cover a lot of ground, including Israeli cafes and Egyptian eateries
Read more