The best West Indian food in NYC
At the best West Indian food joints in NYC, satisfy cravings for Jamaican jerk chicken and Trinidadian buss-up shot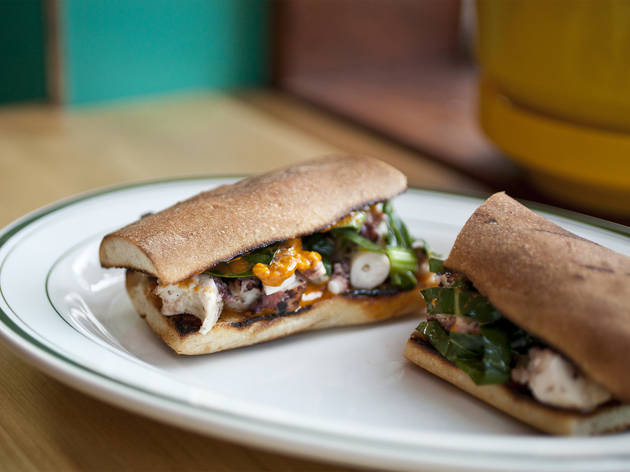 It's no surprise that West Indian food (Caribbean fare), which is heavily influenced by Chinese restaurants, West African grub and Indian restaurants' cuisine, boasts some of the most flavorful dishes this side of the equator. If you're looking to satisfy your savory tooth with a handheld beef patty snack or a mountain of tongue-tingling curry, thankfully, you won't have to travel too far to find them. With West Indian enclaves throughout Brooklyn, Queens and Manhattan, it's fairly easy to find restaurants, steam tables and lunch counters dishing out the city's tastiest curries, stews and roti—you just have to know where to look to treat yourself to a Caribbean-style staycation.
RECOMMENDED: Full guide to the West Indian Day Parade
Best West Indian food in NYC
Looking for more of the best food in NYC?
From tacos to Tex-Mex, satisfy your South of the Border cravings at the best Mexican restaurants NYC has to offer
Read more
Sponsored listing
Casa Theodoro
"Brazilian" and "pizzeria" aren't two words you would normally hear next to one another, but together they make the perfect descriptor for Casa Theodoro in Woodside. Though the restaurant does offer Italian pizzas such as margherita ($15 for a small, $18 for a large) and prosciutto and arugula ($15 for a small, $20 for a large), let's be honest: You're here for the more novel Brazilian options. Try the carne seca pizza with jerk beef, onions, tomato and cream cheese, the a moda de casa with cheese, ham, corn, bacon and cream cheese or the strogonoff with cheese, chicken, pink sauce, potato sticks and mushrooms (each $12 for a small, $19 for a large). The menu also includes Brazilian appetizers like dadinhos de tapioca, or tapioca-cheese squares ($8), and calabresa acebolada, a smoked sausage and onion dish ($6), in addition to classics like chicken fingers ($5) and garlic knots ($2). Finish the meal with a dessert pizza topped with Nutella and marshmallow or condensed milk, coconut and nuts (each $12).
Venue says: "Call now to place your reservation or delivery order!"