The best Harlem restaurants in NYC
Head uptown for old-school soul food and world-famous Italian fare at the best Harlem restaurants in NYC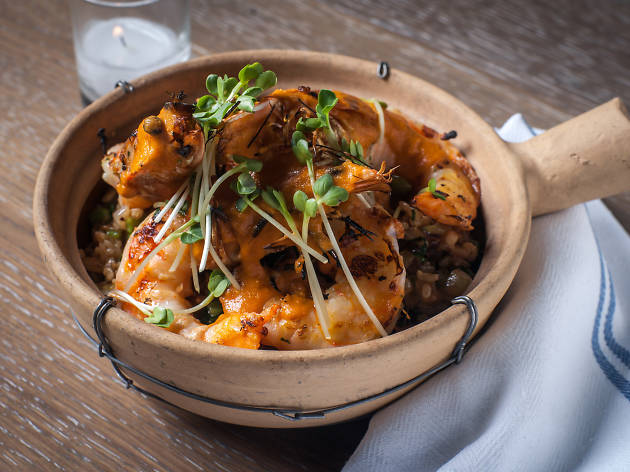 Best Harlem restaurants
1
Harlem's the Cecil may lack Marcus Samuelsson's culinary star power—restaurateur Alexander Smalls and his fat-cat partner, former Time Warner CEO Richard Parsons, are mostly unknown entities in the food world—but it should nevertheless inspire a trek uptown. The menu frightens at first glance with its cross-cultural abandon; there's fried rice next to burgers next to gumbo. But there's a method to this madness. Chef Joseph "JJ" Johnson is cooking from the far-flung larder of the African diaspora, charting its influence on global cuisines from Asia to the Americas. That's how delicately spiced, citrus-scented jerk bass ($26) shares the table with Brazilian feijoada ($27), a classic black bean and meat stew that musters rib-sticking depth from jiggling oxtail and gamey merguez.
Book now
Read more
2
Husband-wife team Kenichi and Keiko Tajima garnered critical kudos for their poultry-focused Harlem nook, until it closed abruptly in 2014 after its lease expired. Following the widespread success of their summer pop-up at a Tasting Social event space in East Harlem, the duo's made the relocation permanent, serving their full all-fowl menu within the 31-seat, jazz-soundtracked dining room. As with the O.G. Mountain Bird, every manner of bird is broken down and judiciously used—seared ostrich is sliced onto rounds of toasted crostini and a head-to-toe chicken tasting plate incorporates heart bourguignonne, truffled wing balls and liver mousse.
Book now
Read more
3
Venue says: "Harlem Dinosaur has a Happy Hour! Every Mon-Fri from 3pm-7pm at the bar. Check out our website for $2-$6 happy hour specials"
Everyone from neighborhood families to leather-clad bikers makes the pilgrimage to this perpetually packed Harlem smokehouse. With locations in Syracuse and Rochester, founder John Stage—himself a Harley lover—transformed a former meatpacking plant into a third outlet in 2004, and he's been lassoing in fans ever since. Nestled under railway tracks, the bluesy, bare-brick hall slings jalapeño-crowned Texas brisket; fleshy, pull-off-the-bone pork ribs; and thick-battered fried green tomatoes drizzled with cayenne-buttermilk ranch dressing. The meats, nursed over hickory in four computerized smoking pits, are South-worthy on their own, but even more so when slicked in the smoky-sweet house BBQ sauce: The secret-recipe condiment magically transforms a notoriously tough Boston butt cut into one of the city's most lusciously viscous pulled porks.
Book now
Read more
4
Some of the city's most popular restaurants serve food that satisfies on a visceral level—consistent, accessible, easy to like. Places where the music, crowd, drinks and space explain, as much as the menu, why it's packed every night. Which sums up precisely the instant and overwhelming success of Marcus Samuelsson's Harlem bistro, Red Rooster. The restaurant's global soul food, a "We Are the World" mix of Southern-fried, East African, Scandinavian and French, is a good honest value. But it's outshone here by the venue itself, with its hobnobbing bar scrum, potent cocktails and lively jazz. Like an uptown Pastis, the sprawling space is inviting and buzzy—the place to be north of 110th Street.
Book now
Read more
6
If you thought getting a table at Per Se was tough, try getting into Rao's. On second thought, don't. Rao's (pronounced "RAY-ohs") is really a private club without the dues. To eat here, you'll need a personal invite from one of the heavy hitters who "owns" a table. CEOs, actors, politicians, news personalities and neighborhood old-timers have a long-standing arrangement with legendary owner Frankie "No" Pellegrino, and that's what ensures a seat at one of the ten tables. In fact, reading this review is probably the closest you'll get to Rao's.
Read more
7
The wildly popular Levain Bakery has been drawing the pastry-loving masses since 1995. Its third location—a 3,000-square-foot facility in Harlem—does double duty as a retail shop and the center of its mail-order production. You'll find their massive, chunky cookies in homespun flavors like chocolate chip walnut, oatmeal raisin and dark-chocolate peanut butter chip.
Read more
8
This noodle house keeps a huge swath of uptown—everyone between 107th and 145th Streets between Riverside Drive and Central Park West, to be exact—sated with its handmade Hakata-style ramen. You can opt for shio (veggie- and chicken-stock based), shoyu (chicken stock and soy sauce) or the silky warmth of tonkotsu pork-bone stock. The creamy pork-bone stock for the spicy tonkotsu ramen is simmered on high heat for six hours to release the flavor of the marrow and is seasoned with house-made spicy soybean, roasted garlic and spicy sesame oil.
Read more
9
The slices of Margherita at this 1933 East Harlem original are super thin and shorter than you'll typically find, which means the average person—okay, fine, we—can easily wolf down five to six slices each, especially when they're fresh from the oven with that bubbling, browned cap of creamy mozzarella beneath that zippy sauce.
Read more
10
Portraits of jazz giants hang on the walls of this perpetually packed two-story Harlem fave. A bottle of Frank's RedHot dresses every table—a sign of the soul food goodness to come. Indeed, the richly battered catfish or the fried chicken and waffles platters (many named for famous African Americans, including Rev. Al Sharpton, and Doug E. Fresh), served with your choice of white or dark meat, go down peppery-sweet with a splash of the hot stuff. Long spears of delicately fried okra are delivered without a hint of slime, and the mac 'n' cheese is gooey inside and crispy-brown on top.
Read more
Show more
In need of a new brunch spot?
Consult our comprehensive guide to the best brunch NYC has to offer and enjoy the perfect late breakfast this weekend
Read more
Sponsored listing
Society Cafe
Inside the 75-seat dining room off the lobby of the Walker Hotel, Society Cafe serves market-to-table American fare. The menu changes regularly, as every dish centers around fresh ingredients from the nearby Union Square Greenmarket. On a recent visit, the cocktail list included options like the Kitten on the Keys with chartreuse, sparkling wine and thyme ($14) and the Boogie Woogie with bourbon, rosemary-infused Aperol, grapefruit and honey ($13). Start with appetizers like the Portuguese octopus with fingerling potatoes, Jersey artichokes and green goddess dressing ($18) or the Cherry Lane Farms tomato salad with gooseberries, stone fruit and pecorino ($17). For your main course, you might try the housemade coq au vin ravioli ($18), lamb loin with spiced cauliflower, mustard greens and apple crumbs ($36) or the Long Island duck with chamomile, radish, almond butter and cherry jus ($37). Society Cafe also serves breakfast and lunch daily and brunch on Saturdays and Sundays.
Venue says: "Smalls Jazz Club Presents: Joan Belgrave with Kirk Lightsey at Society Cafe. Today, Wednesday, December 13 7:30-10:00 PM"