The best kosher restaurants in NYC
Whether you keep kosher or are entertaining observant Jewish pals, the best kosher restaurants in NYC will please any crowd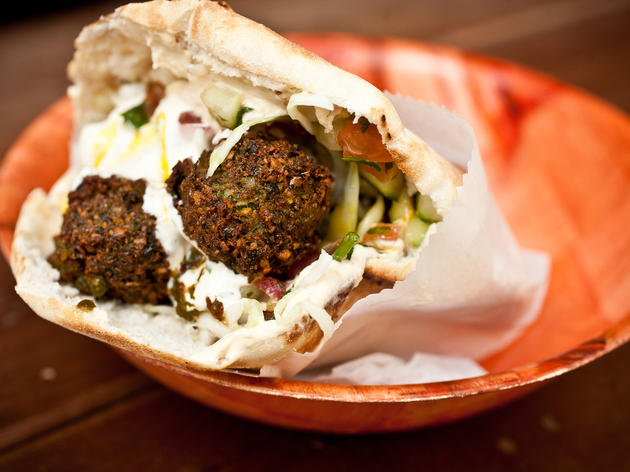 Keeping kosher in New York is way more varied than simply settling for plain falafel—there are scores of top-rate kosher restaurants in NYC to suit religious gourmands, from the best New York delis to jazzed-up vegan and vegetarian restaurants and world-class Indian restaurants. For eateries that faithfully abide by orthodox Jewish policies, you should check out the best kosher restaurants in NYC.
RECOMMENDED: Full guide to the best restaurants in NYC
Best kosher restaurants in NYC
Looking for a Greek restaurant in NYC?
Whether fresh fish or a hearty casserole is your fancy, the best Greek restaurants in NYC have something for everyone
Read more
Sponsored listing
Norikoh
Eating in Midtown can be tough. There are so many restaurants, and yet the prospects still seem bleak. When you find a place that's consistent and tasty, you stick to it. one such restaurant is Norikoh, located just a few blocks south of Bryant Park. Though the restaurant's interior is reminiscent of any Asian fusion restaurant in the city (stone walls, deep woods and the like), the food is not—it's better. An order of shrimp cilantro gyoza ($6.75), pan-fried dumplings filled with the aforementioned seafood, scallions and celery, emerged from the kitchen piping hot and extremely enjoyable—these fresh, thin-skinned pockets went quickly. Also delicious was an appetizer of sweet bun sliders ($7), a riff on the ubiquitous pork belly bao sound in many Asian restaurants in New York. This time, though, you get to choose your meat (barbecue ribeye, braised pork belly or spicy pork). They're garnished with pickled cabbage, cilantro and peanut powder, all of which help cut through the unctuous, fatty meat. Sushi is dependable here—a tuna avocado hand roll ($6.50) was fresh if a bit unwieldy. The namesake roll of the restaurant ($16) combines spicy salmon and jalapenos with tuna and tops it off with lemon, cilantro and tobiko. A volcano roll ($14) of crunchy spicy tuna, avocado, and cucumber topped with spicy kani salad, scallions, sesame and sweet Thai chili sauce was less successful, overwhelmed by its cloying sauce. In case you need warming, the restaurant offers an array of ramen a
Venue says: "Daily Happy Hour selections of our finest beers, sake, wines, & food 3pm-6pm"