The best pastrami sandwiches in NYC
These are the best pastrami sandwiches in New York City, including OGs and the newbies nipping at their heels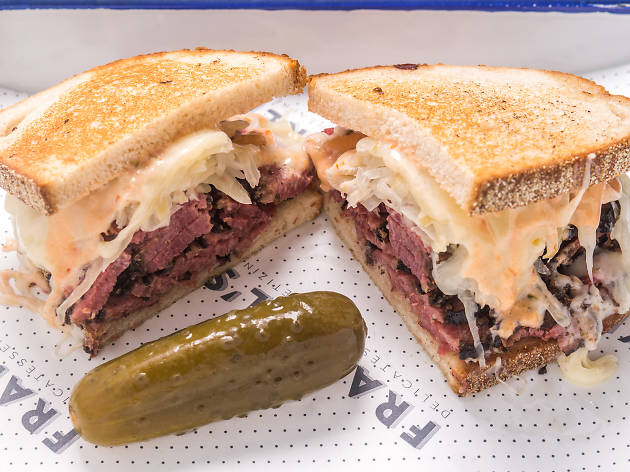 By

Christina Izzo and Time Out contributors
|
New York lost its famed Carnegie Deli in 2016, but that doesn't mean Gotham has lost its pastrami bona fides—just take a look at the best pastrami sandwiches in NYC for proof. Of course, we've got the old guard of New York delis—your Katz's, your Ben's Best—but we're also heralding a new school of pastrami-slicing operations, from Greenpoint restaurants like Frankel's to newer East Village restaurants like Harry & Ida's. Here's where to find the best pastrami sandwiches in NYC.
Best pastrami sandwiches in NYC
This cavernous cafeteria is a repository of New York history—glossies of celebs spanning the past century crowd the walls, and the classic Jewish deli offerings are nonpareil. Start with a crisp-skinned, all-beef hot dog. Then flag down a meat cutter and order a legendary sandwich. The brisket sings with horseradish, and the thick-cut pastrami stacked high between slices of rye is the stuff of dreams. Everything tastes better with a glass of the hoppy house lager; if you're on the wagon, make it a Dr. Brown's.
Raised on Jewish-food landmarks like Barney Greengrass and Zabar's, brother-owners and Upper West Side natives Zach and Alex Frankel (former chef at Jack's Wife Freda and half of Brooklyn synth-pop duo Holy Ghost!, respectively) preserve the traditions of their lox-peddling elders with menschy earnestness. There are no revisionist latkes or molecular-gastro matzo balls here—just the deli staples they, and New York, grew up on. The shop's hand-cut, thick-sliced pastrami is a fatty marvel; get it Reuben-style, dressed copiously with sauerkraut, Russian dressing and its own considerable juices on rye.
Noah Bernamoff

cures his meat the old-school way, and serves his sandwiches just like Schwartz's, small and adorned with only the mandatory mustard. The quality of the meat measures up to his forebears'—it can skew a bit salty, but is otherwise assertively seasoned, smoked and marbled with melting fat.
The onetime East Village institution, now located in Murray Hill, brings its chopped liver, corned beef and pastrami to the Upper East Side. Brothers Josh and Jeremy Lebewohl, the founder's nephews, stay true to the original with the same menu of famed Jewish standards at this 70-seat location.
Since 1945, this Rego Park, Queens, deli has served classic kosher dishes like latkes, matzoh ball soup and a pastrami sandwich that layers soft, supple slices of meat that are dark along the edges with delicious char.
6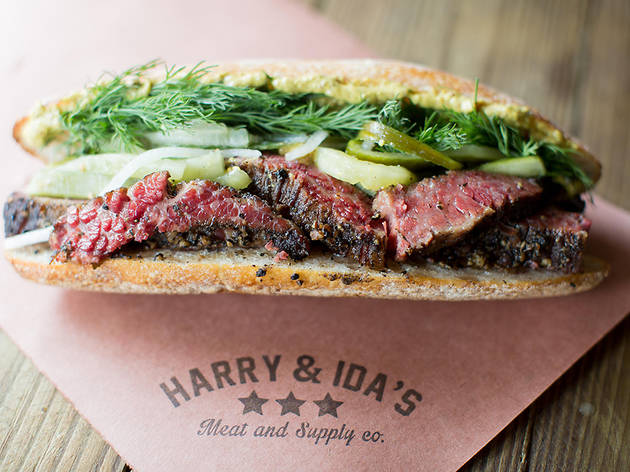 Harry & Ida's Meat and Supply Co.
NYC's pastrami-sandwich pantheon is filled with iconic stuff—the jaw-testing classic at Katz's, the smoked-meat revision at Mile End—but Will Horowitz's beaut is a worthy new entry to that venerable group. You'll get a taste of luscious deckle before your sandwich is even assembled—midcarve, the deli man ushers a slip of fat-marbled, peppercorn-rubbed beef in butcher paper over the counter. It's a soft, smoky, sinful preview of what's to come. To combat the heft of those thick-cut slices, the sandwich is rigged with buttermilk-fermented cucumber kraut, fronds of fresh dill and a salty smear of anchovy mustard on a Pain d'Avignon club roll, a pillowy upgrade from traditional rye.
7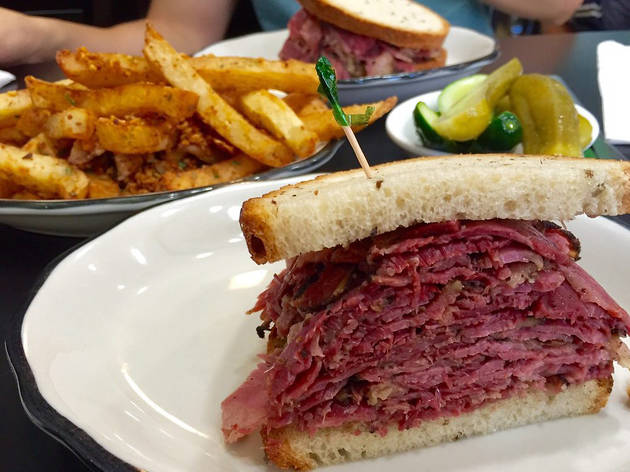 Photograph: Courtesy Yelp/Nancy Y.
It's a boastful name but this two-decades-old Upper East Side counter has the bona fides to back it up. The thick-sliced pastrami is fatty and fall-apart tender, kissed with smoke and served up on slices of Orwasher's rye.
This old-school Jewish deli—a Bed-Stuy institution since 1981—changed hands in 2008, but you can still find the original's legendary sandwiches. The menu features just three items: pastrami, brisket and corned beef. Get yours piled high on a roll or rye with a side of brisket-drippings gravy.
Artie's only looks like it's been here forever. Opened in 1999, this old-school, nonkosher deli is the legacy of the late Artie Cutler, the restaurateur behind chainlets Ollie's and Carmine's, who passed on before it was completed. His widow Alice and a business-savvy deli fanatic Jeffrey Bank took the reins, and installed a black-and-white checkered floor, Formica tables, and salamis that hang over a counter piled with knishes and kugels. Pass over pierogi and flavorless potato pancakes for a melt-in-your-mouth, almost buttery pastrami sandwich that tests the laws of gravity with its layered vertical heights
Back when Joseph Liebman first opened this Riverdale, Bronx deli in 1953, it was one of nearly 100 Jewish delicatessens in the borough. Nearly six decades later, it's one of two old-timers left. (Loeser's on W 231st is the other.) The luncheonette–rigged with Formica tabletops, padded green booths, and counter cases showcasing hulks of brisket and kosher franks–was taken over by the Dekel family in the '80s, but the menu hasn't changed over time, offering cold-cut platters, hot open-faced sandwiches and pastrami, which is made and sliced on premises before it's piled high on rye.
Show more
Looking for more sandwiches?
Feast on meatballs heroes, chicken-parmigiana subs and prosciutto hoagies at the best Italian sandwich shops in NYC