The best Greenpoint restaurants in NYC
New York's best Greenpoint restaurants include new-school Jewish delis, primo pizza spots and tasting-menu restaurants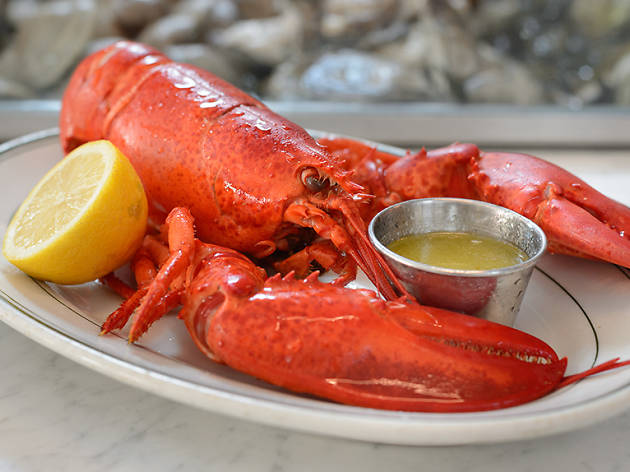 Greenpoint may not have the name-brand cool-kid cred like its southern sibling, Williamsburg, but it's packed with plenty of quality eateries to keep you coming to the northernmost neighborhood of north Brooklyn. The best Greenpoint restaurants are some of the best restaurants in Brooklyn, ranging from nouveau New York delis to a pizza powerhouse to one of the best donut shops in NYC. Here's where you should be eating next time you're in the nabe.
RECOMMENDED: Full guide to Brooklyn, NYC
Best Greenpoint restaurants in NYC
1
Pizza hobbyist turned pro Paul Giannone produces truly original pies at this rustic Greenpoint eatery. The best pizzas here are mixed-media masterworks with gorgeously blackened crusts covered in crispy nooks and pillowy bubbles. The Honey Jones—a frequent special featuring honey from a Brooklyn beekeeper, Gorgonzola, mozzarella, cherries and wispy prosciutto—beautifully balances sweet and salty. The Rooftop Pie includes crunchy Brooklyn-grown kale, gorgeously singed atop mozzarella and sausage. Ask for a seat in the back for a view of the roaring oven—a custom-built, while-tiled dome that burns up to 1,000 degrees.
Read more
2
When the globe-trotting chef Daniel Burns teamed up with Danish brewer Jeppe Jarnit-Bjergsø, it looked like another imperious tasting-menu restaurant was in the works. With these two avant-garde figures, all the signs pointed to a little hauteur: The duo's restaurant, Luksus, would be hidden in the back of Jarnit-Bjergsø's Greenpoint bar, Tørst, and only esoteric beer would be on offer; not even one bottle of wine for those disinclined toward suds. But these high-handed guideposts proved misleading: Burns is an affable host behind the counter, explaining his process like a soft-spoken professor for those who ask, and his crew of servers soothe any beer snobbery with pretenseless briefs of accompanying brews.
Read more
3
A century-long family history in fishmongering is, oddly, not why entertainment lawyer Vincent Milburn built this north Brooklyn seafoodery. After music-industry pal Adam Geringer-Dunn noticed a plethora of butchers but zero fish shops in the nabe, the pair began hosting pop-up lobster bakes. Now they've ventured into purveying, sourcing only seasonal and sustainable—and sometimes local—catch like wild Alaskan salmon and Arctic char at a retail counter. They put the fresh goods to use in dishes like lobster rolls, kelp-noodle pad Thai and Baja-style fish tacos dressed with citrus-cabbage slaw and chipotle-lime mayo, doled out in a tiled space outfitted with marble counters and high-top tables.
Read more
4
Raised on Jewish-food landmarks like Barney Greengrass and Zabar's, brother-owners and Upper West Side natives Zach and Alex Frankel (former chef at Jack's Wife Freda and half of Brooklyn synth-pop duo Holy Ghost!, respectively) preserve the traditions of their lox-peddling elders with menschy earnestness. There are no revisionist latkes or molecular-gastro matzo balls here—just the deli staples they, and New York, grew up on. The malt-sweet, hand-rolled bagels come from Baz; the smoked fish (kippered salmon, sable), from Acme. What Frankel's gets right is the balanced ratio of its ingredients: ribbons of Irish organic salmon, equal parts oil and silk, has just enough fresh salinity and wood-chip smokiness to stand up to a creamy spread of whitefish salad and a few plucky capers on a bagel sandwich.
Read more
5
You'll find doughy fritters, not Tinkerbell, at this Greenpoint standby. Dip your lightly glazed raised doughnut into steaming coffee at the curved counter or box up a dozen still-warm chocolate cake rounds and black-raspberry jellies—just some of the 20-odd varieties baked daily.
Read more
6
In an old industrial glass factory, chef Eldad Shem Tov bring a touch of the breezy Mediterranean coast to the gritty Greenpoint waterfront. Tov oversees a menu that spans Spain, Greece and the Middle East, in dishes such as cauliflower with labneh and fresh marjoram, bone marrow with pistachios and challah, and carved lamb with smoked salsify and pine nuts.
Book now
Read more
7
Erin Patinkin and Agatha Kulaga, the duo behind the popular wholesale bakery, showcase their quirky pastries in their first retail location—a stylish 13-seat café decked out with herringbone tile and green-and-white patterned wallpaper. Take your Brooklyn Blackout Cake (made with Brooklyn Brewery beer and salted chocolate pudding) or Bloody Mary Scone (studded with fresh horseradish, tomato and celery salt) with a Stumptown coffee.
Read more
8
Moto and Smith & Mills designer John McCormick went for a sunken-ship look when outfitting the nautical Greenpoint café, from first-time restaurateurs Jud Mongell and Kathy Mecham. You'll find distressed wood and portholes, along with marble tables etched by Brooklyn tattoo artist Scott Campbell. Some eats bear an Australian stamp—the house grass-fed burger comes the Down Under way with beets, pineapple and a fried egg. Others, like a breakfast of toast topped with sliced radishes and Evan's Farmhouse butter, are French by way of upstate New York. If this project sounds familiar, it may be because of the involvement of actor Heath Ledger, who helped fund the eatery prior to his passing.
Read more
9
At this nautical seafood den from the Drink team to the growing list. Chef Eric Mann (Prune, Craft) focuses on sustainable fish, sourced from wild-caught schools in the Northeast: Enjoy East Coast oysters and littlenecks at the raw bar, as well as grilled dorade with shaved fennel, mussels in escabeche and house-made fettuccine with clams. Roberta's vet Kevin Ang pulls double duty, overseeing the beverage program and the bread ovens (producing burger rolls, crackers for cheese plates and crostini bread). At the green marble bar, sip classic cocktails, such as a Hemingway daiquiri, a dark and stormy, or a Tom Collins.
Book now
Read more
11
Catalan-bred owner Elena Manich updates the tapas of her native Spain at this Greenpoint small-plates spot, outfitted with a marble bar and vaulted ceiling. Inspired by Barcelona's hipster-baiting El Born district, the 50-seat restaurant offers shareable dishes like octopus legs a la piedra (cooked on a stone) with potatoes and pimentón. A mix of Spanish and local wines are also available.
Read more
Looking to go out in Williamsburg?
These are the best Wiliamsburg bars, from bustling beer gardens to elegant speakeasies to divey honky-tonks
Read more
Sponsored listing
Alpha Fusion
Can't decide between Japanese, Thai or Chinese for dinner? Head to Alpha Fusion, a Hell's Kitchen restaurant that combines all three culinary traditions. If you're craving sushi, choose from a wide variety of sashimi or special rolls such as the Red Hot Dragon, a shrimp tempura roll topped with crunchy spicy tuna ($16), and the Spicy Twister, a spicy salmon roll topped with pepper-seared tuna, avocado and crushed peanuts ($15). You can also go Thai with green curry with beef ($16) and tom yum soup ($5) or Vietnamese with mango vermicelli ($7) and summer rolls with shrimp and tamarind sauce ($8). Chinese-inspired entrees include General Tao's chicken with broccoli ($16), honey walnut chicken and shrimp ($22) and beef broccoli in garlic sauce ($15).
Venue says: "The best Asian fusion under one roof! Some of our favorites: Sushi Pizza, Veggie Roll Combo, Thai Lettuce Wraps."