Restaurant and bar openings: December 27, 2012 – January 9, 2013
OTB, Mighty Quinn's BBQ and more open in New York.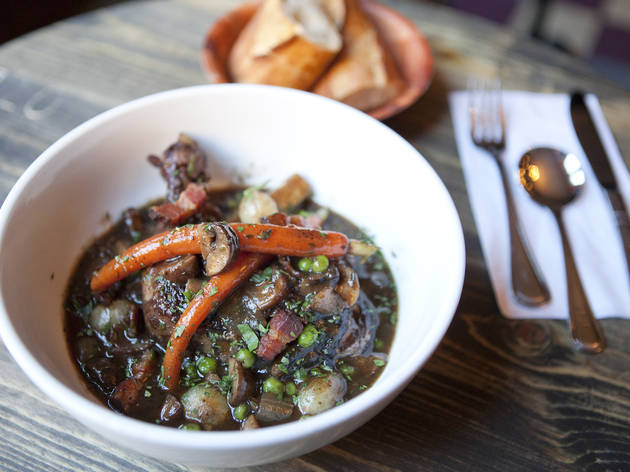 Café Tallulah At this bi-level lounge, Roxanne Spruance (wd~50) dishes out classic bistro fare, while Dushan Zaric (Employees Only) consults on the cocktail list. Sip a Maximilian (tequila, lime, agave nectar, egg white) in the first-floor lounge, adorned with thick red drapes and mirrors. The upstairs café serves French standards like beef bourguignonne, moules frites and cassoulet at a brick-lined bar. For dessert, look for crêpes and chocolate canneles, made with sherry sage gelato. 240 Columbus Ave at 71st St (917-262-0503)
Casa Havana Cuban sandwiches are the focus of this 50-seat spin-off of the Chelsea original, decorated with photos of the island country. In addition to classics like the Cubano and pollo a la plancha, staples of Havana cuisine include ropa vieja (shredded beef stew), ensalada de pulpo (octopus salad) and Criolla-style shrimp. Cool off with a papaya shake or carrot juice. 688 Tenth Ave between 48th and 49th Sts (212-9560-2155)
Elbow Room The gourmet mac-and-cheese chain opens a branch in Barclays Center. Step up to the black-top counter to get a bowl of noodles in the classic style (New York sharp cheddar, béchamel), or mixed with toppings including sausage, San Marzano tomatoes and chipotle chicken. There are also salads and ice cream sandwiches for dessert. 614 Atlantic Ave at Flatbush Ave, Prospect Heights, Brooklyn (718-230-4088)
Fairway Market This 42,000-square-foot branch of the New York supermarket chain—the sixth in the city—boasts 600 cheeses and local produce. 550 Second Ave at 30th St (646-720-9420)
Foot N' It This family-run Harlem takeout shop serves soul food. Antastasia Harris, the clan's South Carolinian mother, cooks Southern-style dishes, such as fried turkey, spareribs and banana pudding. A chandelier and marble-tiled walls lend the tiny room a touch of elegance. 153 Lenox Ave between 117th and 118th Sts (646-590-1569)
Mighty Quinn's BarbequeSmorgasburg vet Hugh Mangum peddles Texas-style BBQ and American beers out of this East Village restaurant. Hot on the heels of BrisketTown and Fletcher's BBQ comes pit master Hugh Mangum's barbecue joint, further fanning the flames of Gotham's smoked-meat craze. Raised in Texas, Mangum marries the purist lean-meat approach of the Lone Star State with the vinegar-dressed styles of the Carolinas—the resulting 'cue drew lines at his Smorgasburg booth and set the stage for this brick-and-mortar debut. Diners can chomp on the six kinds of barbecue—including brisket, pulled pork and spareribs—cooked over apple, cherry and oak woods in a 6,000-pound smoker. To drink, there's 16 American drafts, like Founders' Dirty Bastard Ale. 103 Second Ave at 6th St (212-677-3733)
OTB Whiskey maven Alla Lapushchik and chef Sam Glinn—the team behind brown-spirits haven Post Office—court Brooklyn's night owls again with this irreverent Parisian brasserie. Glin, an alum of Momofuku Ssäm Bar and Brooklyn Star, delivers comforting fare both Gallic (coq au vin, steak frites) and American (fried chicken, disco fries). Lapushchik (one of the founders of Death & Company and Mayahuel) brings her serious mixology chops to bear on a list of twenty drinks, many of which are tweaked to spotlight seasonal produce. To wit, the Bee's Knees—a Prohibition-era tipple that mingles gin, honey and citrus—gets souped up with Meyer lemon juice and Perry Tot's Navy Strength gin. True to its name, the dining room evinces a raffish air, outfitted with tip-sheet-style menus, racetrack betting booths and a floor inlaid with gleaming horse-emblazoned medallions. 141 Broadway between Bedford and Driggs Aves, Williamsburg, Brooklyn (no phone yet)
Rogue & Canon Partners Johnny Swet and Larry Poston (Balthazar, the Waverly Inn) serve British and American fare at this pubby eatery. Drinkers can sample one of the seasonal cocktails or local New York beers at the mahogany bar. Settle into the dining room—outfitted with large windows and herringbone leather banquettes—for charcuterie (duck prosciutto, lamb rillettes) and hearty mains, including Welsh rarebit simmered with English brown ale, and a burger topped with aged cheddar and onion marmalade. 128 W Houston St at Sullivan St (646-398-8700)
Simit + Smith The New Jersey bakery—which produces simits, Turkish breads that are like a bagel crossed with a pretzel—opens its first New York location. At the eight-seat spot, order yours with dipping sauce (honey, jams) on the side or stuffed with deli ingredients, such as feta, peppers, onions and chicken breast. A small grocery section sells Middle Eastern foodstuffs, like spices and Turkish delights. 124 W 72nd St between Amsterdam and Columbus Aves (212-496-6605)
SakaMai This dimly lit, sleek sake lounge features rice spirits, Japanese beers and small plates from chef Takanori Akiyama (Lan). Sip on a glass of junmai or nigori sake, or opt for one of the cocktails made with shochu. To eat, there is sashimi and Asian-inflected comfort food dishes, like scrambled eggs with caviar and uni, duck-fat-fried chicken and bone marrow with sansho spice butter. 157 Ludlow St at Stanton St (646-590-0684)
Simplicity Wine Bar & Cafe Sample vino and snack on tapas at this intimate Bed-Stuy café-bar. Opened by a native of the 'hood, the spot—decorated with earth tones and floral paintings—serves Latin American wines, from cabernets to chardonnays. Get Danishes and bagels for breakfast, sandwiches (like a classic caprese) for lunch, and at night, small plates (mini empanadas, cheese boards) with your glass of malbec. 310 Malcolm X Blvd between Decatur and McDonough Sts, Bedford-Stuyvesant, Brooklyn (718-604-4780)
Vanguard Wine Bar Stefan Mailvaganam (Bar Carrera, Custom American Wine Bar) spotlights French and American bottles at this Kips Bay wine bar. Selections are organized by style ("Aromatic Whites," "Mild-Mannered Reds") and feature regions ranging from Yakima Valley, WA, to Languedoc, France. At the white marble bar, tuck into open-faced sandwiches (like one made with shrimp and saffron aioli) and small flatbread pizzas (toppings include ricotta and truffles) from former Le Bernardin chef Soa Davies. 530 Second Ave between 29th and 30th Sts (212-447-9463)
The Windsorat Gansevoort Park The second location of this high-end sports bar opens in Gansevoort Park Avenue Hotel, serving cocktails inspired by '90s London clubs and upscale comfort food. Barman Ben Scorah whips up a menu of cheekily named tipples like the Porn Star Martini, which combines fruit-flavored vodka, lime and vanilla-infused syrup. The food menu offers pub grub with gourmet touches, including a truffle grilled cheese and Guinness-battered fish-and-chips. Fourteen TVs and dark banquettes line the pin-striped walls. 420 Park Ave South at 29th St (212-206-1208)
Sponsored listing
Essex
Though this Lower East Side spot also serves dinner, it's best known for its boozy brunch. For just $31.95, you get a choice of entree and as many mimosas, screwdrivers or Bloody Marys as you can drink in an hour and a half. Brunch entrees include The Aristocrat—potato pancakes topped with smoked salmon, sour cream, caviar and poached eggs—and Mexican matzo brei with scrambled eggs, black beans and avocado pico de gallo, in addition to more traditional options like omelets, eggs benedict and avocado toast. At dinner, choose from entrees such as gnocchi with tomato cream sauce and shrimp ($21), duck leg confit with baby bok choy and parsnip mash ($24) and blackened catfish with shrimp, potato and scallion hash ($22).
Venue says: "Happy Hour | $1 Oysters | ½-Price Drinks Mon, Tues, Wed, Fri 5-8 | Thurs 5-Midnight | Sun 6-10"