Heads up! We're working hard to be accurate – but these are unusual times, so please always check before heading out.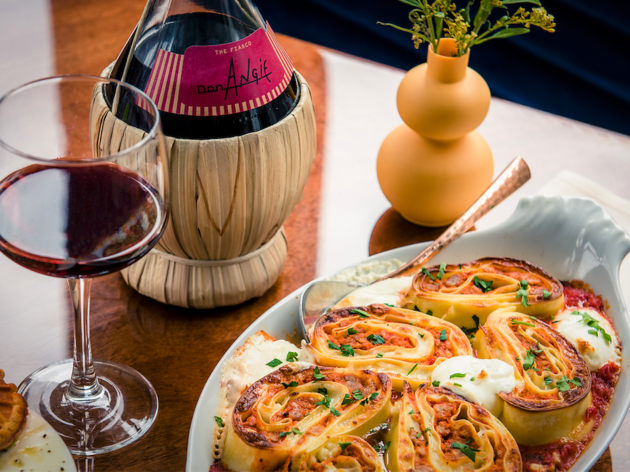 The absolute best Italian restaurants in the West Village
Dig in to fresh pasta, crackly-crust pizza, and more old-world fare at top-notch Italian restaurants in the West Village
The West Village is teeming with some of the best Italian restaurants in New York City. Newcomers like Don Angie and Bar Pisellino help keep the neighborhood's charm as strong as ever. First-rate Italian restuarants, espresso bars, gelaterias, and—of course—the best pizza shops, can all be found not too far from Washington Square Park. And, when you're craving fresh-rolled rigatoni or traditional osso buco, there are plenty of options downtown. Ciao!
RECOMMENDED: Full guide to the best restaurants in NYC
Best Italian Restaurants in the West Village
This cozy Italian restaurant, run by the chef power couple of Jody Williams and Rita Sodi, is a rustic, sophisticated and heart-swelling gem. The simple food—towering insalata verde, hearty chopped steak and any of the soul-satisfying pastas—makes this Village favorite a place where everyone wants to be a regular. If the wait for a table is too insane (that's common), duck across the street for an aperitivo at Bar Pisellino.
The Italian-American supper clubs immortalized in mob movies and sepia-toned photos were never as dreamy as they seemed. The young guns behind Carbone, though, have moved beyond sentimentality in their homage to these restaurants by flipping the whole genre on its head. The enormous menu reads like an encyclopedia of red-checkered classics. But co-chefs Rich Torrisi and Mario Carbone have made such dramatic improvements, you'll barely recognize anything.
Rejoice! I Sodi's famous, line-inducing lasagna has now become (slightly) more accessible. Once only available at dinner, the team recently revealed expanded hours, which means you can cut the lines at nighttime and snag some gooey lasagna for yourself at lunch.
Quality Italian's chef power couple Angie Rito (Torrisi Italian Specialties) and Scott Tacinelli (Quality Meats) turn out modern Italian-American plates at this small corner trattoria in the Village. Lit solely by warm globe lights and candles at night, the romantic locale serves inventive plates like a decadent, deconstructed lasagna for two, prime rib braciole, and two-toned pasta alongside Campari- and Cocchi-based cocktails.
The upscale trattoria's larger dishes offer a homey quality, including a comforting buckwheat tagliatelle with brussels sprouts and fontina. Sip from the pages-long wine list or snag a bottle of the fan-favorite house wine, which puts all other table reds to shame.
Il Mulino is a place for celebration. The food at this dark-wood, sometimes cramped fine-dining landmark is magnificent, and the portions gargantuan. A ravioli appetizer could pass as an entrée; the osso buco—nearly falling off the bone and surrounded by mounds of creamy risotto—is too hefty to finish. You won't have room for dessert, but the waiter will describe something (mascarpone cheesecake, perhaps), and you'll order it anyway and eat half, at best. When the bill comes, you'll really understand the meaning of big.
Matt and Emily Hyland hit it out of the park when they opened their thin-crust, wood-fired pizza spot, Emily, in Clinton Hill in 2014. Three years later, the couple is opened their first Manhattan location, in the West Village. Here, the Hylands focus on Detroit-style grandma pies, which are pan-cooked in a convection oven to create a thin, crisp base and crunchy cheese on top. Other pies on the menu include New York and New Haven styles, fired in a century-old wood-burning oven.
Made with buckwheat, corn, rice and gluten-free wheat starches, the dough is virtually indistinguishable in taste from a traditional pastas and pies. Otherwise made in the traditional Neapolitan style, the pillowy pizza crust can be topped with creamy mozzarella di bufala, salty guanciale or rich basil pesto.
Malaparte is dark, cozy spot in the West Village's Washington Street. The restaurant is solid and perfect for the kind of date night where you're looking to load up on carbs.
For all of us who can't squeeze into Jody Williams and Rita Sodi's megahit Via Carota, there are a few more seats across the street in the couple's all-day spot Bar Pisellino. The Italian jewel box sells coffee, pastries and sanwiches during the day and cocktails for an aperitif or late-night drinking.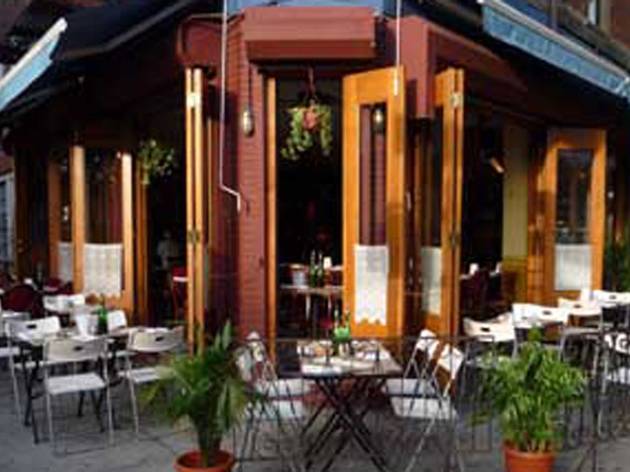 The polished young people who jam into this popular spot are certainly different from the adventurous sorts who once prowled these streets in drag and leather. The restaurant is noisy, inexpensive and ideal for large gatherings. Service is personable and accommodating, and the food gets better as the evening moves along (whether you have wine or not). Here, spaghetti with tomato, basil and mozzarella is everything you want it to be: light and tangy, with a sauce begging to be sopped up with a slice of sourdough. The old souls who haunt the ever-changing Village would have related to the decadent tiramisu. Please note: it's cash-only.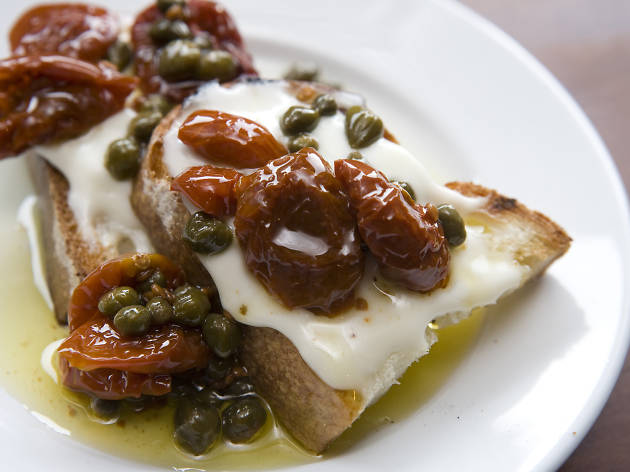 With its long marble bar, piddling five tables and menu of choice Italian nibbles, Gottino isn't so much a restaurant as a very well-accoutred wine bar. Divided into salumi and cheese on one side, and prepared bites on the other, the menu provides multiple opportunities for memorable bites. Thick-cut cacciatorini (cured pork sausage) luxuriates in a shallow pool of olive oil infused with oregano and garlic, while in another wee dish, sardines keep company with fennel, pine nuts and raisins.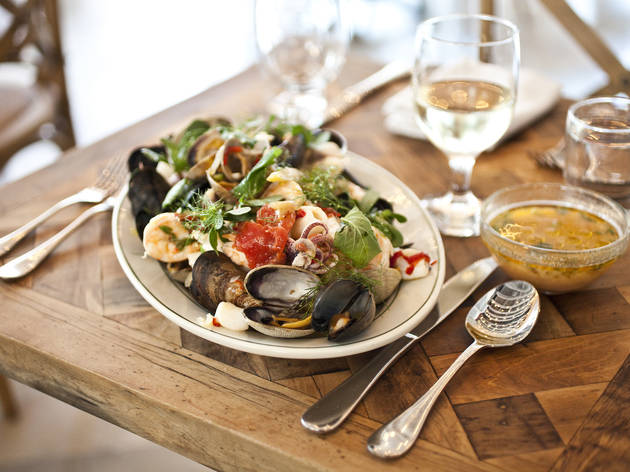 At the always welcoming (and often mobbed) Rosemary's, lofted beam ceilings lend rustic Italian charm to an expansive and airy space. Pulling ingredients from its rooftop garden, the kitchen turns out both farm-to-table and coastal Italian classics like Sicilian salad, fresh flake-salted burrata, and slow-roasted herbed chicken. Treat yourself to second helpings of the house-made focaccia, and be sure to grab some Italian cookies to take home, too.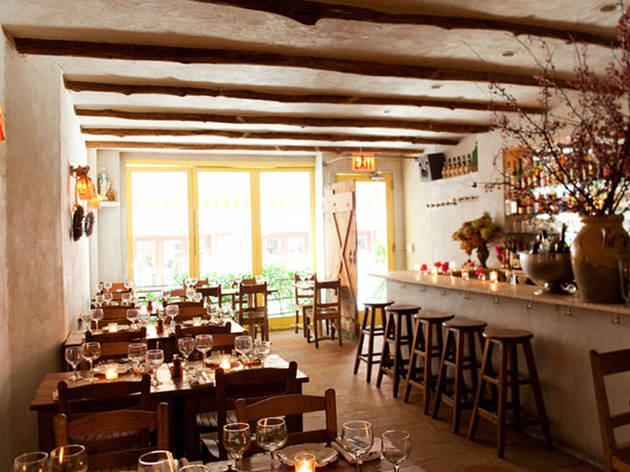 Fulfilling all romantic expectations on film-set cute Cornelia Street is Palma, which evokes the Italian countryside with its antique wooden tables, rickity paper light fixtures and simple, whitewashed walls. Try the homemade spinach-and-ricotta stuffed agnolotti for an intoxicating blend of cream and piquancy or the rich, meaty swordfish punctuated by capers and olives. Don't burn your tongue on the steaming espresso (which is accompanied by a wand of rock candy) and you might agree: This sort of dining makes its own magic to rival the movies.
Morandi, the Italian debut for French-trained Keith McNally (Pastis, Balthazar) is completely transportive to the old-world, complete with brick archways, wooden beams, jeweled chandeliers, and—of course—racks of Italian wine. The large menu favors the kinds of basics you'd actually eat in Italy, borrowed from all over the boot, such as the hearty porcini and chestnut gnocchi, linguine with clams in a delicate white wine sauce, and tender meatballs slow-cooked with raisins and pine nuts.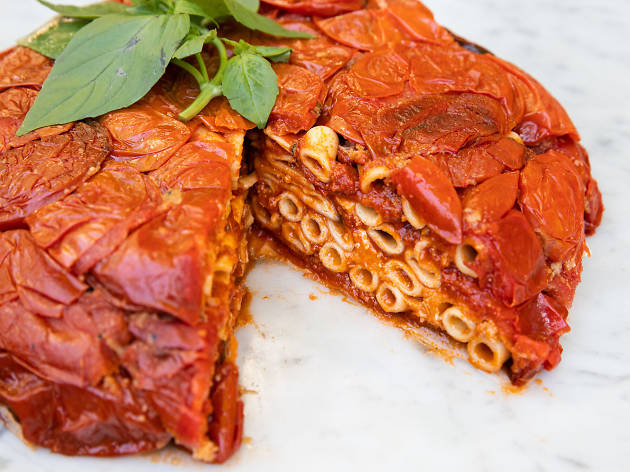 Photograph: Tina Boyadjieva
At Emanuele Bugiani's new Pasta Al Forno, a follow-up to his West and East Village restaurants, Bugiani is entirely focused on baked pasta—from timballo and ziti to lasagna. Baked pasta isn't often championed on New York menus, but at many restaurants it's a dish that adds to the hype.