Heads up! We're working hard to be accurate – but these are unusual times, so please always check before heading out.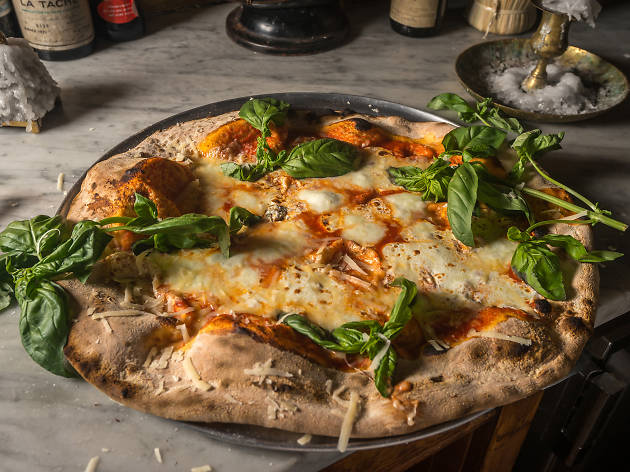 The people's picks for the 25 best pizzas in New York
We ranked the best pies in NYC, then asked you how you'd rearrange our list—here's the order you guys chose to put them in
Shocking news! New Yorkers love to argue about pizza. Who knew? Well, everyone, obviously—that's why, when we presented our list of the 25 best New York pizzas, we also asked you guys to rearrange the list as you saw fit. Presented below are the results of the furious first 24 hours of voting that saw some pizzas rise like golden dough from the bottom of our list to the top, while others sank in the rankings like melting mozzarella. And if you still don't agree? Go ahead and add your picks right here.
RECOMMENDED: See more of the best pizza in NYC
People's picks for the best pizzas
What's even more sinfully delicious than pizza? Fried pizza. This Hell's Kitchen collaboration between Kesté's Roberto Caporuscio and his mentor Antonio Starita—the third-generation owner of the revered Pizzeria Starita a Materdei in Naples—takes a Neapolitan pie to the next level, flash-frying the crust until it's funnel-cake fluffy inside with a crispy coating, topping it with imported smoked buffalo mozzarella and fresh basil and then finishing it in the oven. $13
The Neapolitan round on offer at Roberto Caporuscio's West Village pizzeria is as exemplary a pie as you're likely to find outside Naples—not surprising, considering Caporuscio grew up on a dairy farm an hour outside the city. It's all about quality sourcing—San Marzano tomatoes, house-pulled mozz and a puffy, chewy crust built with Caputo 00 flour. We're happy as hell you crossed the pond, dude. $13
Staten Island, represent! Dongan Hills' 75-year-old tavern still slings out a a golden-crusted pepperoni bar pie, loaded with concave little half moons of cured meat that get fantastically crispy and crackly-edged in the oven. You'll be glad you properly padded your stomach—this is the kind of joint where you want to sidle up to the bar for a few beers, watch whatever is on the tube and shoot the shit. $20
The heralded square za at this fourth-generation, family-run Gravesend staple, which opened in 1939, is some of the most distinctive pizza in the boroughs, thanks to its signature upside-down composition: On a puffy, pillowy crust—whose caramelized crunch is the happy result of the old steel pans it's made in, with decades of olive oil cooked right into them—a light mozzarella coating is hidden beneath a fine layer of tomato sauce, dusted liberally with salty pecorino romano on top. $38
The coal-fired brick oven at this reliably shabby old-timer turns out a standard-bearing Margherita pie, thin of crust and light of sauce, with gooey grated mozzarella clinging to every nook and cranny. With good-natured, Old World gruff, the servers will inform you that it's only pies here, no slices—a great excuse to inhale an entire one all by yourself. John's is both a local landmark and a major stop on the New York pizza-tourist circuit, and you don't gain that kind of rep for nothin'. $17.50.
Bow down, ladies and gentlemen. The king is an exquisite blend of bright plum-tomato sauce, puddles of rich buffalo mozzarella, zesty sausage, peppers and onions, all topped with drizzled olive oil from a copper pot and snipped basil leaves. Watching living legend Domenico DeMarco concoct his signature pie is damn near theatrical—if a bit on the long side. The hike for many of us to this no-frills Midwood spot will take a while. But trust us—one bite is worth the wait. $32
The slices of Margherita at this 1933 East Harlem original are super thin and shorter than you'll typically find, which means the average person—okay, fine, we—can easily wolf down five to six slices each, especially when they're fresh from the oven with that bubbling, browned cap of creamy mozzarella beneath that zippy sauce. $18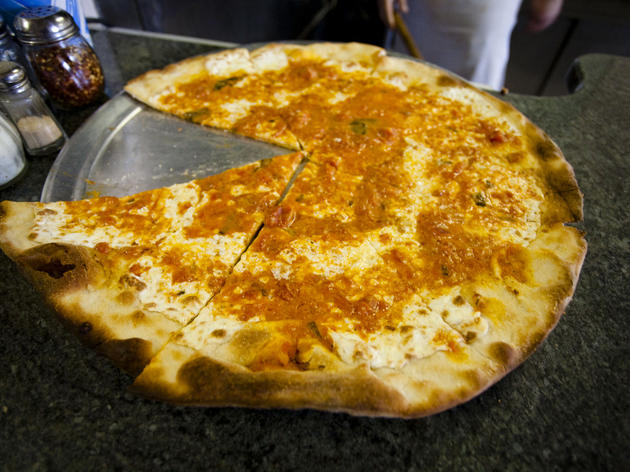 Photograph: Michael Skigen
8. Vodka pie at Joe & Pat's Pizzeria
Creamy vodka sauce, stretchy fresh mozzarella and fragrant basil—those are the three key ingredients central to the pie Staten Islanders have been swearing by for more than 50 years. The airy crust, a slightly sweet sauce and an herbal finish means you can gobble three slices and still have room for more. $17
Coal-fired blisters, spotted pools of house-made mozzarella and just the right amount of sauce (read: not much at all) keep us coming back to this 91-year-old Coney Island joint. Anthony "Totonno" Pero's main attraction is a thing of beauty—perfectly served on a Styrofoam plate. $19.50
Carlo Mirarchi knows how to mess around. His Neapolitan pies sport witty names (Spudnik Cheesus Christ) and even more playful toppings, but our favorite is the takeout- and delivery-only Bee Sting, a salty-sweet blend of oven-crisped sopressata, crushed tomatoes, punchy chile and, the kicker, a few sticky swirls of honey that masterfully cut the spice and savoriness of the salami. Sometimes it pays to stay in. $16.
Show more
See Time Out's picks of the best pizza
Our five-borough tour of the best New York pizza skips from legendary institutions to new-wave joints. Here are our picks of the reigning pies in Gotham.