Quiz: What kind of New York lover are you?
Player or pussycat? Take our saucy quiz and discover your sex style.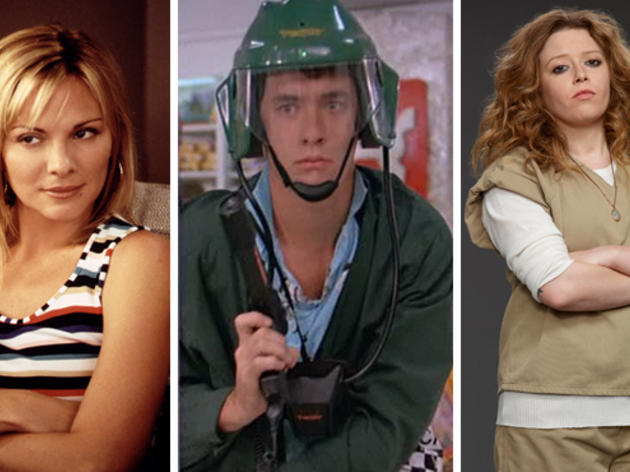 up all night
? Are you spicier than a shot of
sriracha-
spiked
tequila
between the sheets, or does your bedtime buzz come from a smartphone? Do you prowl the city's
bars
like a slinky hipster jaguar or dream of settling down with your one-and-only? Dim the lights, slip into something more comfortable, and find out what kind of New York lover you really are.
1. What do you think about when pleasuring yourself?
2. What do you look for in a lover?
3. Where do you go to meet someone?
4. What's your sexy-time underwear?
5. What's your favorite sexual position?
6. The morning after sex, I…
7. Sex is…
8. What song best describes your seduction style?
Hannah Horvath (Girls)
Hey there, everygirl—or guy. Yeah, we know you sometimes feel like you're going crazy, and you swing from thinking you may be devastatingly hot to feeling totally unboinkable. But take it from us: You're just like everyone else, in the best possible way. You're willing to embark on a grand adventure in the name of sizzling sex (and, you hope, romance), and you've got a sense of humor about the whole thing. This, dear Hannah, makes you a treasure between the sheets—ill-advised underwear or not.
Barney Stinson (How I Met Your Mother)
This city is a jungle, and you are its apex predator. Stalking the night like a sexy panther, your aim is impeccable, your success rate staggering. Okay, so maybe you don't always, entirely, completely tell the truth about every little thing, but it's not like you're going to see each other again after tomorrow morning, so who cares? Your methods definitely cause others to look at you with distaste—even your friends find you an embarrassment on occasion—but you only care about results, and baby, you get 'em. As for your prowess in bed? Legen—wait for it—dary.
Samantha Jones (Sex and the City)
You know what you want—sex—and know when you want it—all the damn time. Sex is neither currency nor power in your world, it simply feels good and you really, really like it. You are staunchly pro-sex and will cut a bitch who gets between you and a peen (and every now and then, a vag) and definitely have no time for anyone's trifling, puritanical judgment. Life is short—you've got to screw while you can. Though not opposed to the idea of a relationship, it's not at the top of your priority list. What is? Everything about sex: namely having a lot of it and making really, really terrible puns about it.
Josh Baskin (Big)
This whole sex and dating thing is all a little new to you. You kind of know what you're doing, and you're a nice enough person, but your adorable innocence might well lead to someone older and more experienced taking advantage of you somewhere down the line, so you should definitely be careful what you wish for. The good news is, you're a breath of fresh air to cynical, "been there, done that, got it all over my t-shirt" New Yorkers, who will all secretly wish that they could recapture some of that lost innocence you so effortlessly exude.
Nicky Nichols (Orange is the New Black)
You like sex. You do. You love it, in fact. But you're also not above using it for your own purposes. Whether it means screwing someone to get back at a former lover, sleeping with people just to win a meaningless contest, or fulfilling some other kind of nefarious scheme, sex is your weapon, and you wield it with an expert's hand (and mouth). Your tough-as-nails, flippant attitude hides a surprisingly fragile personality, but very few people will ever truly get close enough to discover that. There are those who disapprove of your bedroom (and every other room) antics, but the fact is, you're good at it, and hey, it's not your fault if suckers find you charming and sexy, right?
George Costanza (Seinfeld)
You pull a surprising amount of New York tail considering you're, y'know, not what would typically be considered a catch. Not that you're not great—you are, you are so great—but your tendency toward neurotic obsession often ruins even the most potentially mind-blowing sexual experiences (ones that, let's be honest, you're damn lucky to have gotten into in the first place). You ascribe to that old Groucho Marx adage about not wanting to be part of any club that wants you as a member—and your sex life is the living proof. You could be lying in bed with Cindy Crawford circa 1990, and all you'd be able to focus on is her mole—and pretty soon you'd be thinking about skin cancer and wondering if you have it…. You, my friend, are your own biggest boner killer.