The best ornament shops in NYC
Stock up on Christmas supplies at an ornament shop in NYC! Here are the best decoration destinations in the city.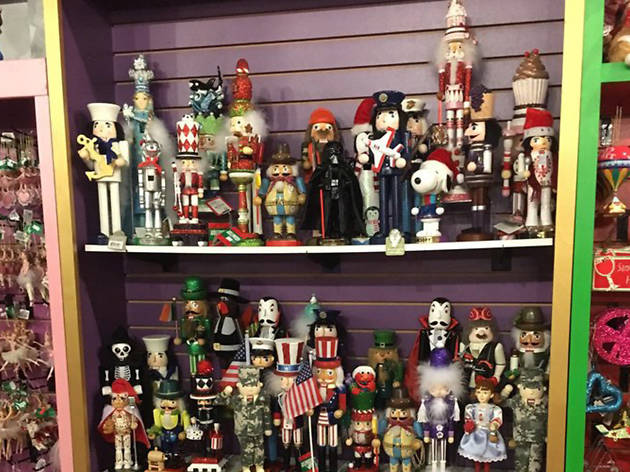 Get in the holiday spirit at an ornament shop, the perfect place in NYC to pick up Christmas decorations. (Aside from the Bryant Park Winter Village, of course.) Christmas in New York is magical, but it can also be a little cliché. However, your Christmas decorations definitely don't have to be. Get inspired by the best department stores' windows, then head here to find the perfect trimmings for your tree. Everyone at your Christmas party will be super impressed.
RECOMMENDED: See the full guide to Christmas in New York
Best ornament shop in NYC
1
For the past 30 years, this shop has provided New Yorkers with everything they could possibly want to deck their halls with jolly style. And while Christmas may come but once a year, this store is open year-round—just in case you get a hankering for a Fabergé Santa in July.
Read more
2
Since 1976, this store has peddled the best antiques and collectibles. If your personal style includes a vintage flair, check out this old-school outfitter for ornaments shaped like watermelons—in the 17th century, when Hans Grenier manufactured the first Christmas tree ornaments from blown glass and clay, the fruit-shaped ones were his favorite.
Read more
3
In addition to the many city-centric offerings here (read: ornaments painted like taxi cabs), you can get yours personalized. So that NYPD badge you hang during yuletide can be embossed with your (or whoever's) name.
Read more
5
If you're starting from scratch with your ornament collection, head to this store for fully decorated Christmas trees. There's also a Christmas museum on the lower level, if you want to find out where exactly decorated Christmas trees come from. (They date back to the 1500s, so yeah, there's lots to cover.)
Read more
6
Around the holidays, this store offers an elegant selection of ornaments with, yes, dino designs. There's also handmade jewelry and home decor goods, if you really want to send your apartment back to the Jurassic Period this holiday season.
Read more
Looking to go ice skating?
Lace up your skates and head to our picks for the best indoor and outdoor ice-skating NYC has to offer
Read more