Best Christmas tree farms near NYC to visit this winter
Take the family to our go-to Christmas tree farms near NYC and find the perfect fir, spruce or pine for your living room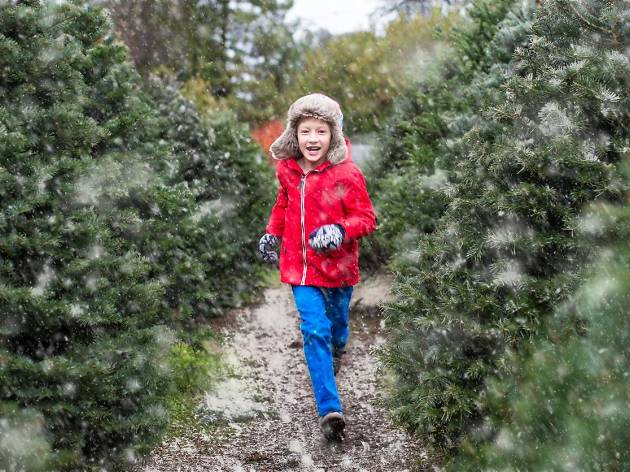 Channel your inner Clark Griswold and make a visit to our favorite Christmas tree farms near NYC...just make sure you plan more wisely than our favorite holiday funnyman.
At these venues, including Barclay's Christmas Tree Farm and Hardwick Tree Farm, you and your family can have the experience of cutting down your own Serbian spruce (or calling for an S-O-S when need be). Think of how gorgeous your hand-picked 2018 tree will look with the ornaments, lights and tree topper!
RECOMMENDED: Full guide to Christmas for kids
After you've ventured on a few fun winter weekend getaways to our go-to Christmas tree farms, make sure you celebrate the season to the fullest with ice skating in NYC and a cup of hot chocolate. Don't forget to make a checklist of your favorite winter activities for kids!
(PSST: If you're looking to book festive local tours to celebrate Christmastime, click here.)
Christmas tree farms
1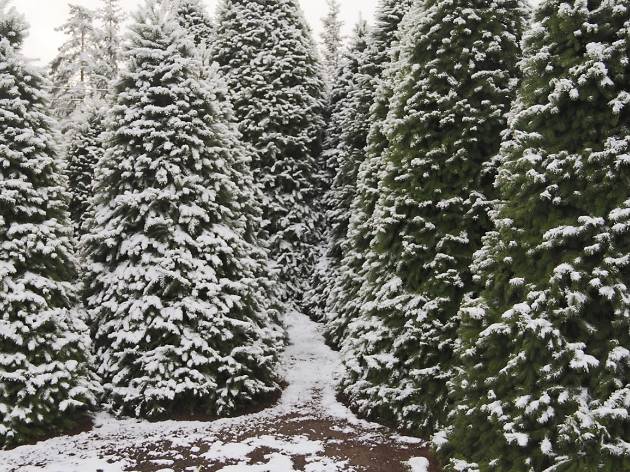 Photograph: Courtesy Shutterstock
Travel time: 1 hour and 30 minutes by car

The Edwards family has been farming here since 1769, and they know their Christmas trees. They reckon that of all the gorgeous evergreens on offer, the Douglas Fir holds onto its needles the longest, the Norway Spruce sheds quickest, and the White Pine is best for families with allergies. Cut-your-own trees include five varieties of fir, three types of spruce and the White Pine. Once you picked and chopped your tree, it's collected by tractor and taken down to the baling area so you don't have to drag it too far. Hoof it down to the farm center to meet the enormous—and very friendly—oxen, and have a slug of hot chocolate or cider before tying your tree to the roof and heading home. Easton, CT (mrfarm.com).
2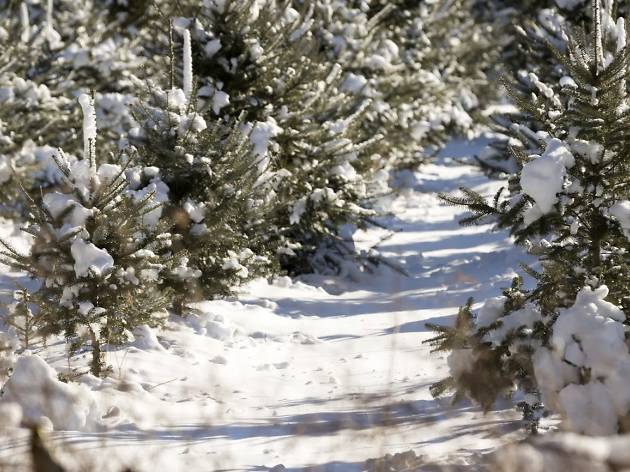 Photograph: Courtesy Shutterstock
Battenfeld Christmas Tree Farm
Travel time: 1 hour and 45 minutes by car
This Hudson River Valley farmstead features 80-acres of evergreens, including Blue Spruce, White Pine, Balsam Fir, Concolor Fir, Douglas fir and Fraser Fir. Borrow a saw for $10 refundable deposit and head into the forest in search of your families future Christmas tree. Tykes will enjoy hopping on a horse-drawn wagon on the weekends and saying hello to Santa and his elves in the main bailing barn. Refuel after your wood chopping adventures with hot dogs, chili and cider from the farm's snack shop. Red Hook, NY (christmastreefarm.us).
3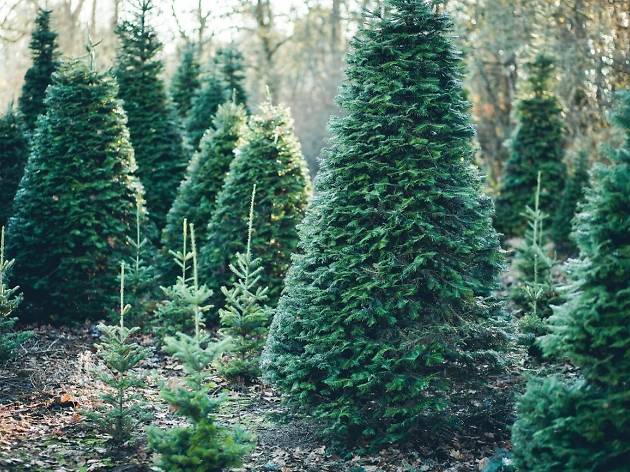 Photograph: Courtesy Shutterstock
Barclay's Christmas Tree Farm
Travel time: 1 hour by car

You'll be treated like long-lost friends at this family-run farm just off the New Jersey Turnpike in Cranbury, New Jersey. Take a moment to breathe in the glorious smell of pine, then let the helpful staffers set you up with a hacksaw and show you to their enchanting forest filled with robust Fraser, Douglas and White Firs, and plump Norway and Blue Spruce trees (they will cut the tree for you if you prefer). Once chopped, they'll bundle it up and tie it securely to the car for you, while you pick up fresh-tied plain or decorated wreaths and Watering Elves, a simple funnel system that makes it way easier to keep your tree hydrated until December 26th. Cranbury, NJ (barclaystreefarm.com).
4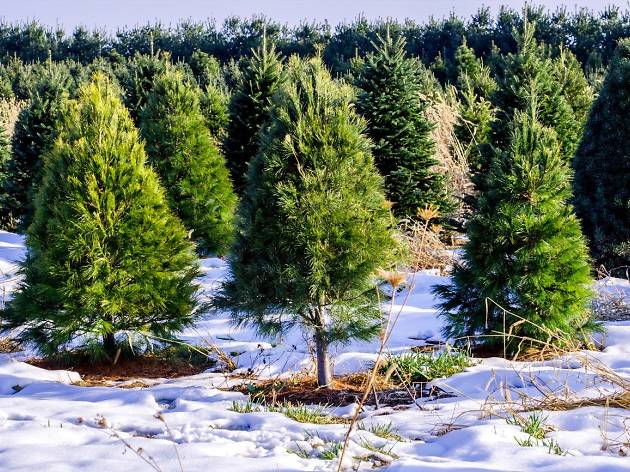 Photograph: Courtesy Shutterstock
Travel time: 2 hours and 45 minutes by car

If you've gone apple picking at Averill Farm in the fall months, you'll want to return before the holiday season starts up to cut your own Christmas tree. The 260-acre farm includes two fields filled with your family's future tree. If you didn't bring your own tools, tree hunters can borrow a saw and cart to help the family lug their find back to their car. Warm up with some delicious homemade cider, apple cider donuts, jam and locally sourced produce and pies. Washington Depot, CT (averillfarm.com).
5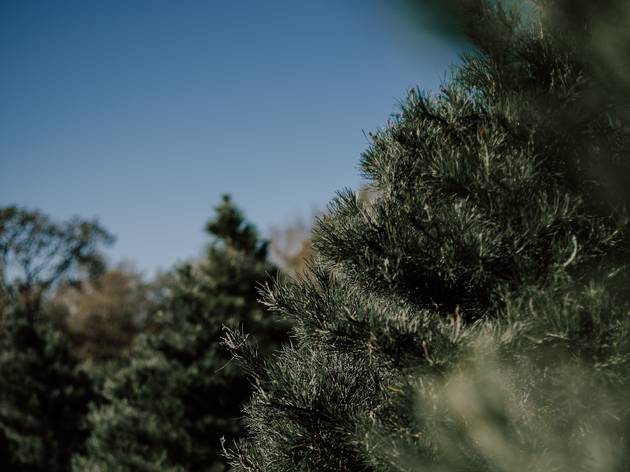 Photograph: Courtesy Unsplash + Christin Hume
Travel time: 1 hour by car

Your adventure begins with a scenic drive through glorious woodland along Saw Mill River Parkway as it meanders from Van Cortlandt Park up through the Bronx, and your little lumberjacks can look out for blue jays, woodpeckers and hawks from the backseat. Once at the farm, take your time and find the fir you like the most and double-check that it will fit on your car—and in your apartment, for that matter!—then get busy with the saw. Kindly staffers are on hand to bale up and help you load your tree, or finish the cutting if you run out of steam. A complimentary cup of warm cider and sweet cookies will give you a warm glow on the run back into town. Open weekends only from 9am to dusk. Saws and baling twine provided. Mahopac, NY (845-528-5814).
6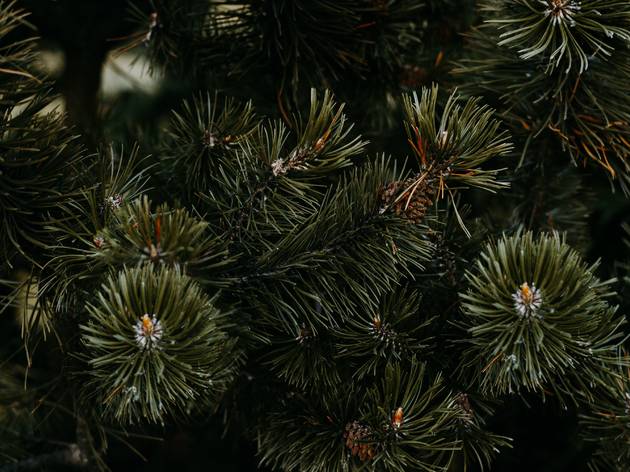 Photograph: Courtesy Unsplash + Irina Kostenich
Travel time: 2 hours by car

You could end up walking a long way to find the tree of your dreams, and strollers struggle on muddy tracks, so families with tiny tots and early walkers will appreciate the smaller scale of this sweet 10-acre plot. The trees (mainly Scotch Pine and spruce) are planted close to manageable pathways and, once the choosing is done, little ones can visit with and feed the farm's friendly critters which usually include rabbits, pigs, sheep and hens. If you want to up the festive quotient, the historic Locust Grove Mansion is a 15-minute drive away. It gussies up for the season and holds guided tours of the holiday-decorated house on Saturdays (for a fee), and on Sundays in December, the mansion hosts festive scavenger hunts with storytelling in the family center ($8 per person, children 6 and under free. lgny.org). 80 Bedell Road, Poughkeepsie, NY (solvangfarm.com).
7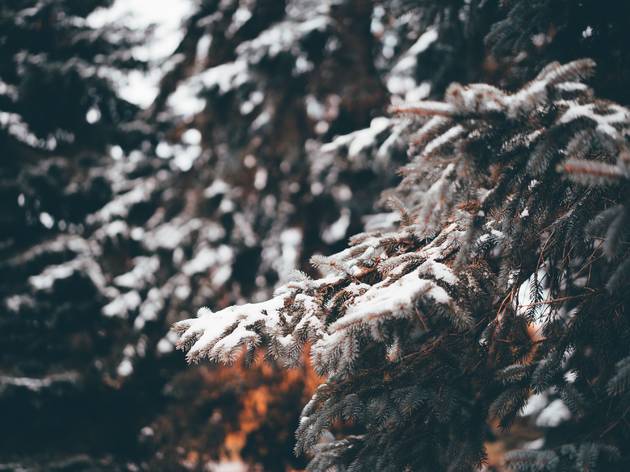 Photograph: Courtesy Unsplash + Ben Konfrst
Travel time: 2 hours and 20 minutes by car
A go-to PYO spot for fruits and pumpkins turns into a winter wonderland come the end of the year. Lewin Farms offers a variety of Christmas trees—including Douglas Firs, Norway Spruces and White Pines, to name a few—that range up to 15 feet in height (just don't be surprised if that bad boy is a little cramped in a NYC apartment). It's recommended that guests arrive before 3pm if they're planning to cut their own trees, as the open field doesn't include any lights. Pre-cut trees are also available if you're not looking to work with a saw. Credit cards are not accepted on the u-pick fields or tree farm. Calverton, NY (lewinfarm.com).
8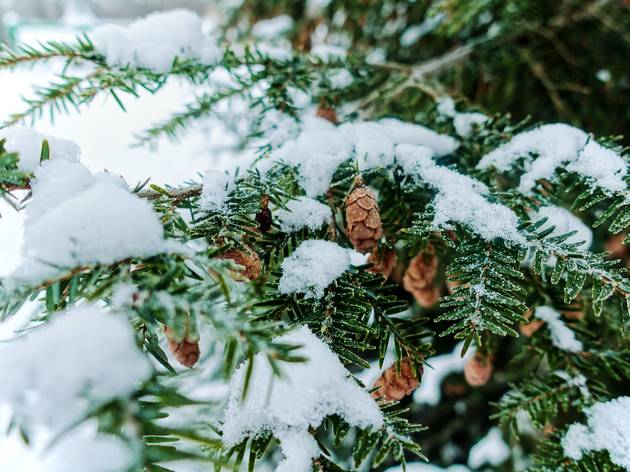 Photograph: Courtesy Unsplash + Michael Weidner
Elwood Christmas Tree Farm
Travel time: 1 hour 45 minutes by car
If you're not too keen about venturing far from Gotham, Elwood Christmas Tree Farm is the way to go. Long Island's most western cut-your-own-tree venue allows you to walk over 20 acres in search of that picture-perfect holiday Douglas fir. While the lot of pre-cut trees is open daily, note that the cut-your-own experience is reserved for the weekends. Don't worry about having any trouble snatching your favorite tree—the crew will help you take care of the cutting if you lose steam. Huntingon, New York (elwoodpumpkinfarm.com).
9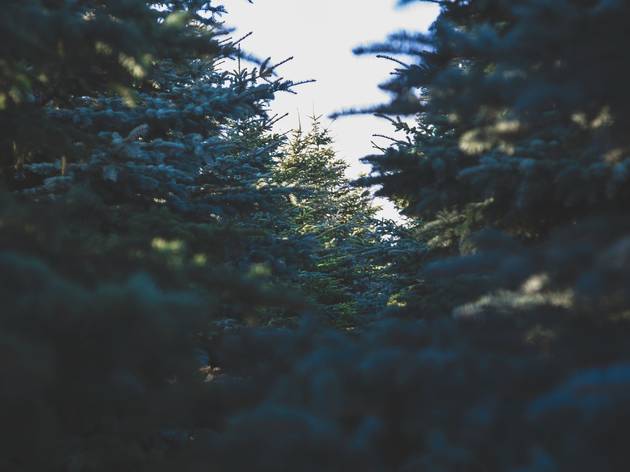 Photograph: Courtesy Maria Shanina + Unsplash
Shamrock Christmas Tree Farm
Travel time: 2 hours and 30 minutes by car
Don't be fooled: The East end of Long Island isn't just a summer hotspot. Thanks to a pitstop at the Shamrock Christmas Tree Farm, you'll consider the area a winter destination from here on out. Once you're done cutting down your own tree (or selecting a pre-cut gem), make sure to take a gander at the customized, tabletop center pieces at the Shamrock Christmas Tree Farm. The venue not only provides 20 acres of options for visiting families, but it also features a shop where you can browse through a selection of holiday trinkets, enjoy caroling, take photos with Santa and sample wine (when mom and dad need a treat, too). Mattituck, New York (shamrockchristmastreefarm.com).
10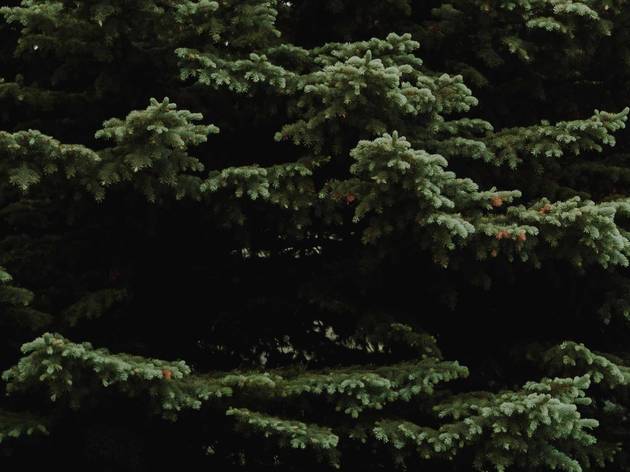 Photograph: Courtesy Unsplash + Aldo Delara
Travel time: 1 hour by car
The fun gets underway the Saturday after Thanksgiving at Wilkens Fruit & Fir Farm. Once the leftovers Thanksgiving are gone, it's time to start thinking about Christmas. Cut-your-own Douglas and Fraser firs are available, and pre-cut Fraiser Firs are ready for the taking, while supplies last. Don't forget to stop by the market for holiday goodies and take a glance at the bakery offerings. Hey, that pie isn't going to eat itself! Added holiday bonus? Those who make a tree purchase can enjoy a complimentary cup of hot cider. Count us in! Yorktown Heights, NY (wilkensfarm.com)