A complete guide to the Harry Potter Broadway lottery
Accio, cheap tickets! Here's how to snag affordable seats to Broadway's Harry Potter and the Cursed Child.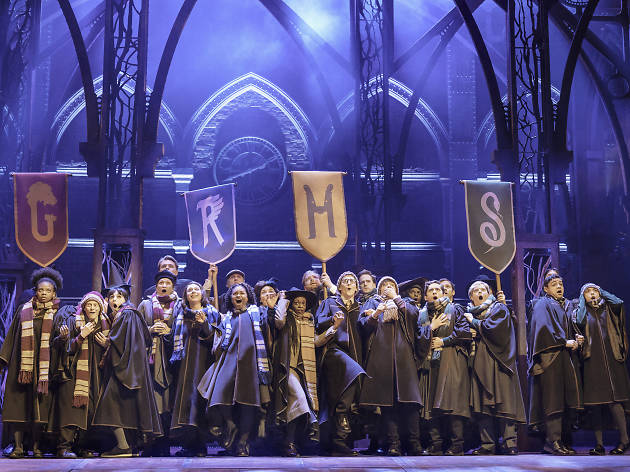 It's not surprising that Harry Potter and the Cursed Child is a smash hit on Broadway. Not only does it have a huge built-in fan base, but it's also one of the best Broadway shows you can see: a two-part, five-and-a-half-hour treat that justly won six Tony Awards in 2018. Sadly, the success of the show makes it nearly impossible to get cheap Broadway tickets to see it. But since Harry Potter's producers want to keep your dreams alive, they have set up a digital lottery called the Friday Forty that lets 160 lucky people a week see the show at a magically low price. Here's everything you need to know about the Harry Potter lottery.
RECOMMENDED: Complete guide to the Hamilton lottery
What is Harry Potter Broadway lottery?
Like most Broadway shows these days, Harry Potter and the Cursed Child offers a digital lottery, and it's a very good one indeed. Known as the Friday Forty, the Harry Potter lottery sets aside 40 good seats at each performance that cost just $20 each, which adds up to $40 for both parts of the show. That's a massive savings when compared to what you would ordinarily pay: $190–$650.
When is
Harry Potter lottery held?

Where the Harry Potter Friday Forty lottery differs from others is that it is held just once a week—on Friday, as you may already have guessed. The nice thing about that is that you don't have to remember to enter it every day, just once a week. You have plenty of time to enter: The window each week begins at the very start of Monday (just after midnight) and closes on Friday at 1pm.
How can you enter the
Harry Potter lottery?

The lottery is administered through TodayTix, and can be accessed via the TodayTix website or on the TodayTix app. The process is fast and easy.
How do you find out if you won the
Harry Potter lottery?

This is the harder part. Lottery winners are notified between 1pm and 5pm on that same Friday, and you have only one hour from the time of the notification to claim your tickets. Make sure to check your email regularly—to be extra safe, opt in for a push notification on your phone—and if you do win, act fast to confirm and pay for your seats. You can pick them up at the box office on the date (or dates) of the performances, with a valid photo ID.
Can you enter the

Harry Potter lottery more than once?

You can enter the lottery for several different performances in any given week, but you are only allowed to enter once for each performance. (Automated entry devices or programs are forbidden.) However: When you use Facebook or Twitter to share the fact that you've entered the lottery, you get one additional entry per platform, effectively doubling or tripling your chances of winning.
Can you enter to see only one part of

Harry Potter?

No, all lottery tickets are for both parts. If you only want to see one half, you can throw the other tickets away, but what a waste that would be.
Is there a nondigital way to enter

Harry Potter lottery?

Technically, yes: you can enter by mail by mailing an envelope with your name, email, phone number, zip code, and desired performance dates to TodayTix (64 Wooster St, second floor, New York, NY 10012). But there is no advantage to doing so, and plenty of disadvantages. You'll have to pay for postage, and mailed entries must be received during a short window: at least 10 days and no more than 14 days prior to the performances in question. Don't bother. Enter online.
Are there other ways to get cheap tickets to Harry Potter and the Cursed Child?
Cheap is a relative term. The lottery offers the least expensive tickets by far, and since Harry Potter is a huge hit, you are not going to find discount codes for it anytime soon, or see it pop up on TKTS. However, some full-price tickets to the show are a good deal less costly than others, so the trick is to get your hands on those ones, and not have to shell out top dollar for premium-level seats—or heavily marked-up seats on the resale market, where a pair of tickets can set you back $2,500. Here are some tips for finding decent seats at a reasonable price:
• Shop very early. The cheaper seats sell faster, so book as far in advance as you can. Take some time to look at the schedules for shows a few months down the line, and find performances where you can buy tickets at the lowest price: $95 per half.
• Sign up for the newsletter. Harry Potter and the Cursed Child periodically releases large blocks of tickets, and that's the best time to snap up good seats a few months in advance. If you sign up for the show's newsletter, you can stay on top of exactly when these blocks go on sale. Try to get in at the very start of the sale, so you have the most options. The next bog block of seats goes on sale on May 8, 2019.
• Go on weekdays. Tickets for performances on Wednesdays, Thursdays and Fridays tend to be cheaper and more available than those on weekends.
• Buy your tickets at the box office instead of online. The TicketMaster website isn't always great at helping you find what you're looking for; actual people are better, especially if you treat them respectfully. Go in person to the Lyric Theatre box office (214 W 43rd St, open 10am–8pm daily). At the very least, you'll avoid the large processing fees that TicketMaster slaps on each order, which are usually more than $20 per ticket.
Archive Harry Potter and the Cursed Child stories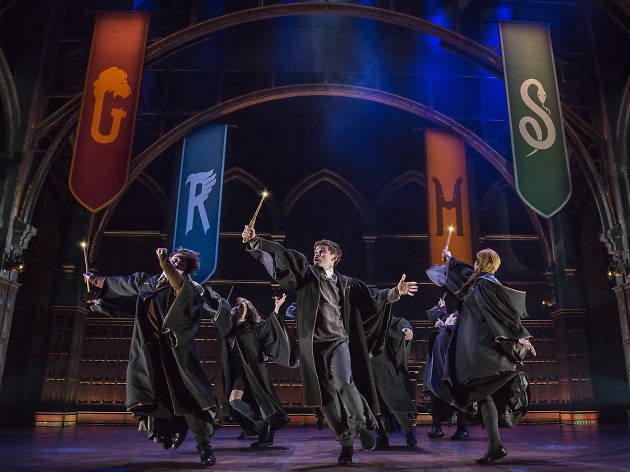 Review: Harry Potter and the Cursed Child
The world of Harry Potter has arrived on Broadway, Hogwarts and all, and it is a triumph of theatrical magic.
Buy