The 20 best New York theater shows to see this winter
We have the season's best musicals, shows and exciting experiments from Broadway to the outer boroughs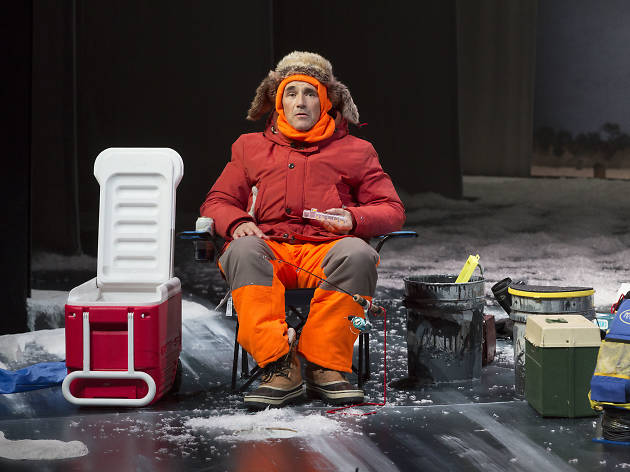 Classic British farce! Hard-hitting war drama! Avant-garde performance by the yard! This winter you better lace up your snow boots, because you'll be out trying to score cheap Broadway tickets and big discounts on Off Broadway shows and Off-Off Broadway shows. We still have to wait for the spring for the rush of new musicals, but if you want to get nostalgic there are several revivals: Fiddler on the Roof, She Loves Me and The Robber Bridegroom. January tends to be packed with experimental fare from around the globe, thanks to Under the Radar and Coil. For the serious playgoer, there's the Broadway transfer of the harrowing Eclipsed and the shocking relationship drama Blackbird. We're on the lookout for our favorite performers: Mark Rylance at the fancy new St. Ann's Warehouse, Tonya Pinkins as Mother Courage (holy moley) and the genius clown duo Bill Irwin and David Shiner. All this—plus new work by playwright Kenneth Lonergan! Below is the list, ranked chronologically.
See the best New York theater shows this winter
Stage vet Danny Burstein (South Pacific, Cabaret) steps into a role he's been destined for: beleaguered yet loving milkman, husband and father Tevye, a fellow trying to maintain tradition in the face of a harsh, changing world. Bartlett Sher directs the revival, which also stars the wonderful Jessica Hecht.
Read more
Seth Rudetsky and Jack Plotnick's ingenious, blissfully silly jukebox musical (which ran Off Broadway in 2014) deploys three dozen classic tunes from the Me Decade in a campy spoof of 1970s disaster flicks. The cast includes Roger Bart, Rachel York, Kevin Chamberlin and the miraculously funny Jennifer Simard (pictured) as a glum, guitar-playing nun.
Read more
See more theater shows this winter