Heads up! We're working hard to be accurate – but these are unusual times, so please always check before heading out.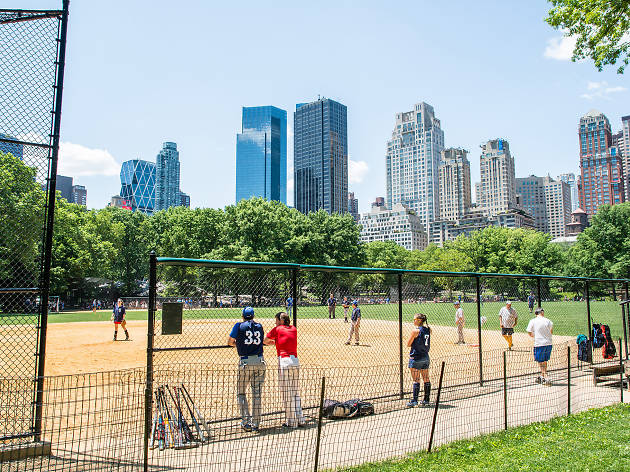 26 essential NYC sports experiences
Our guide to the best sports experiences in NYC covers all the bases: drinking, cheering and even breaking a sweat.
Think New York isn't a sports town? Our roundup of the awesome sports experiences every New Yorker needs to get hip to is here to change your oh-so-wrong mind. From rowdy tailgates and pop-culture get-downs to definitely New York sports like handball and gotta-see streetball battles, we've got fun activities for fans and non-fans alike. And if you're jonesing for more ways to become a super fan—or just fill up on fan-beloved food—check out our lists of the best sports bars, stadium-worthy hot dogs and ways to get the heart rate up and other cool things to do outside.
Essential NYC sports experiences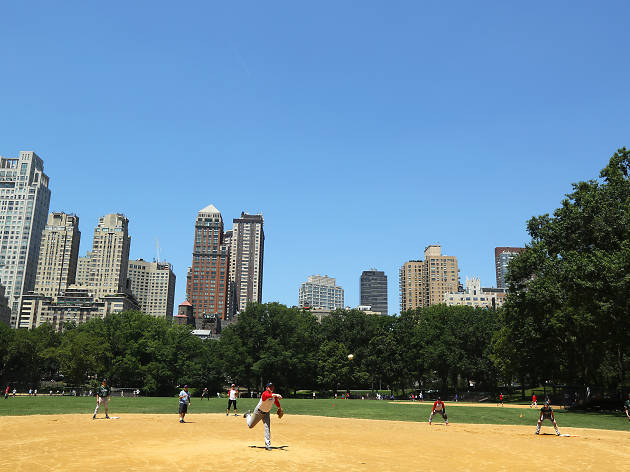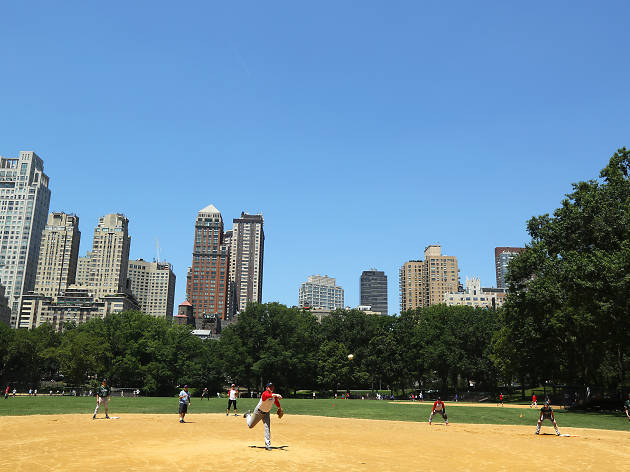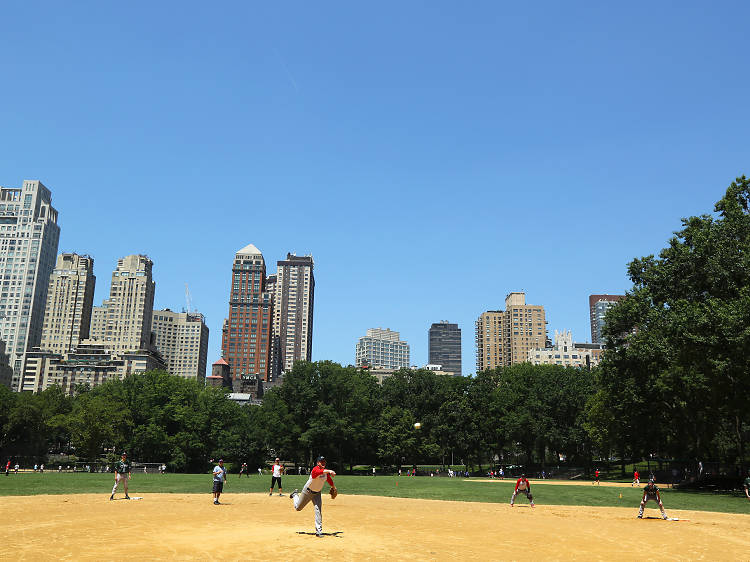 Photograph: Shutterstock/Leonard Zhukovsky
1. See softball go hardcore
The most electric action on the diamond is not in the Bronx or Flushing but at Heckscher Ballfields (Central Park West and 63rd Street). Here, the insanely competitive industry and bar softball leagues slug it out for evenings of glory and yearlong bragging rights. The most entertaining games involve the Broadway Show League, which pits the cast and crew from productions such as Hamilton, Kinky Boots and Aladdin against each other. (Of course, they play day games, as the show must go on at night.) But the most ruthless group is the New York Media Softball League, wherein teams from, for example, The Wall Street Journal and BuzzFeed forget about clicks for a minute and concentrate on hustling around the bases. Guess who won last year? High Times' Bonghitters. The stoners are legendary and taunt opponents through their @HTBonghitters tweets: "@BrianLehrer whiffs with the bases loaded to end it; a 6–5 #Bonghitters victory over @WNYC." If your line of work doesn't have a league, we highly suggest taking in a game. There isn't a finer backdrop than the New York skyline—as seen from the lawn—to watch Laura Dreyfuss (currently Zoe Murphy in Dear Evan Hansen) swing toward the Dakota.
If New York City has a culinary flaw, it's the few opportunities to barbecue meat and drink beer around a grill. Luckily, in a less than half-hour train ride from Penn Station, you're whisked to Rutherford, New Jersey, and into a massive outdoor cookout. You don't need a tailgate or any wheels to join in: Just bring a good six-pack (or, better yet, a case) and share your bounty, and some fanatics will likely offer you a hot dog and a great time. No matter how the Giants and Jets do in the draft and free agency, the true action happens in this parking lot in the swamps of Jersey.
We'll be honest: When we first moved here and people told us the marathon was fun to watch, we gave them the side-eye. ("Gee, after the big race, maybe we could cheer on the long line of cars exiting the Holland Tunnel?") But we were wrong—it's kinda the loveliest sporting event in our NYC environs. Even if you're on the sidelines, you're encouraging amateur athletes to push their body to the limit and realize their dreams. In return, you feel genuine altruistic euphoria. Want to bring not just a boost but also a smile to everyone involved? Get witty with mirthful signage.
4. Take the subway to the links
Golfing seems like an unattainable leisure activity for city dwellers, unless you're a Rockefeller or a Trump. (Perish the thought.) But take the 1 train to its last stop (Van Cortlandt Park–242 Street) in the Bronx, and you arrive at the country's oldest (est. 1895) public golf course, Van Cortlandt. On the course, you can walk in the footsteps of legends : Willie Mays, Babe Ruth and the Three Stooges teed up here.
Citi Field has some of the best ballpark food in the world, great vantage points for even the economically shrewd and the M-E-T-S Mets. And if that's not enough to draw you to Flushing, Free Shirt Fridays just might. The Mets offer a free T-shirt upon entry (while supplies… you know the deal) on many Fridays throughout the season—and they are sick, sartorially speaking.
The original local Major League Soccer team, the New York Red Bulls (née MetroStars), built a beautiful arena between two fervent soccer communities, Newark's Ironbound neighborhood and Kearny, New Jersey. Get to the area (there's an adjacent PATH stop) a few hours before the game, and make your way to the Market Street bars where friendly fan clubs pregame. Ingratiate yourself, and when you see them start to pay their tabs, settle up: Soon, lunatics holding blazing road flares will lead a procession across the Jackson Street Bridge and into the arena, belting out cheers and songs about the team. It is the most martial display of sports fandom in our area.
The Kentucky Derby is the country's swankiest lawn party, but the third and final leg of horse racing's most coveted—and elusive—crown caps off at Belmont Park. Every June, this racetrack, seasonally accessible via the Long Island Railroad, hosts a posh occasion that encourages you to wear a derby or fascinator while you watch the ponies run. Pinkies up.
8. Witness NBA legends getting schooled
Even Vince Carter didn't dominate when he first stepped onto the court at Rucker Park. Streetball G.O.A.T.s, NBA stars and celebs like Jay Z and Bill Clinton have descended on 155th Street and Frederick Douglass Boulevard for some magnificent hoops. While a competitive game is always going on, the Entertainer's Basketball Classic summer tournament brings out the conquerers of the court—and it's free.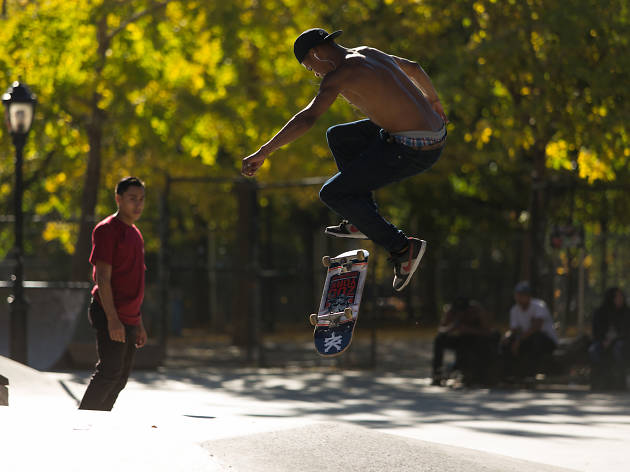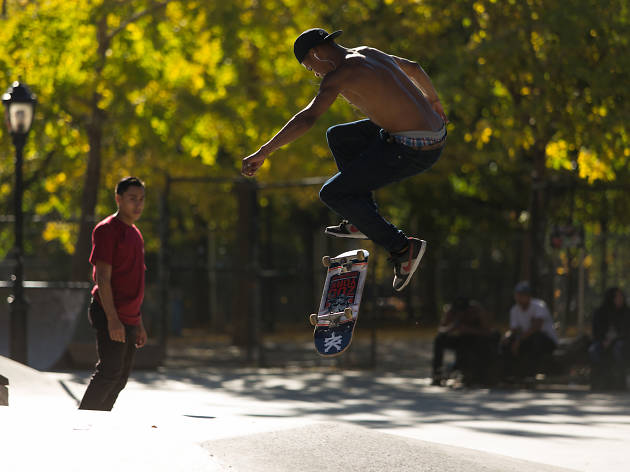 Photograph: Courtesy CC/Flickr/EventPhotosNYC
Skateboarding is not a crime in NYC. In fact, in November, the city cut the ribbon on its latest skate park at 114th Street and FDR Drive. We have a very skateable city, with dedicated spaces and incredible public architecture.
Ryan Sheckler: Astoria Skatepark (Hoyte Ave N, Queens)
Rodney Mullen: Central Park
Paul Rodriguez: New York County Clerk (60 Centre St)
Nyjah Huston: Canal Street
Chris Cole: Flushing Meadows–Corona Park
Tony Hawk: LES Coleman Skatepark (62 Monroe St)
Eric Koston: Williamsburg Bridge
Tyshawn Jones: Handrails outside Madison Square Garden
10. Pedal through all the boroughs
When's the last time you made it to Staten Island? Unless you're reading this on the ferry, we're guessing it's been a while. The Five Boro Bike Tour is a 40-mile trek (usually on the first Sunday of May) that takes you and 30,000 other riders through Central Park and Astoria, then over the Verrazano-Narrows Bridge. One thing's for sure: Your bike will get you across the city faster than the MTA!
Show more
Want to grab a cold one after the game?
NYC's beer bar scene stretches from the Bronx to Bed-Stuy–here are the beer bars that every hops-head needs to try