NYC events in June 2017
Plan your month with our events calendar of the very best activities, summer events and our picks from theater, the arts and music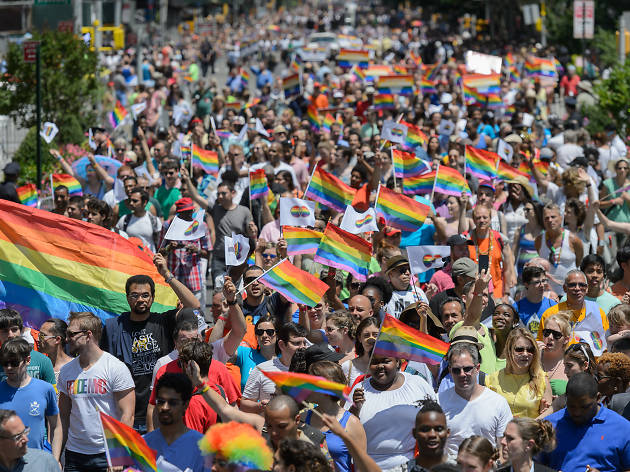 Featured events in June 2016
Music events in June 2016
Hot 97 Summer Jam is NYC hip-hop, okay? Yes, it's held in New Jersey, but this annual highlight of concerts and summer music festivals is as accurate a survey as you're likely to find of what's soundtracking Gotham right now—or will be very soon. Sponsored by local rap-radio standard-bearer Hot 97, Summer Jam 2016 includes some of the biggest names in hip hop and has featured some of the genre's most iconic names at the peak of their fame: Wu-Tang in '94, Biggie in '95, Fugees in '96—and the list goes on.
Read more
Tame Impala's first two critically acclaimed LP's, Innerspeaker and Lonerism, parlayed fuzz-soaked tidal waves of melodic psych-rock into massive anthems that, dare we say it, channeled John Lennon at times. The latest one, Currents, polishes that winning formula into a silkier sound that's referential but never merely derivative: old-fashioned, newfangled and timeless all at once.
Read more
With her massive voice and stage-ready histrionics, the U.K.'s reigning queen of mystical pop Florence Welch is a natural for a stadium takeover. Expect her theatrical wailing, drum-thwacking and barreling harp-playing to mix well with ethereal Canadian synth maestro Grimes' new flourescent hyper-pop tunes.
Read more
Disclosure is riding high: Critics and consumers reached a rare consensus in pegging the duo's debut, Settle, as 2013's best dance record. The follow-up, Caracal, doesn't stray much from the formula, with sleek, soulful garage-house tracks abetted by an A-list cast of guest vocalists including Sam Smith, the Weeknd and Lorde. Playing the massive Forest Hills stage, this Disclosure live experience is a guaranteed blowout, so remember: Hydrate well and get ready to move.
Read more
Self-proclaimed "Trap Lord" A$AP Ferg—part of A$AP Mob, but you knew that—stays true to his straight-forward no-frills trap roots on the new Always Strive and Prosper, but gets personal chronicling the journey from Ben & Jerry's cashier to Hood Pope MC. He hits town to support the new release with assistance from "swavey" rapper-singer-songwriter Tory Lanez.
Read more
A lineup of Meghan Trainor, Fifth Harmony, Iggy Azalea & Charlie Puth at Jones Beach
Read more
This is your chance to see one of the All-Time Greats! Get your tickets today to see the legendary Billy Joel in concert.
Read more
The boys are bringing their folk-inspired hits to NY for a much anticipated show.
Read more
Show more