The Riis Park Beach Bazaar guide
Have the best beach day when you go to the Riis Park Beach Bazaar for great food, live music and more fun events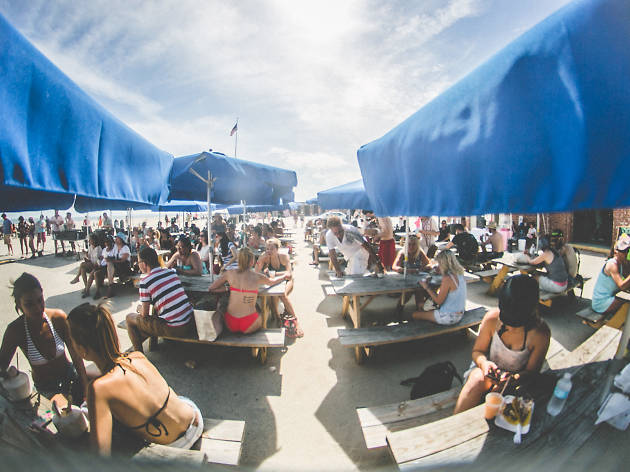 Out of all the fun things to do in summer in NYC, nothing beats raging on one of the best New York beaches—Jacob Riis National Park. Thanks to the Riis Park Beach Bazaar, there's always something fun to do in the sand. Whether you're interested in a live concert, a riveting game of table tennis or a bumping DJ blowout, the creators sure know how to bring the fun. After dancing and jamming, hit the boardwalk and refuel at the beach bazaar's various concession stands. Bring your cash to peruse the boardwalk's vendors hawking everything from bathing suits to rad throwbacks from vintage clothes shops while you wait for your food to settle.
RECOMMENDED: Full guide to Rockaway Beach in NY
What is the Riis Park Beach Bazaar?
Thanks to RPBB, you can forget everything you know about going to the beach. Well, not everything—there's still plenty of sand and ocean to explore at Jack Riis Nation Park. However, this must-visit beach party brings food, music, drinks and shopping to the historic boardwalk every summer. From awesome events like Beach Volleyball League, Golf at Riis!, Rockaway Film Festival and more entertainment at the recently renovated Bathhouse Beach Pavilion, you can certainly do more than get a tan at Jacob Riis beach. For more programming details, visit riisparkbeachbazaar.com.
When is the Riis Park Beach Bazaar?
The fun starts Memorial Day Weekend and usually lasts through Labor Day. It's open daily starting at 11am. The events kick off on Friday, May 24, 2019 with the weekly Lobster Jam, so go out and get some tail. Tickets are $33 and gets you the grub (lobster, corn and potatoes), rosé and tunes provided by Shirine Saad.
Where is the Riis Park Beach Bazaar?
The Beach Bazaar is located at Rockaway Park. The GPS address is 167-02 Rockaway Beach Blvd, Queens. Most of the events and activities take place at either Bay 9 along the boardwalk orthe Bathhouse. The Bathhouse is located at 157 Rockaway Beach Blvd. View a map of the beach bazaar here.
How do I get to the Riis Park Beach Bazaar?
There are many travel options. You can also utilize NYC's ferry system (a one-way ticket runs you just $2.75). For a no-fuss and extra fun trip to the beach, book a roundtrip ticket ($29.95) through the OvR Rockaway Beach Bus which runs every weekend from Memorial Day through Labor Day. Your trip includes pick-up and drop-off service, free refreshments (the cold, delicious beverage kind) and exclusive deals at partnering businesses in Rockaway, Riis Park, Williamsburg, Bushwick and the Lower East Side. You can also take the 2 train toward Flatbush Av – Brooklyn College, transfer to the Q35 Riis Park bus and get off at Marine Pky/Rockaway Point.
What can you eat and drink at the Riis Park Beach Bazaar?
There are a ton of goodies and treats to snack on while you're at the beach. Hit the concession stand at Bay 9 East (open daily), and devour bites from Rockaway Clam Bar, Ample Hills Creamery, The Meatup Grill and Cuisine by Claudette. New additions this year include BBQ joint Carnal selling slow-cooked, braised meat.
During weekends and holidays, cool down and enjoy added refreshments from ByTheBeachCocos selling Thai coconuts, Mud's superfood, mousse desserts and Trop Pops frozen fruit on a stick dipped in dark chocolate. At Bay 9 West (open daily), visitors can order some 'za from Pizza Moto.
Bay 6 (open weekends and holidays) has homemade Coloumbian food by Palenque. Bay 14 (open weekends and holidays) offers Dolce Brooklyn (gelato), Warung Roadside (Pad Thai and Thai BBQ) and Oaxaca Tacos. And get your burgers and fries at Bay 2 (open daily) from Two Dudes—the same owners behind the infamous Rippers at Rockaway Beach.
At Bathhouse West (open daily), there's grub by the aforementioned Rockaway Clam Bar, The Meatup Grill, Apple Hills Creamery and Brooklyn Shaved Ice. Bathhouse East has People's Pops popsicles, Fit Food Kitchen's salads, wraps, fruits and veggies, Q Tea's bubble tea, chia fruit drinks and other Asian desserts, La Cevicheria's fresh ceviche and Wise Clock Cafe's breakfast items (coffee, bagels, pastries, granola, etc.).
Archive Riis Park Beach Bazaar content