Japan Week highlights the country's resurgent northern regions
Tohoku and Hokkaido share the spotlight at Grand Central Station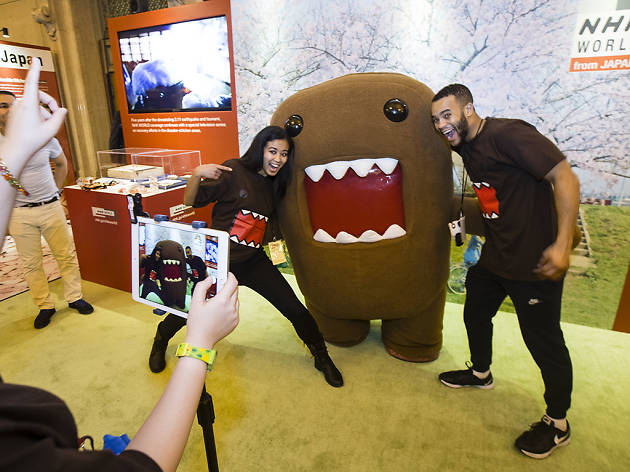 New Yorkers usually head to Grand Central Terminal to catch a train to Westchester or Connecticut. For three days last week, however, visitors to the iconic train station were transported all the way to Asia.
The fifth annual Japan Week—New York's biggest Japan travel and tourism event—took over Vanderbilt Hall from March 10-12, covering its pink marble floors with images of cherry blossoms and erecting a fully functional conveyor belt sushi restaurant beneath its shimmering gold chandeliers.
Photograph: Rafael Yuji Matsuura
The theme of this year's exhibition was the unique culture of the Hokkaido and Tohuku regions of the country. Tohoku was hit particularly hard by the earthquake and tsunami that struck the country exactly five years ago last Friday. Luckily, a lot can happen in five years.
International television network NHK World highlighted the area's revival with an informative display on its ongoing recovery efforts and cultural heritage. Visitors could see locally made crafts, hand-made tiles and even a broken school clock, frozen in time at the exact moment the tsunami struck.
Photograph: Rafael Yuji Matsuura
"This is to show people what Japan went through, and also to say thank you to everyone who has been supporting and encouraging the recovery," said NHK World producer, Helen Wood. "A lot of the programming that NHK World has been showing, and that you can watch on demand, has examined how these communities are getting back on their feet. We recently did a show on how the railways are back up and running. A rail line that went along the coast was completely wiped out, and that's back again. It's been five years, people have really helped out, but they still need support."
Photograph: Rafael Yuji Matsuura
Also on display at NHK World's booth were iPads streaming the broadcaster's free on-demand programming, merchandise giveaways and an extremely popular photo opportunity with the channel's friendly, furry character mascot, Domo.
Given all the activity, it wasn't too surprising that one of the other more popular booths was JNTO Tourism, which had experts on hand to help visitors plan trips to the revitalized country.