Art & Culture
The latest art exhibitions and theater reviews—plus Seoul's best galleries and cultural venues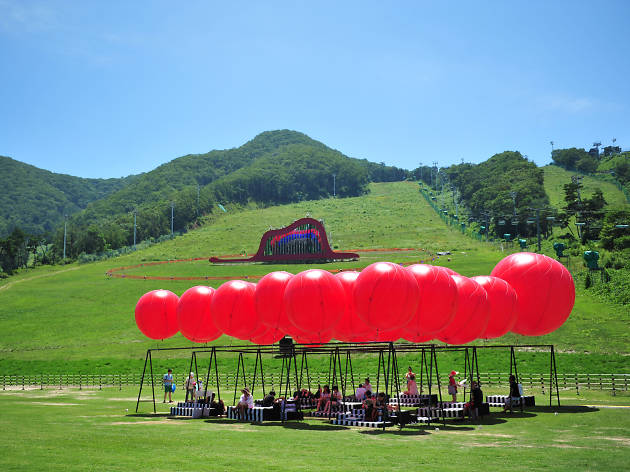 2017 Jisan Valley Rock Music & Arts Festival
Seendosi, Yun Sabi, Hong Seung Hye, NOH Sangho, Osang Gwon and Kwon Yongju—these trendsetting, boundary-redefining artists are bringing dreamy, surreal motifs into reality on the lush green plain of Jisan. Don't miss the chance to immerse yourself in music, nature and oh-so-intriguing collection of art. We're giving away a few tickets, so make sure you check Time Out Seoul's Facebook page, as well.
Karim Rashid: Design Your Self
He is the mastermind behind the Umbra Garbino trash can, the Bobble water bottle and Kenzo's Amour perfume bottle. All 3 of these well-designed products are all bold, colorful and organic, characterizing the designer and his style. He is a true patron of 'designocracy,' a portmanteau of design and democracy, which signifies constantly exploring new ways of making good design available for everyone. Above all, he is known as the "man in pink." This key figure in today's design world is star-designer Karim Rashid, whose solo exhibition Seoul Art Center has the privilege of showcasing until October 30th. The exhibition entitled Design Your Self is composed of 7 different sections beginning with a visual display of Karim Rashid's history at 'Karimstory' and continuing on to 'Beautification of Life', 'Hall of Globalove', 'Into the Scape', 'Digipop', 'Era of Mass Production' and last but not least 'Mission for the Humanity'. With over 350 pieces of works including furniture, sketches, sculptures and objets d'art, Design Your Self is an intensely dense show with an abundance of colors and fluid shapes. Every corner of halls is covered with what can be described as visual bliss. From the wall papers that were designed by Karim Rashid himself (some of which resemble Egyptian hieroglyphs) to the many chairs each with a distinct aesthetic, you will be bombarded with vivid colors and even the all-familiar plastic shine. Karim Rashid may not be a household name but many of us have perha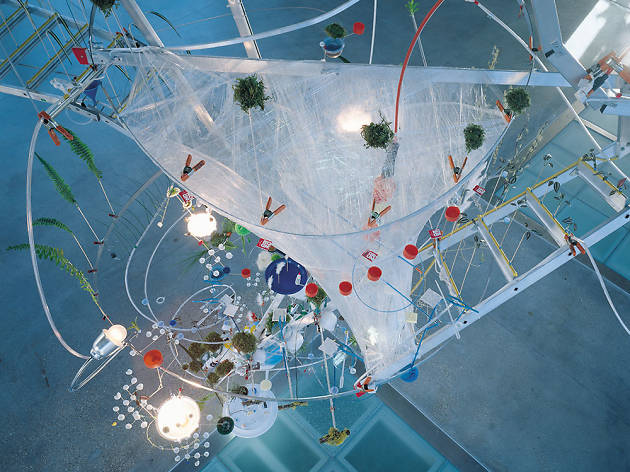 Free art exhibitions this summer!
It's humid and hot out, so why not spend your weekends (or better yet weekdays) under the air conditioner? Stroll over to these exhibitons and check out the latest in the art world here in Seoul this summer. Some are lavish while some of meaningful, but all are free of charge!
Must-see art shows
Gridded Currents
Ever heard about land reclamation? It's the process of adding land on coastlines or even creating new islands in the ocean. It's a phenomenon that almost all Singaporeans know about as their limited city-state has been expanding ever since its first project back in 1822 at South Boat Quay. Although we might not regard the vast waters to be a part of our direct urban environment, our seas and oceans have been reshaped by modernization just like our lands. Gridded Currents at Kukje Gallery is an exhibition that explores the changes cause by capitalistic agenda's through various works done by four different artists (Nina Canell, Charles Lim Yi Yong, Runo Lagomarsino and Ayoung Kim). Of the collection is Nina Canell's Sedding Sheaths, which are debris-like sculptures scattered around the gallery floor. Collected from a recycling plant, the remnants of the left over fibre-optic cables look alien to us as these are objects that are extremely distant from our realities. Yet, the irony is that these are the cables hidden deep beneath the oceans that keep us constantly connected with the rest of the world. Charles Lim Yi Yong's SEA STATE series depicts the changes coastlines of his hometown Singapore. A film piece shown on the second floor of the gallery is a mesmerizing, slow paced video that focuses on the construction of new land. Watching the tons of sand from containerships being passing through the conveyor belts and thrown onto what is new land, has an intriguingly calming effe
Highlights by Cartier
Unlike what the title may suggest, Highlights Cartier isn't exactly an exhibition highlighting Cartier's legacy; Rather, it showcases a collection of Fondation Cartier pour l'art contemporain', an art patronage founded in 1984 which currently contains over 1,500 pieces created by more than 150 artists from around 50 different countries. Most of these pieces have been commissioned by Cartier for their various exhibitions.  Highlights marks the first occasion of the foundation's overseas exhibit. Fondation Cartier  brought with them around 100 works from its collection in Paris, while a number of works by Korean artists Park Chan-wook, Park Chan-kyong, Lee Bul and Sunwoo Hoon have been commissioned for the occasion. Co-curated by Seoul Museum of Art (SeMA) and Fondation Cartier, the 3-floor exhibition taking up the majority of SeMA's exhibition space, will touch upon a variety of social issues related to economy, ecology and migration. Because the showcased volume of collection can be rather overwhelming, it may be a good idea to take a few days to view the whole exhibition, as it truly deserves.
PIXAR 30 Years of Animation
Just like all of Pixar's blockbuster films, the on-going exhibition at the DDP celebrating Pixar's 30th anniversary is a must visit for children and child-at-heart adults alike. Not only will this effervescent exhibition stir some dormant childhood memories, you will get a sneak-peek into the creative process of the animation giant. While some 500 works are on display, Maren Jones (director of Pixar's exhibition program) mentioned that the exhibit showcases only "the tiniest fraction" of what they hold in their warehouse. Still, Pixar: 30 Years of Animation will have you in complete awe and appreciation as you grasp a general but detailed overview of Pixar's inner workings—one that is beyond our imaginations. The exhibition begins with a pastel drawing of the iconic Pixar mascot, Luxo Jr. giving you a light welcome like all Pixar films where the lamp coming jumping in. It continues onto a description of Pixar's creative process, paired with illustrations, videos and models—just enough so that you don't have to read the text-heavy timeline. Once you have a good understanding of the chronological sequence of the creative process the Pixar artists, designers and developers go through, the rest is all fun and play. Each proceeding section of the exhibition is focused on a feature film (the first being Toy Story of course). The section however has no predetermined sequence to view the artworks. This freedom rather helps us forget about 'order' and open our creative minds to obse
Buy tickets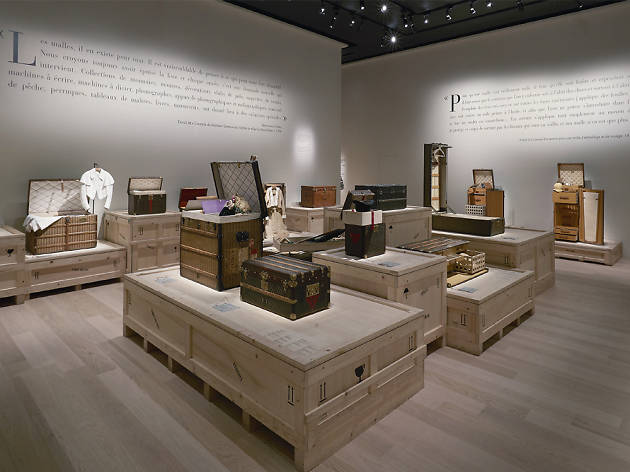 Louis Vuitton: Volez, Voguez, Voyagez
Check out the gray Trianon canvas, the Louis Vuitton trunk (1854) that preceded the designs of the very eminent Damier and Monogram patterns. It was the first of its kind during that time, an innovation like no other, noted for being the first trunk with a flat top. This innovative flat top provided stackablity unlike the usual rounded tops of that era (designed to roll off rainwater), while the grey was the color of beauty at the time in Paris. This grey Trianon canvas trunk is in display at Louis Vuitton's second exhibition in Seoul and they are here to introduce their historic legacy in creating and innovating objects of storage. It is an exhilarating exhibition that walks you through the archives of the brand in ways that depict the story of affluent traveling from back in the day. It is obvious that Louis Vuitton made the effort to exuding their dignified image through Volez, Voguez, Voyagez by putting the notion of luxury and heritage first. Having shown in Tokyo, Hong Kong, London and Paris before arriving in Seoul, the exhibition tells the chronological story of Louis Vuitton's journey through 10 visually stunning chapters, with the last one dedicated to Korea. The level of finesse found throughout the exhibition speaks of the brand's dedication to nobility, making you gasp with awe upon entering each section. The rooms are all filled with historic glamor from floor to ceiling with each one having its own unique ambiance. Your spirits will feel uplifted, making you f
Buy tickets
NOH Suntag: The 4th Wall: The State of Emergency II
"We live today in a society where people press the shutter on their camera more often than they lift their spoon to eat in a day. As a field in its infancy in terms of the history of representation, how has photography achieved such monstrous power? What can the photography say in scenes of conflict and clashing? Whose side will it fall on? How will it be used? More and more, the photograph is becoming a piercing presence in such scenes although what "scene" means for the photograph is becoming more and more unclear." – Noh Suntag Noh Suntag, who held his first showing of The 4th Wall: The State of Emergency series at the Kunstverein in Stuttgart back in 2008, portrayed the curious and distorted conflicts generated by the division of North and South Korea. With photography as his main medium, Noh discovers the dark and hidden aesthetics within Korea's political environment and the effects they've had on the people's lives. The sentimental photographs showcased in his new exhibition at Art Sonje Center, entitled The 4th Wall: The State of Emergency II, includes visual narratives of the recent political scandal that has shaken the country as a whole. Through his photographic work, Noh constantly develops new ways of portraying how society "functions through malfunctioning." Noh states that the division (a malfunction of sort) does not merely occupy specific time and space in Korea, it permeates everywhere, simultaneously instigating memory and oblivion, security and anxiety.