Shopping & Style
The ultimate Seoul shopping guide—for style, fashion, design and more…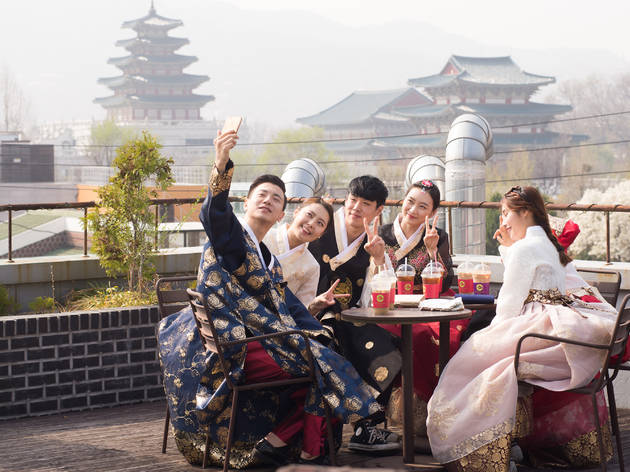 Dressing back to the Joseon Dynasty – Hanbok rentals
Hanbok — to wear one usually means you are headed to an extremely formal event. Well, that's how it used to be. More and more, hanbok-wearing crowds in Seoul are becoming a common sight, especially in the trending Bukchon and Seochon areas of Northern Seoul, with the palaces providing a fitting atmosphere allowing young couples and groups of friends alike feel comfortable enough to adorn themselves with the traditional attire. Interestingly enough, while many have assumed that this is merely a passing trend, being out and about in a more traditional or modern hanbok seems to be only growing in popularity. Among over 80 hanbok rental shops in the Jongno-gu district, Time Out has picked out a selection for all you traditional, modern and postmodern souls.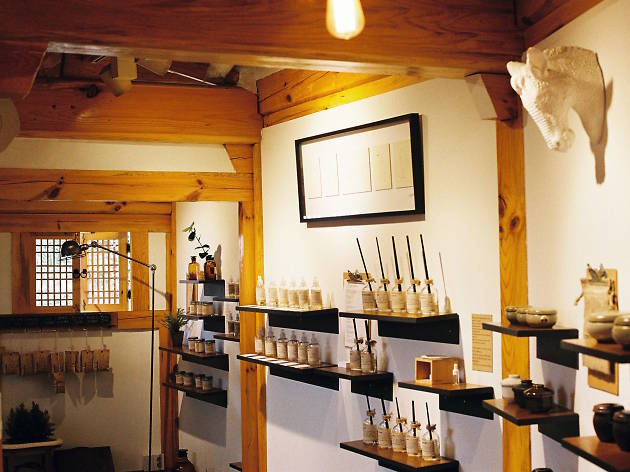 GRANHAND
Tucked away in a miniature hanok down the hill from Bukchon's celebrated Gahoe-dong Alley is GRANDHAND's flagship store. With the combination of a bold brass sign and sweet and colorful fragrances welcoming its visitors, 'charming' is probably the best word to describe its vibe.  Upon entering the venue, you may feel as if you're at a small Korean antique store located in the middle of the fashionable Marais district of Paris. But as the fragrances subtly hint its identity, GRANHAND carries artisan candles, home diffusers, sachets, oil burners and perfume.  Jung Nana, the co-owner (the other being her younger brother), is a skillful parfumier who studied at the Grasse Institute of Perfumery (GIP) in France, which is known to be one of the top schools in the world to study the art form. The two of the most popular scents are Marine Vatch which has a bold combination of musk, toffee and patchouli and Ester Dean which refreshing notes of cedar, musk and amber. The scented soy candles which come in a Korean traditional pot, hangari, is a perfect item for adding a Korean touch to an interior. The perfumery also offers stamping options (of initials, names, etc.) for personalizing its products. Back when Chanel was in Seoul for their Cruise collection, it chose this local haute brand to gift their VIP guests. It's certainly a lot of trust that came from one of the top luxury brands, and you'll understand why upon visiting this petite shop—where quality and elegance is bottled wit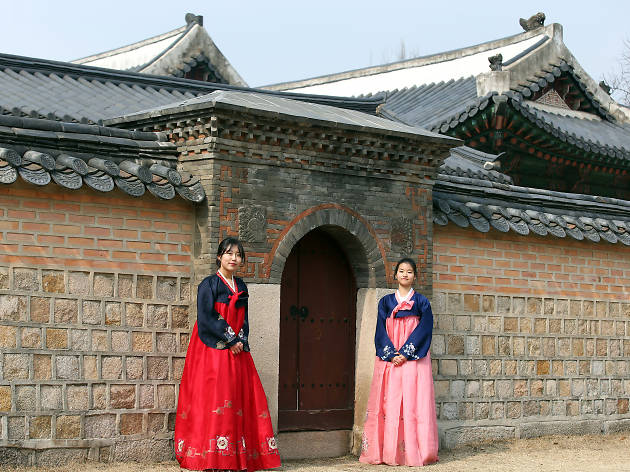 The hanbok experience
If you're in Seoul, a visit to the royal palaces is a must. In the middle of the skyscraper jungle, traditional roof tiles with wooden pillars stand gracefully, reminding all of us of Korea's long history. While you wander on the same grounds the royal family stepped on hundreds of years ago, why not wear the type of clothing they did? You can rent a hanbok at  numerous shops around Seoul and rental fees for four hours are 13,000 to 15,000 won. While that may seem like a hefty sum, those wearing a hanbok are granted free entrance to the four major palaces in Seoul, which are Gyeongbokgung, Changdeokgung, Deoksugung and Changgyeonggung. Plus, the colorful clothes will make for unforgettable pictures. For more information, go to: visitseoul.net
Best shops by neighborhood
Latest shopping news and features
Shop for a good cause: Marymond Post-it
The 'Marymond Post-it's' is an art and human rights project. Each season, a victim of sexual slavery under Japanese colonial rule (the wianbu 'comfort women') is asked to be interviewed for her personal stories and histories, in a form of an in-person interview or an autobiography. These personal accounts and narratives are translated into patterns and designs, each with a type of flower delicate to the women and their sense of dignity. The latest edition of the 'Marymond X Post-it' collaboration shows Rose of Sharon flowers and Yellow Roses in full bloom. The Rose of Sharon symbolizes Kim Hak-soon, a daughter of an independence activist and also the first victim to have testified her ordeals; the Yellow Rose represents Gil Won-ok, a surviving victim who remains strong and inspiring for the younger generations. The full series contains the 'Post-it® X Marymond Rose of Sharon Pack' (3,500 won), 'Post-it® X Marymond Yellow Rose Pack' (3,500 won) and 'Post-it® X Marymond Yellow Rose Flags' (2,000 won). 50% of more of all profits made by the collaboration will go into supporting the war rape victims of Congo and Vietnam, establishing a non-profit foundation and memorial and funding international campaigns and welfare for the women.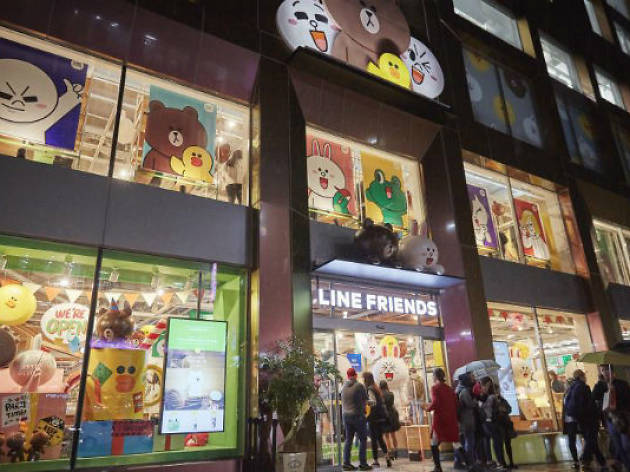 Line Friends Store & Cafe
If Mickey Mouse was our friend in the 20th century, the beloved characters of today are in our smartphones. One of the most popular brands among Seoulites these days, Line Friends opened its second flagship store in the middle of Itaewon's main street. The characters became famous through a messenger app and thanks to their familiarity the brand collaborated with different brands such as Perioe (toothpaste), Uniqlo (t-shirts), Lamy (fountain pens) and Thermos (vacuum bottles). You can see these characters basically anywhere on everyday items like notepads and mouse pads. The store in Itaewon is also called the Line Friends Villa, as the rooms are decorated under the themes of Line Friends' characters of Brown, Sally and Cony. They have already opened stores overseas in Japan, China and Taiwan, but this three-story shop in Itaewon is the biggest and is more special in that all of their collections are available. You may also want to take a photo here with the biggest Brown (3.3m) in the world.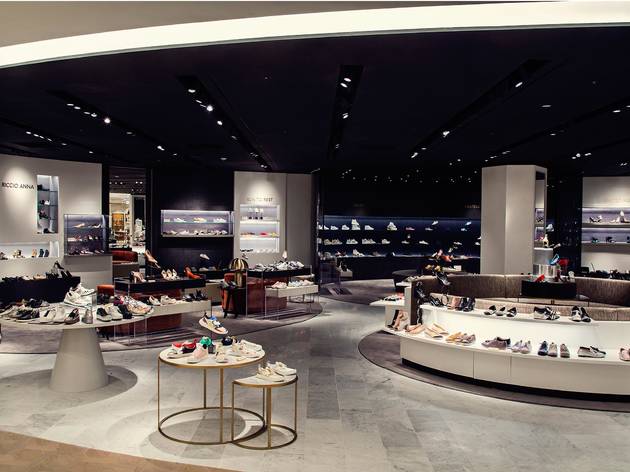 Shinsegae gangnam
The Gangnam location of the Shinsegae Department Store has finished their remodeling just in time for their 15th anniversary. The most noteworthy changes took place on the 4th and 9th floors. On the 4th floor, which has been extended, there is a shoes department with shoes from about 140 different brands. The remodeled Gangnam location also has a Culture and Lifestyle Zone with select beauty stores, like La Perva, an anti-aging and slimming specialty shop, and the athletic wear store, Work Out. Bean Brothers and Bandi & Luni's have collaborated to open a book café, which is also located on the 4th floor. Moving up to the 9th floor, you can find many items for the home as well as products for the bedroom, living room, bathroom, kitchen and more. Cook Shop, which sells a variety of kitchen-related products, and Jaju Table, a table decoration store that also sells food, are both located on this floor. Another new addition is the kids' section on the 10th floor.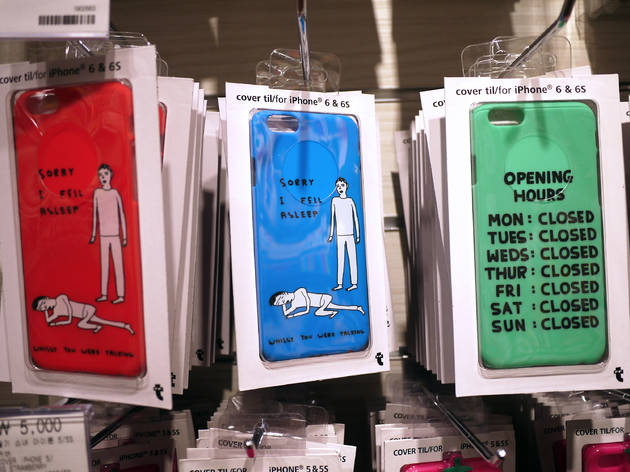 Flying Tiger Copenhagen
How should I explain it in a more professional term? Right, the Daiso of Northern Europe. Well, at the similar price range (1,000 won - 10,000 won), what you'll see reflect particular Northern European sensibilities, though. Its variety of selections include notebooks, cooking wares, home decor items and accessories, that demonstrate the brand's clear identity, unique sense of humor as well as creative efforts. An example is the series of notebooks designed by artist David Shrigley, which includes one featuring a drawing titled "We hate meetings" (4,000 won). You'll see many other fun items like the memo pad designed in the shape of a biscuit (6,000 won), as well as clever ones including the silicon kitchen brush for baking (4,000 won). Despite the variety (and colorfulness!) of items stocked here, it's easy to navigate around the store. The sections are well organized into "home decor," "kitchen," "stationery," "accessories," "party items" and "hobbies." Having started as a small novelty store in Copenhagen, Flying Tiger now has about 660 stores across 28 countries. Korea does have 2 stores already, with one at Young Plaza located in Myeongdong and the other inside of the Hyundai Department Store located in Pangyo. Considering the creativity and attention to detail that the brand demonstrates, such popularity we'd say is well deserved.