Heads up! We're working hard to be accurate – but these are unusual times, so please always check before heading out.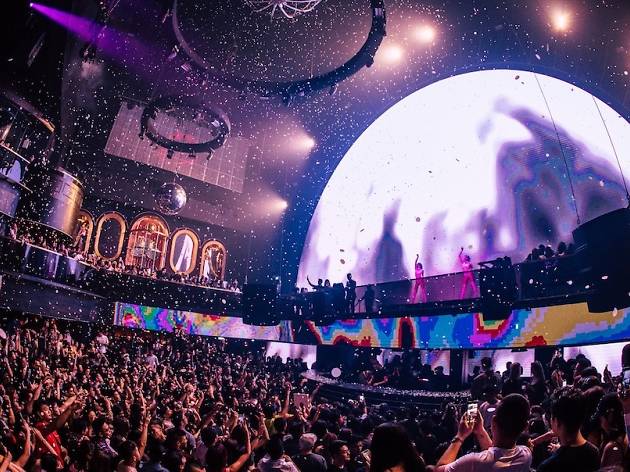 17 reasons why you should stay out late in Singapore
Singapore's nightlife scene is always thumping with the sickest beats. But there's more to life than clubbing. Here are the best places keeping us up 'til the AM
What is it? Holey Moley is a whimsical playground in Clark Quay where you can drink, feast, and also enjoy a competitive (or not) game of mini-golf.
Why go? Whether it's for a fun first date or for an epic office party, Holey Moley is the perfect setting if you're looking to have fun, get a little competitive, and of course wind down (or party on!) with the sharing platters and massive cocktails.
Don't miss: While the themed mini-golf courses are closed off, for now, you can still savour the sweet and savoury flavours of the menu against the neon-lit backdrop.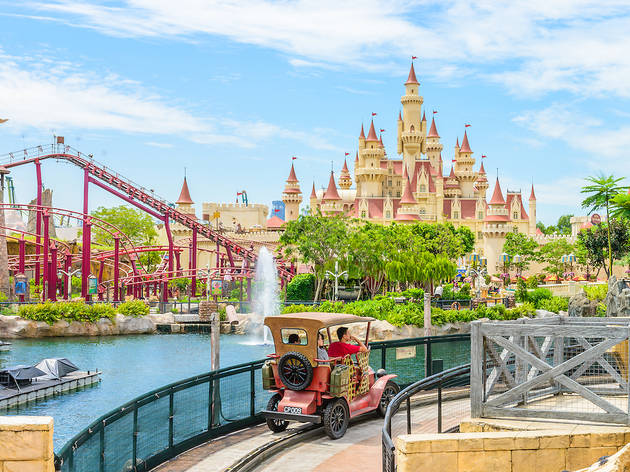 Photograph: Shutterstock/Lifestyle Travel Photo
2. Get your adrenaline pumping at Universal Studios Singapore
What is it? At the heart of the State of Fun – aka Sentosa – is a massive theme park featuring seven themed zones, and over 25 rides and attractions for families and thrill-seekers.
Why go? The perfect getaway for adrenaline junkies, USS prides itself for having the world's tallest dueling rollercoasters, an indoor thrill ride, a 3D Transformers experience, and a soaking white water rafting that ends in a hair-raising drop. There are also kid-friendly attractions for the young and faint-hearted like a Shrek 4D cinematic experience, a train trip through Sesame Street, and the canopy flyer for an aerial view of Jurassic Park.
Don't miss: While its signature live performances, award-winning stage shows, and spectacular firework displays are temporarily suspended, you'll still be able to meet-and-greet movie characters such as the lovable Minions and Sesame Street gang.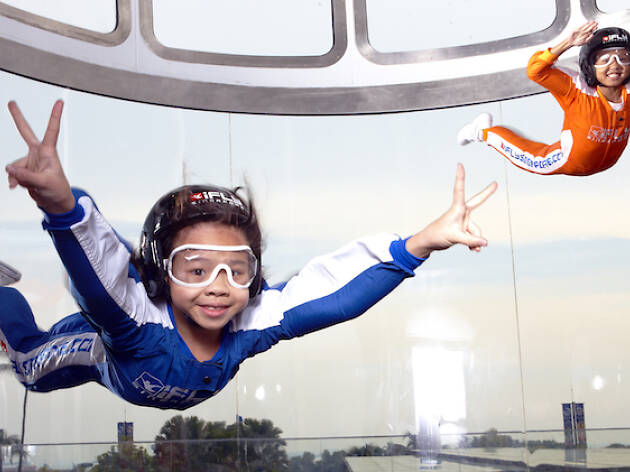 Photograph: iFly Singapore
3. Skydive (almost) at iFly
What is it? The world's largest indoor skydiving wind tunnel.
Why go? Providing the safest and most-accurate free-fall simulation possible, feel the rush of skydiving a few metres off the ground without actually jumping out of a plane. It's a steal for all adrenaline-junkies, replicating free-falling conditions from a real skydive at 12,000-feet to 3,000-feet at a fraction of the cost of a tandem jump. Everyone is welcomed, from first-timers, pro-flyers, and even corporate team bonding sessions.
Don't miss: Packages start at $89 for first-timers aged seven and above. Book online for even better rates for two skydives.
What is it? Singapore's first indoor snow centre that delivers snow experience all year round.
Why go? Gather the family, squeeze into matching winter gear – don't worry, these are available for rent – and experience the cold and icy snow at Snow City.
Don't miss: Slide down a 60-metre snow slope, take photos with life-sized snow sculptures in the artic playground, or get toasty in an igloo home. For something more thrilling, strap into a bumper car and drift on ice.
What is it? Great for adrenaline-junkies, it's Singapore's first and only bungee jump that's right over Siloso Beach.
Why go? Besides the bungee, there are also other high-element activities including a giant swing where you link arms to 'fly'.
Don't miss: For something less thrilling, soak up the views of Sentosa from the famous skydeck with a complimentary drink or ice cream when you purchase tickets at $15 during this period. The reopening promotion also applies to the bungee ($49) and giant swing ($49 per person or $99 for a group of three).
What is it? It's the world's first indoor suspended net playground.
Why go? Occupying the mall atrium space between different floors in City Plaza Mall, be prepared to explore the multiple play areas where you can crawl through a maze, climb to the top and try out the slides – or just hang out on the suspended nets.
Don't miss: During its reopening period, the suspended ball pit is replaced with an inflatable goal post and a large inflatable ball, which is an activity more compatible with safe distancing.
What is it? A top-notch restaurant, bar and club decked with plush daybeds and a pool by the sunkissed Sentosa beach.
Why go? Not only does it serve laid-back chill and all-around good vibes to work up a tan by the sea, Tanjong Beach Club also serves refined plates inspired by coastal cuisines from around the world and innovative cocktails for a tropical wind down. Come night time, it turns into a nightlife playground where you can rave the night away to a blaring mix of Balearic house, beach boogie and sunshine soul.
Don't miss: Make a splash at the pool for that refreshing cool-down. Plus, stay to catch the sunset by the beach. Reservations are strongly encouraged to enter Tanjong Beach Club.
What is it? An alternative cinema decked with bean bags and retro seats, all housed in the historic Golden Theatre atop the Golden Mile Tower.
Why go? The Projector screens a selection of flicks such as cult favourites, arthouse, documentary, foreign and local, as well as new releases that aren't screened anywhere else in the city.
Don't miss: Look out for its special-themed nights as well as exclusive showcases. Tickets tend to sell out fast, so best book 'em in advance before it's too late.
What is it? A cinema where long-time movie fans and a new generation of audiences are able to discover and appreciate a curated mix of acclaimed classic and contemporary Asian films in its true cinematic experience.
Why go? Housed in the restored National Archives of Singapore building, the wheelchair accessible, 134-seater theatre has 4K digital and 35mm film format projections for all your viewing pleasure.
Don't miss: Relive the magic of Singapore's golden era in film. Presented by the Asian Film Archive, the old films are repaired, digitised and screened with subtitles so that they can be enjoyed by a wider audience. Past screenings include the thriller Sumpah Orang Minyak starring P. Ramlee and the epic duel of Hang Jebat.
What is it? As Singapore's first multi-entertainment bowling venue, this cosmic-themed alley is more than just a place to knock some pins down.
Why go? While you can't hit the club just yet, K-Bowling is your best bet at getting your bowling fix surrounded by neon lights and club bangers.
Don't miss: Illuminated by neon lights, the space also houses arcade games, pool tables, dart machines, and even private karaoke booths. There's also a snack bar to keep you fuelled, ready to rock and bowl.
What is it? This is not your average arcade, so don't come expecting the conventional Daytona gaming machines. Instead, Melbourne's Zero Latency brings a whole new dimension with virtual reality (VR) added into the equation.
Why go? With nerve-wracking storylines and scenarios, the games are bound to get your blood pulsating in no time. You'll be equipped with only a controller and a headset with 2K resolution for the ultimate VR experience.
Don't miss: Square up with zombie baddies and evil robots, or solve physics-based puzzles in a dystopian world. Zero Latency currently only accepts online bookings.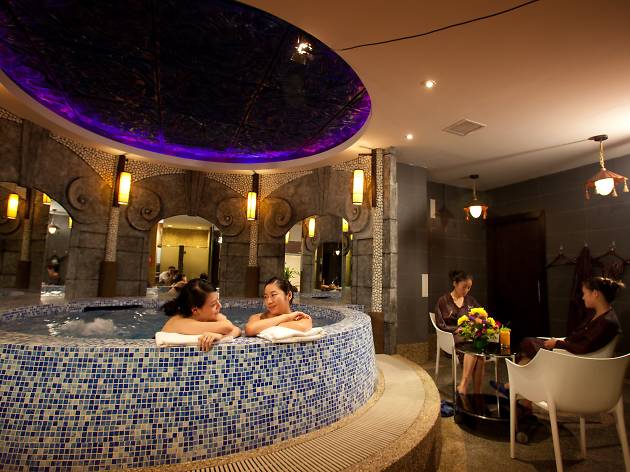 What is it? Closest to a public bath in the city, this independent spa complex mirrors that of a Chinese hot springs resort, complete with facilities like a hot pool, sauna, showers, and comfy couches with personal TV screens.
Why go? At this 24-hour spa, it's all about treating yourself. Start off by sweating it out at the sauna. Then pencil in therapeutic deep-tissue massage session to keep the stress at bay. Also, make sure to take a dip in the hot and cool pools.
Don't miss: Try the Gateway to Vitality treatment, a deep-tissue massage that uses Shiatsu-style techniques, along with the option to select oil for a smoother, more relaxing treatment or non-oil for a more direct pressure-point massage. The treatment also includes free roam of the spa's facilities and buffet spread.
More things to do after-hours