The best private home dining and supper club experiences in Singapore
Gather your friends and savour a home-cooked meal at these private dining kitchens and supper clubs in Singapore
Private home dining and secret supper clubs have been all the rage in Singapore over the past couple of years. Home cooks and professional chefs have been coming out of the woodwork to prepare meals for those lucky enough to snag a reservation. Some waiting lists stretch out for months, but your patience is well rewarded with some of the most novel and exciting dining experiences in the city – the bragging rights don't hurt either. Gather a group of friends – or make some new ones – around the table and let these chefs share their passion for cooking with you.
RECOMMENDED Unique catering options in Singapore
Once Upon A Secret Supper
Founded by Angie Ma 10 years ago while she was living in Melbourne, Once Upon A Secret Supper is unlike any of the other private dining experience currently available in Singapore. For one, instead of booking out the whole space, you're only allowed two seats in order to encourage you to mix with the other guests and make some new friends. There's no fixed theme – the dinners happen every quarter and follow a different concept each time. Its most recent run, Secretos de Mexico, focused on the hidden flavours of the country. There's no permanent location or chef, in Angie reaches out to volunteer hosts who loan their homes for a night as well as cooks who are specialists in the cuisine selected for the specific theme.
WHAT IT'S LIKE Once Upon A Secret Supper's latest run was held in a beautiful resort home in the east of Singapore. At the front porch, a bartender from Proof & Company whipped up a Jalisco Punch, a spicy jalapeno cocktail made with tequila. She also gave us an education on the process of making mezcal and took us through a tasting flight during dinner. Mariachi music played in the background as we were treated to course after course of Mexican dishes from parrotfish ceviche and slow-cooked duck and mole poblanos to barbecued octopus and jicama salad.
The most notable dish was a platter of homemade tamales prepared by Maribel Colmenares and her mother. They used to run a tamales stall in Mexico before moving here and starting Tamales Mexicanos en Singapur. And where there's food, there had to be wine. Sommelier Denise McCann paired the dishes with three glasses of Spanish wine to complement the spicy kick of the Mexican dishes.
HOW TO BOOK Angie and her team started Once Upon A Secret Supper out of a passion for food. It's an outlet for their creativity so they never do the same dinner twice. You can sign up for their newsletter or follow them on Instagram (@once.upon.a.secret.supper) to find out when the next dinner is taking place. Prices range from $168 to $188 for a full tasting menu and drinks pairing.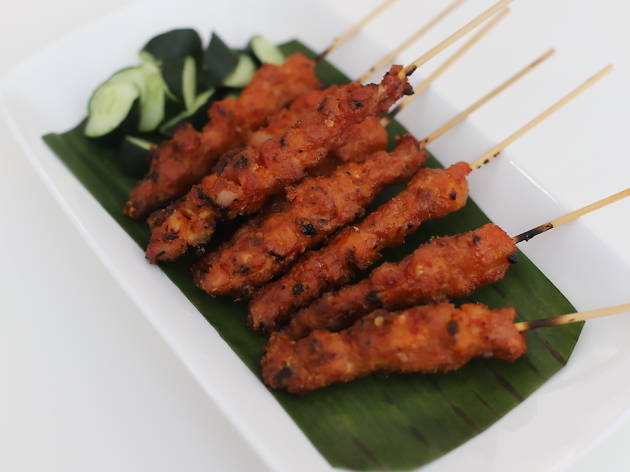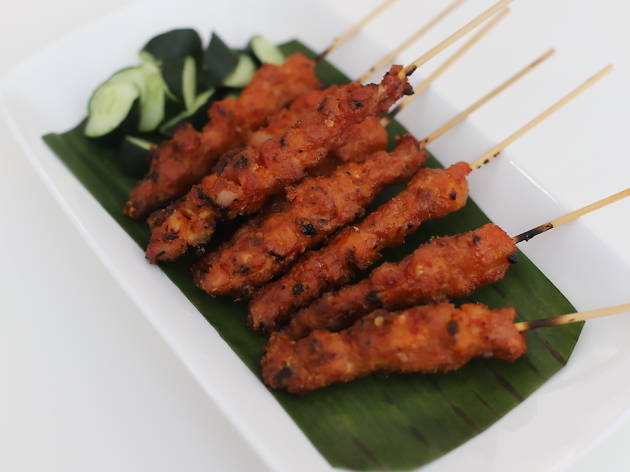 You won't find a more welcoming host than Raymond Leong, who's happy to sit down and share more about Penang-style Peranakan food. The 72-year-old is Cantonese, but has always been intrigued by Nyonya food. After he retired, he embarked on an intensive cooking course at a small school in Kuala Lumpur. There, he learnt 74 recipes, which he still practises by catering for lunch and dinner parties.
WHAT IT'S LIKE Housed in a modern terrace, Ampang Kitchen's clean, minimalist dining room fits a minimum of eight people but can house a party of 28 if you're looking to throw a mini party. We recommend going for lunch, where there's a fixed set menu that includes Raymond's star dishes like the prawn noodle soup served with pork ribs and lard.
HOW TO BOOK Message Ampang Kitchen on Facebook, bookings (from $75 per person) are best made at least a month in advance. Alternatively, Ampang also has a takeaway and catering menu for those of you who'd rather dine in the privacy of your own home.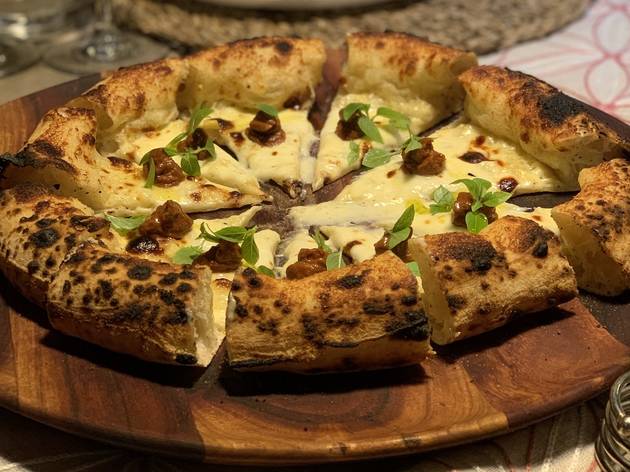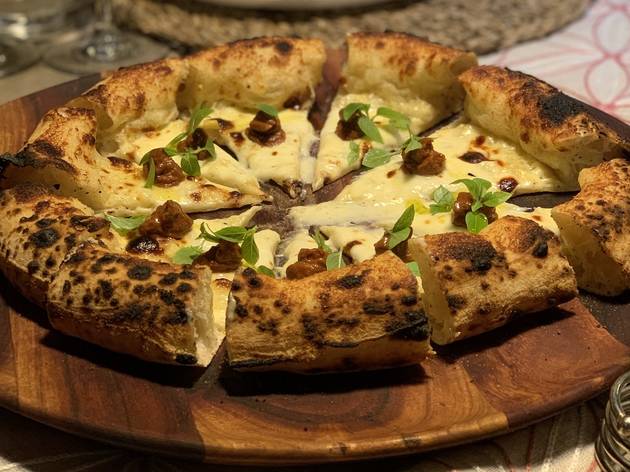 Photograph: Nicole-Marie Ng
One of the hottest tickets in town, Casa Nostra, or our home in Italian, is a kitchen in the heart of Katong that dishes up the food chef Antonio Miscellaneo grew up with. He brings the best of Italy's regional cuisine to Singapore, with a focus on pizza he makes right before your eyes in an oven that's out on his balcony.
HOW IT'S LIKE Begin your meal with a couple of appetisers like grilled octopus with potato salad or a parmigiana di melazane, a lasagna of sorts made from slices of eggplant served between layers of mozzarella and tomato sauce. But you're really here for the pizzas made with a light and airy dough that's the result of natural fermentation. There are eight to choose from – but some favourites include Pizza Lu, tomato sauce with fiordilatte and Provolone del Monaco DOP cheeses alongside anchovies, garlic, chilli and oregano as well as the Bologna, fiordilatte with mortadella and pistachio.
HOW TO BOOK The price per person ranges from $120 to $160, where you get to select two appetisers, two or more pizzas, one pasta, a couple of mains and a dessert. Register your interest here to be notified of when the next dinners are taking place – be sure to email quick as slots are filled within the first five minutes.
Casa Nostra is temporarily closed as chef Antonio and his family are on lockdown in Italy.
Photo by: @benfatto_95
Created out of a longing to share the sheer variety of pasta types available with Singaporeans, Ben Fatto 95 shines a spotlight on creations you don't usually find in our local Italian restaurants.
HOW IT'S LIKE Tuck into plates of pasta in all manner of shapes and sizes out on a gorgeous garden patio. "We always see the same shapes over and over again," shares chef Yum Hwa, who used to be a line cook at Artichoke. "I think lesser-known pasta types deserve more air time, especially since Singaporeans have a carb-embracing diet." His signature is a pocketed pasta folded around a filling of mascarpone and Grana Padano served simply with a butter sauce. There's also the trofie al' pesto, a handmade pasta dish that requires deft hand movements to get right.
HOW TO BOOK Chef Yum Hwa is currently running Ben Fatto 95 full time, offering dinners for six to 10 people on weekdays, weekends and public holidays. Prices range from $60 to $80 per person and the next available dates are in May 2020. Message him on Instagram @benfatto_95 to make your booking.
For a young chef, Christopher Kong has already worked with some of the best names in food. As a teen, he made fresh pasta in his family's Italian restaurant Perché No before moving to this side of the world. He cooked at an open-air seafood restaurant in Malaysia as well as Guy Savoy and Waku Ghin in Singapore before moving to New York to work with chef Daniel Humm at The Nomad.
"I felt that as long as I was working for another chef, I'd never truly discover what my food was and what my dishes had to say," he says. "I knew that Dearborn would be a low-risk way for me to figure this out and develop a brand, style and identity before opening a brick-and-mortar restaurant."
HOW IT'S LIKE Christopher is a star on the rise and you can try his cooking before anyone else at his cosy apartment. The dishes follow modern-American sensibilities: locally sourced, sustainable and planet-focused.
HOW TO BOOK For $138, you get a six-course menu (as well as a few surprises) that focuses on greens, grains and seafood. Dinners take place on Fridays and Saturdays and Christopher's apartment fits a maximum of eight people. He is currently booked out for the rest of the year but you can email chriskong@dearborn.sg to secure your seats.
Natural Selection at #blk6fatterroad
Here's one for fans of natural wine, or simply curious folk who are looking to learn more about the genre. These dinner parties are conducted by Jayne Tan – who has over 26,000 hungry followers on food discovery and book app, Burpple – and Valentin Krug who works for Artisan Cellars.
WHAT IT'S LIKE The dinners take place at Jayne's apartment, which she cheekily dubs Blk 6 Fatter Road. There have been two editions of Natural Selection so far, the first featured a spread of Moroccan dishes while the second focused on a flavours of northern Thailand. The recipes are inspired by new cookbooks, and Jayne takes these dinners as an opportunity to learn about different cuisines. If you're game, she also conducts cooking classes (#icanjaynedoe) where you can try your hand at preparing some of these dishes too.
HOW TO BOOK Keep an eye out for the next Natural Selection dinner (from $150 for food and wine) by following Jayne on Instagram (@iamjaynedoe) where she'll put up a post when the next dinner is scheduled. If you're interested in cooking classes, she teaches them almost every weekend, and concentrates mostly on Mediterranean dishes like harissa yoghurt chicken and broccoli frittatas. Classes are priced from $70 per person, where you spend about an hour cooking and three hours eating the fruits of your labour.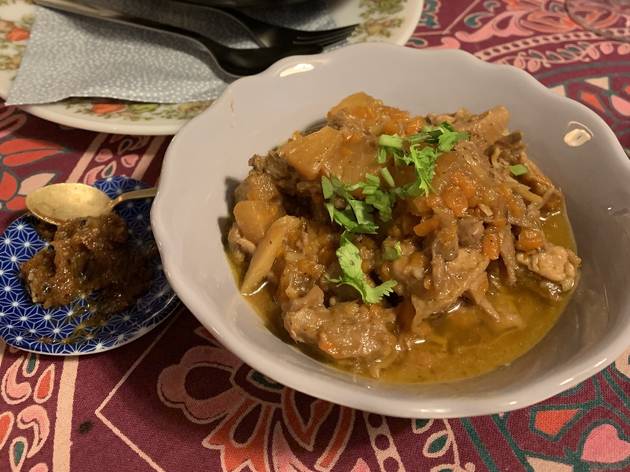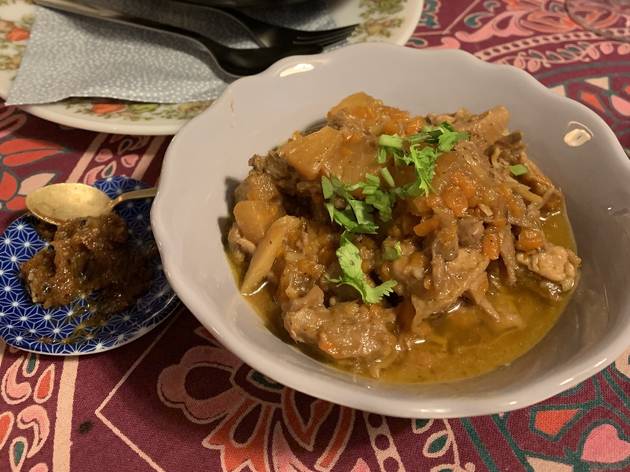 Photograph: Nicole-Marie Ng
There is no home quite like chef Chris Choo and Dr Rose Sivam. The former is a historian, artist and explorer who has brought back many relics and timeless pieces to his home while the latter is a charismatic award-winning TV producer who has worked on shows like Phua Chu Kang and Growing Up. Step into their world with Relish.SG – a private dining experience that also lets you "Taste the World" as Chris prepares dishes that takes inspiration from India, Spain, Morocco and beyond.
HOW IT'S LIKE This isn't so much a restaurant experience as it is a historical and anthropological dinner that stretches your mind and fills your stomach. The home is a mini-museum, housing pieces like a 2000-year-old Buddha bust and a Ming dynasty vase. Dishes include Cantonese-style stir-fried duck, rendang that's a cross between a curry and jerky – focusing mainly of time-consuming recipes that you won't find in commercial kitchens. If you're lucky, you'll be treated to some after-dinner entertainment too, with guests performing acoustic renditions of The Beatles' greatest hits.
HOW TO BOOK Email Rose at rosesivam@pantheon.com.sg for more information or check out relish.sg for more information. They cook dinners for a minimum of four people but have also thrown themed parties for corporate events for a party of 52 at maximum capacity.
Due to the evolving Covid-19 situation, Relish.SG is temporarily pausing its private dining experiences. However, you can takeaway items are still available where a minimum order of $45 gets you three dishes you can have in the comfort of your own home.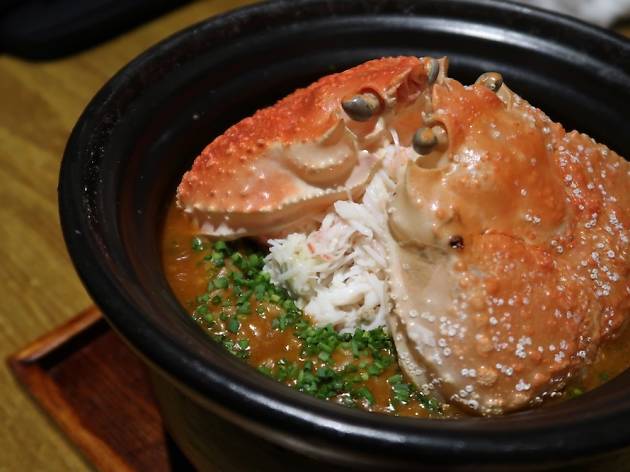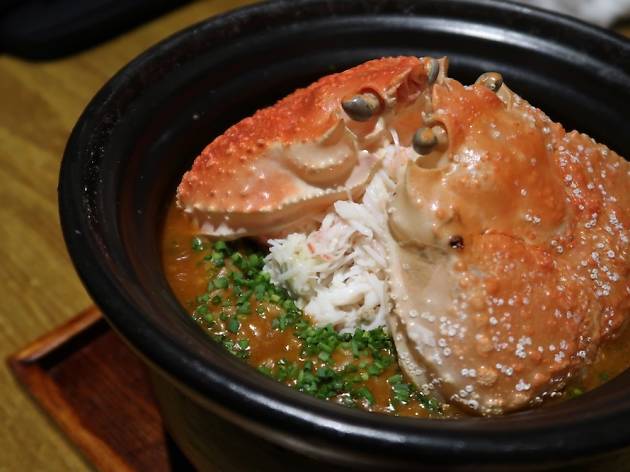 Born in Singapore to a Japanese-Chinese mother and Lebanese father, chef Tariq Helou also spent time in Switzerland training at various Michelin-starred restaurants. The result is his unique brand of cuisine that refuses to be defined by a singular culture or nationality.
WHAT IT'S LIKE The dinners first started at a restaurant in CHIJMES and have recently been put on hold as Tariq is in the process of opening his own space. He works with Japanese ingredients to create dishes like lamb saddle with merguez jus and white asparagus as well as snow crab ojiya, a crab bisque porridge. "Our dishes are simple yet elegant in appearance," Tariq beams. "We look to take away elements rather than add, cutting out anything superfluous. However, through pure technique and passion, we deliver deceptively high-impact flavour that belies the description of each course."
HOW TO BOOK @division_sg is in the midst of opening a new space. Keep an eye out on Instagram for more information.
Other private dining experiences to check out
It's not every day you get to sample dishes prepared by one of the city's top food writers. Annette Tan has been reviewing restaurants for over 20 years and has now turned the tables by opening up her dishes to public criticism. Not that there's anything negative to say, Annette's Peranakan plates of crispy mee siam and wagyu beef cheek rendang have even the pickiest eater reaching out for more. Just make sure you come hungry as $95 per person gets you seven dishes best shared between five others.
Fashion stylist and makeup artist by day, Tinoq Russell-Goh has worked with the likes of Constance Lau from Crazy Rich Asians. But come dinner time, he prepares a kampong-style spread inspired by the memories of his childhood. Expect a feast (from $100) of ngoh hiang, prawn noodles and other scrumptious Peranakan dishes served family-style.
Email tinoqrusselgoh@gmail.com for more details.
Photo by: @ownselfmakechef
Shen Tan is no stranger to Singapore's food scene, helming the kitchens of Wok & Barrel, Ujong and Revolution Coffee in the past. But the queen of nasi lemak has since taken a break from the biz so you need to book a table at Ownself Make Chef for a taste of her cooking. She regularly posts sneak peeks of upcoming dinners on her Instagram page (@ownselfmakechef). Her next dinner is on April 25, 2020, and focuses on all things fatty.
Be prepared to wait if you want to dine at Lucky House. Reservations have to be made at least three months in advance even though chef Sam Wong is able to accommodate 10 people in his art room and 16 in the vintage room. Priced from $80, the Cantonese meal features comforting signatures like roast duck that's marinated for two days and roasted over charcoal fire as well as a crayfish omelette packed with generous lumps of seafood.
Ng Swee Hiah is one of a kind. The 75-year-old spends her retirement days entertaining both tourists and locals that book a meal or cooking class ($99) through Airbnb Experiences. She makes duck egg kaya from scratch, a rare treat, and other classics like laksa and mee siam. She aims to bring the kampong spirit back to Singapore and leaves her gates unlocked – all are welcomed to walk in and explore.
Photo by: @lynnettes_kitchen
Tok panjang at Lynnette's Kitchen where a Peranakan feast awaits. The SSO violinist and Cultural Medallion recipient's elegantly decorated living room can comfortably fit 16 guests, although you only need to find seven other friends to dine here. Dinners start from $100 per person, which gets you five sharing plates and one dessert. If you ask nicely enough, she might play the violin for you too.