7 artworks to see at Sculpture at Scenic World 2018
If you go down to the rainforest in Katoomba this autumn, you're sure of a big surprise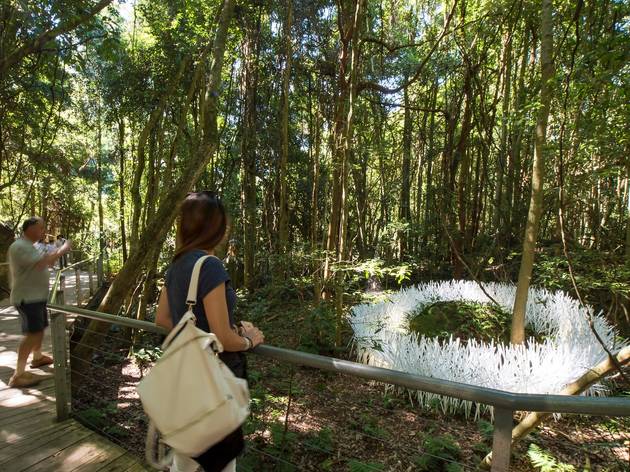 Sculpture at Scenic World – back for its seventh year – brings the work of local, interstate and international artists to the Jurassic rainforest floor at Scenic World, the Blue Mountains' top attraction. Displayed along the path of the Scenic Walkway, the more than 38 artworks will thrill, challenge and delight viewers. And what other art exhibition has an entrance involving the steepest railway journey in the world?
All tickets include full day access to Sculpture at Scenic World, including the Scenic Railway, Scenic Walkway, Scenic Skyway and the Scenic Cableway, in addition to a full public program including free guided tours, artist talks, weekend workshops and Sculpture Otherwise at the Blue Mountains Cultural Centre.
Here are seven of the artworks you can expect to see on your visit...
1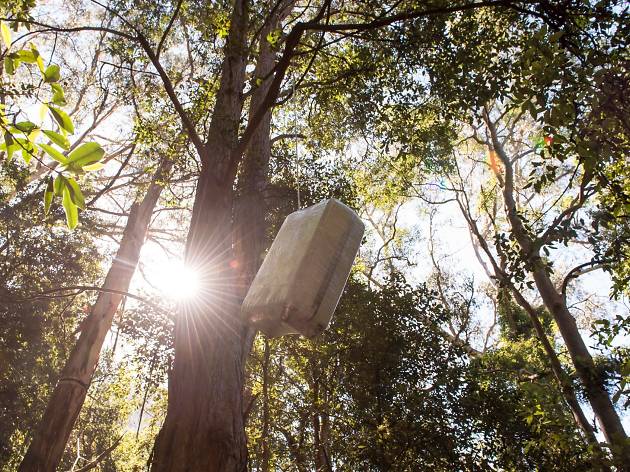 Photograph: Cassandra Hannagan
Gary Deirmendjian 'Undigestable'
Deirmendjian is an Armenian-born, now Sydney-based artist who has a Bachelor of Engineering at Sydney University and a Master of Fine Arts (Sculpture) from the National Art School. His artwork consists of household items and rubbish salvaged from the streets of Katoomba that have been shrink-wrapped onto rainforest trees. "I want people to question what happens when material items leave our consciousness," says Deirmendjian. He was inspired by the way spiders use their webs to digest their prey; however, these inorganic items are 'undigestable' by nature.
2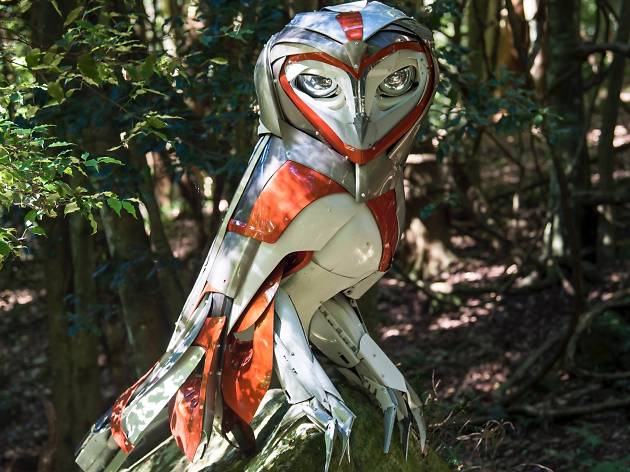 Photograph: Cassandra Hannagan
Nick Warfield 'Calling upon the Owl'
A human-sized owl made of recycled metal perches on rock on the rainforest floor. It's the work of Nick Warfield, a sculptor, maker and installation artist who also creates furniture and décor. Based on the mid-North Coast and having exhibited all over Australia, Warfield works only with recycled materials, turning trash into treasure as a statement on the war on waste and human consumption.
3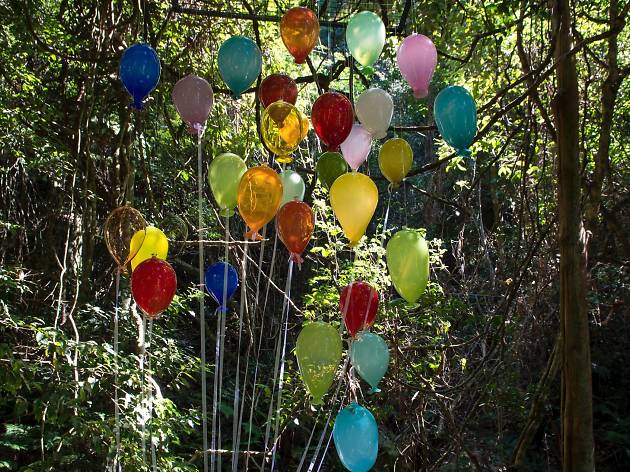 Photograph: Cassandra Hannagan
Born in Japan, now resident in the Blue Mountains, Kayo Yokoyama is a Sculpture at Scenic World perennial, having exhibited in every annual event but one since the launch in 2012. Working with hand-blown glass, which she then engraves with complex patterns, her creations are always very popular with visitors. 'Up!' is a creation of 27 colourful glass balloons that seem to have floated in and gotten stuck in the rainforest canopy.
4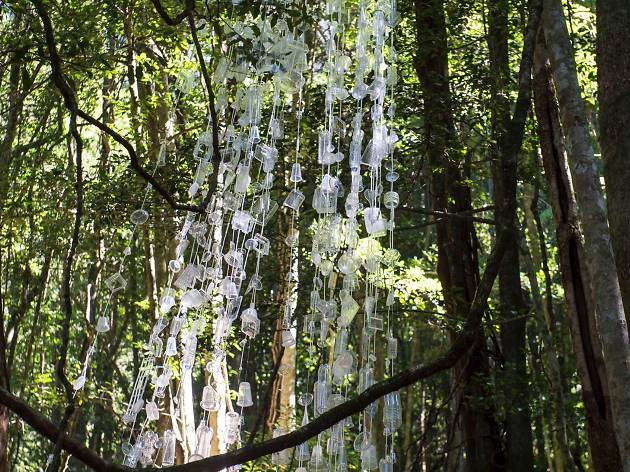 Photograph: Cassandra Hannagan
'Shaft' offers two meanings of the word, representing a shaft of light within a mine shaft. The work uses an end product of the petroleum industry – discarded clear plastic packaging – to simulate a shaft of light breaching the rainforest canopy. With a practise spanning over 30 years, Gillings is an artist based on the Central Coast whose work explores the themes of possession, memory and loss.
5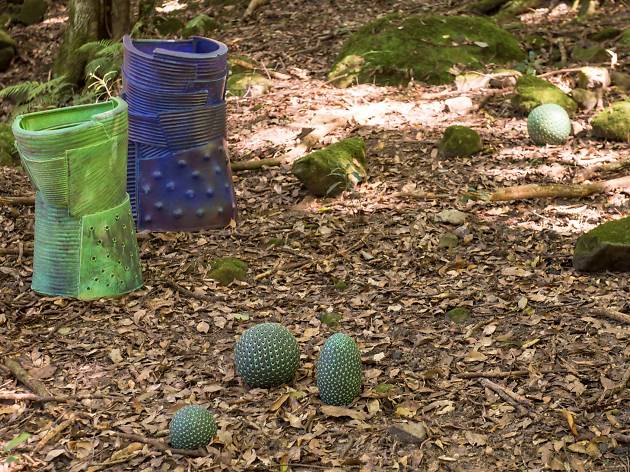 Photograph: Cassandra Hannagan
Merran Esson 'Tracks and Traces'
Inspired by Scenic World's coal and shale mining history and the idea of human intervention in the landscape, 'Tracks and Traces' is comprised of three large, brightly coloured ceramic vessels that represent mining detritus (old discarded barrels and buckets) scattered in the rainforest. Merran Esson is a ceramist who recently retired as head of ceramics at the National Art School, Sydney. She also exhibited in last year's Sculpture at Scenic World exhibition.
6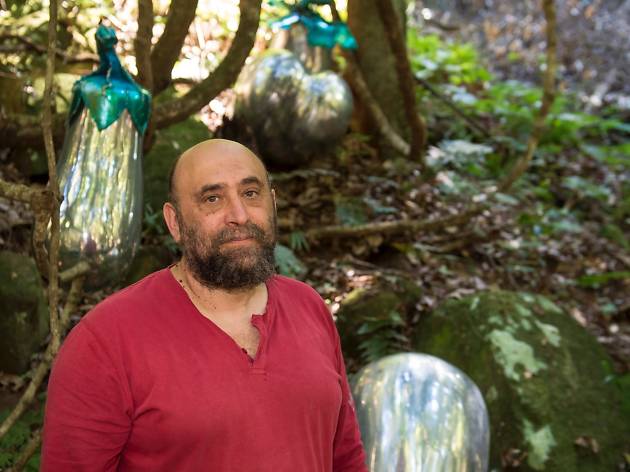 Photograph: Cassandra Hannagan
Aldo Bilotta 'Forest Emoji'
Five eggplants shaped in stainless steel hang suspended above the rainforest floor. Bilotta's piece is based on the evolution of language, specifically the visual language of modern technology. Italian born, Bilotta resides in Melbourne and is known for working with industrial materials to create organic forms. He is an award-winning sculptor, art educator, furniture designer, coach builder and restorer of vintage automobiles.
7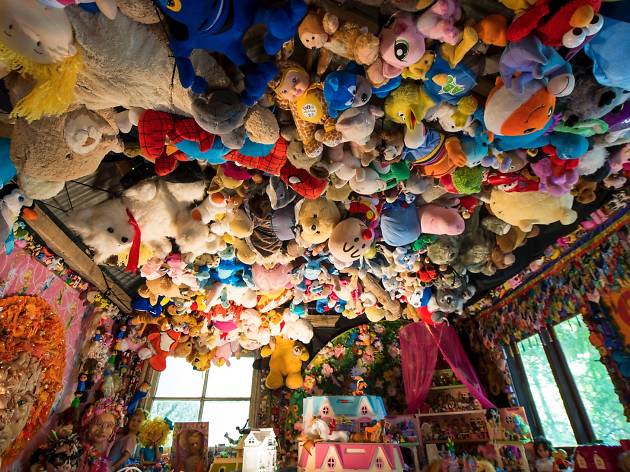 Photograph: Cass Hannagan
Inspired by consumer culture and the way we over-indulge our kids, Jobbins has built an assemblage of children's toys acquired from op shops. The piece 'OTT' will be exhibited in the Miners Hut at Scenic World. She says: "I like to see my works in diverse spaces. I am not a fan of big white plinths, so changing the environment my work is placed in can also make the work be seen differently." Jobbins only began creating art in her forties; she has since completed a Diploma of Fine Arts and Bachelor of Visual Arts.
Sculpture at Scenic World: suggested weekend itineraries