Head On(line) Photo Festival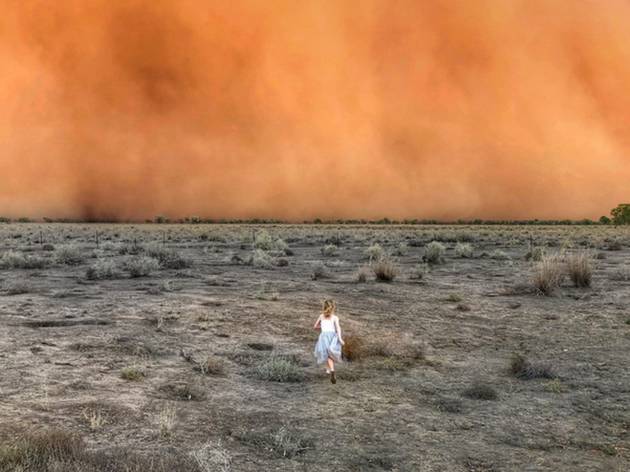 1/3
Photograph: Marcia Macmillan
'Whimsical Warrior'
2/3
Photograph: Nick Moir
'Run'
3/3
Photograph: Paul Carruthers
'Cheddar Gorge - Horseshoe Bend'
Time Out says
Australia's largest photography festival goes online with a little help from Osher Günsberg
Host of The Bachelor Osher Günsberg took a step away from smooth matchmaking moves to host the livestream of this year's Head On Photo Festival awards, re-badged the Head On(line) Photo Festival.
With a $70,000 prize pool up for grabs, Günsberg announced the winners while beaming into living rooms nationwide on Friday, May 1 at 6pm. Judged by an anonymous panel of internationally renowned photographers, editors and other industry professionals, the awards celebrate excellence in three categories: portrait, landscape and student.
Mullengudgery-based special needs teacher and farm owner Marcia Macmillan won the 2020 Landscape Prize for 'Whimsical Warrior'. The dramatic snap captures her young daughter running towards a dust storm in a pale blue dress. Evoking shades of Dorothy en route to Oz, it's an eye-popper.
Australian photographer Fiona Wolf-Symeonides' 'The Gift' won the Portrait Prize. It depicts a woman who is a surrogate for a gay couple who has just given birth. They embrace lovingly to one side. The Student Prize, open to kids from kindergarten age up to year 12, went to Joel Parkinson's 'Within Without', a self-portrait of a boy on the verge of young adulthood.
You can check out over 100 eye-opening exhibits from Australian and international hopefuls in a digital exhibition that will stay online until May 27. The Head On(line) Photo Festival will also host a heap of artist talks, panel discussions and webinars, with contributors beaming in from every corner of the globe.
They include multi-garlanded, Bangkok-based American photojournalist Paula Bronstein, who has covered warzones including Afghanistan and the Gaza strip, as well as the global refugee crisis. Aussie snappers Nick Moir, Olivia McGrath, Mags King, Alex Coppel and Nick Jarvis will take part in a gripping chat about what they faced covering the bushfires this summer.
We're up for British professor Sawdon Smith's artist talk. A previous winner of the National Portrait Gallery London's Photographic Portrait Award, he'll reflect on a colourful life during which he has flexed his muscles as a boxer, porn star, go-go dancer and drag queen. His work revels in blurring gender, identity and sexuality lines.
Festival director Moshe Rosenzveig says the awards, "showcase incredible talent from professionals and amateurs alike. The judges and I have been blown away by the high standard of this year's submissions and we are delighted to announce the 2020 winners as we launch our exciting digital program."
Details
Users say