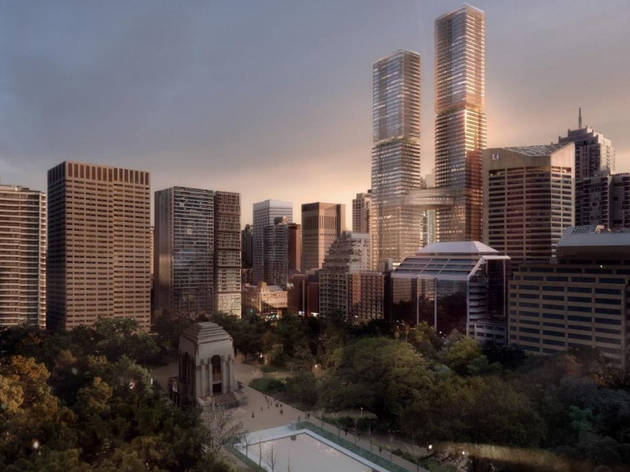 Nine incredible skyscrapers that will transform Sydney's skyline by 2030
Over the next decade, these mighty towers will change the face of the city
The Opera House and Harbour Bridge will always be Sydney's architectural megastars. However, some of the planned additions to the city's skyline over the next decade will be doing their darndest to steal some of the limelight from those two Aussie icons.
Sydney is undergoing a boom in urban development right now, with a number of impressive skyscrapers either already under construction or in their final approval stages. We've picked a selection of the most striking towers set to become a familiar sight to the Sydneysiders of tomorrow.
In search of more architectural inspiration? These are the most beautiful buildings in Sydney.
Reach for the sky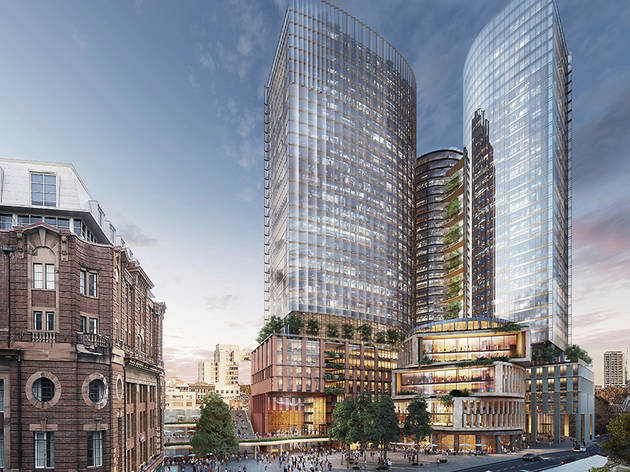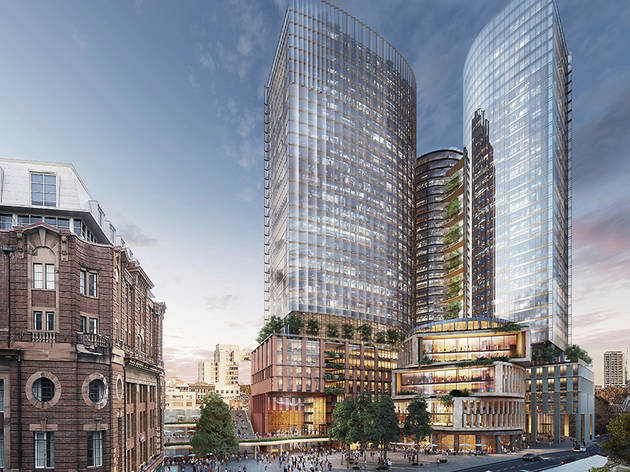 Photograph: SOM
The area between Chippendale and Central Station, which is a bit of an underused hinterland at present, is set to undergo a radical transformation in the next few years, becoming Sydney's very own 'Silicon Valley'. This technology and innovation hub fit for the 21st-century will span more than 24 hectares of Sydney and feature a series of major towers overlooking Prince Alfred Park. One of the crown jewels of this new tech precinct will be a $2.5 billion twin-tower adjacent to Central Station at the junction of Lee Street and George Street. It'll have 39 levels, offering in excess of 150,000 square metres of commercial space. As the centrepiece of Sydney's new technology park, the building will feature cutting-edge design including a number of ecological advances that will allow Central Place to run 100 per cent on renewable energy.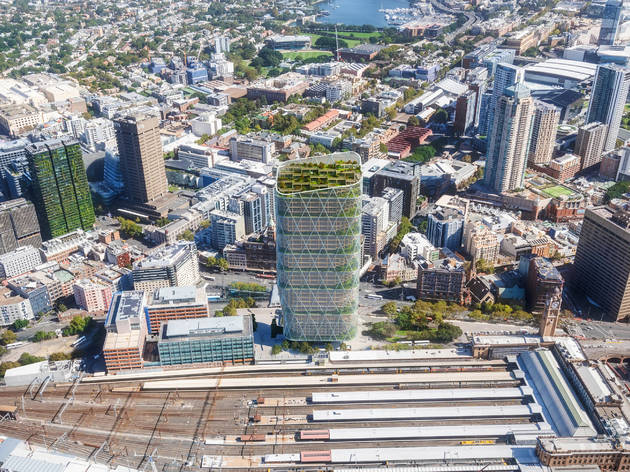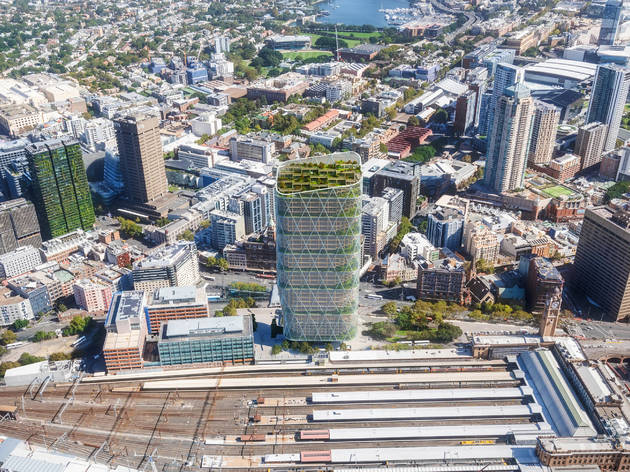 Photograph: Atlassian/SHoP Architects
Reaching a height of 180 metres, this striking tower will be the world's tallest hybrid timber structure once completed. The $1 billion building, located next door to Central Station within the city's new technology precinct, will also feature numerous indoor gardens on every floor as well as planted outdoor terraces on the roof. It will have impeccable green credentials, with renewable energy production, natural ventilation technology and other innovations ensuring its carbon footprint is as tiny as possible.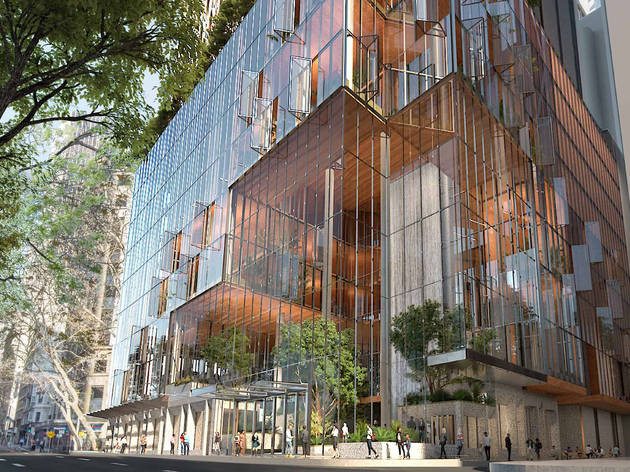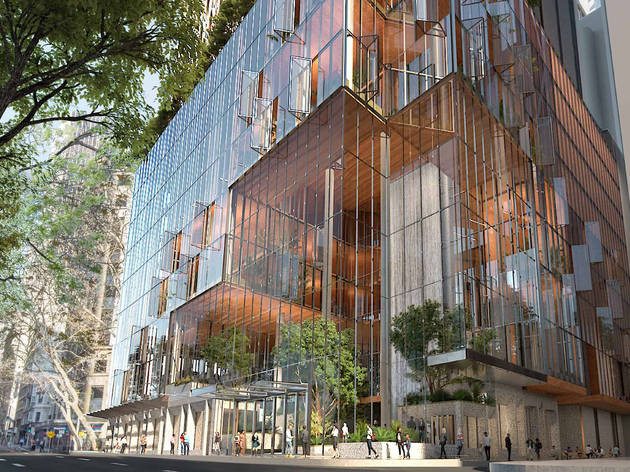 Photograph: Atlus Group
This 232-metre tower at the Circular Quay end of Pitt Street will be one of the most dominant structures of Sydney's future skyline. The $1 billion skyscraper will feature more than 60,000 square metres of retail and commercial office space. It will replace a nine-story building and eventually span three addresses. One of its most distinctive features will be its rooftop garden, set to be one of the highest green spaces in the city once complete.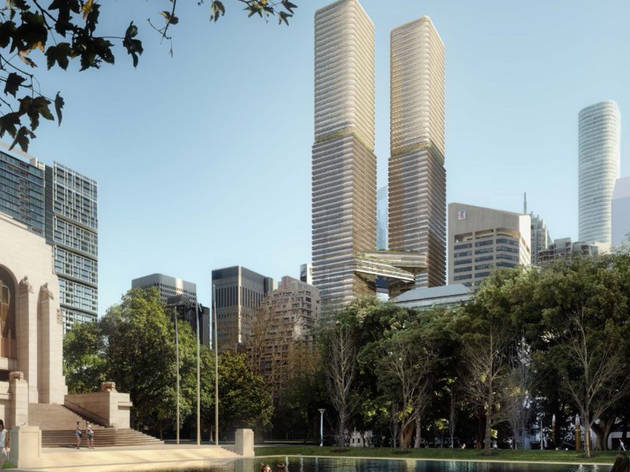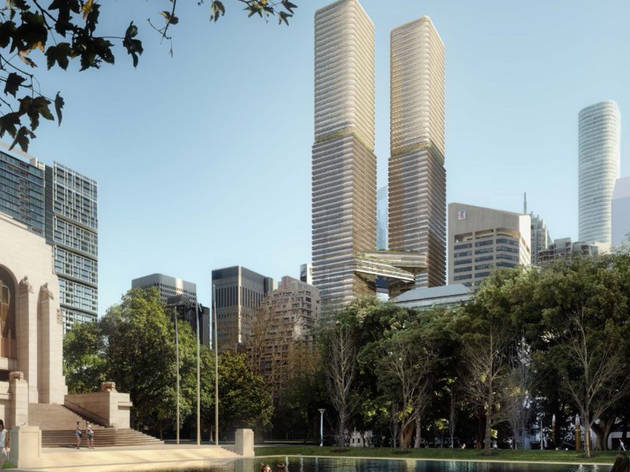 Photograph: FJMT
Overlooking Hyde Park and its beautiful art deco war memorial, this pair of towers, connected via a 'sky bridge', will be one of the Sydney's tallest residential buildings. Featuring 592 apartments spread across 80 storeys, the building's footprint will in fact be spread across sites linking Liverpool, Castlereagh and Pitt Street addresses. It will also house a 158-room hotel, a large shopping mall and five levels of basement parking for both public and private use.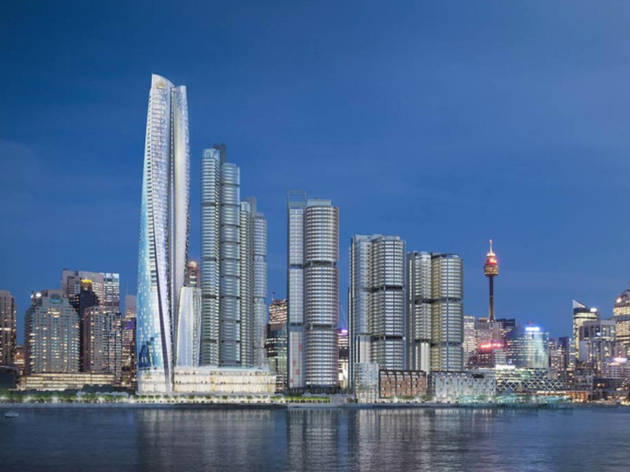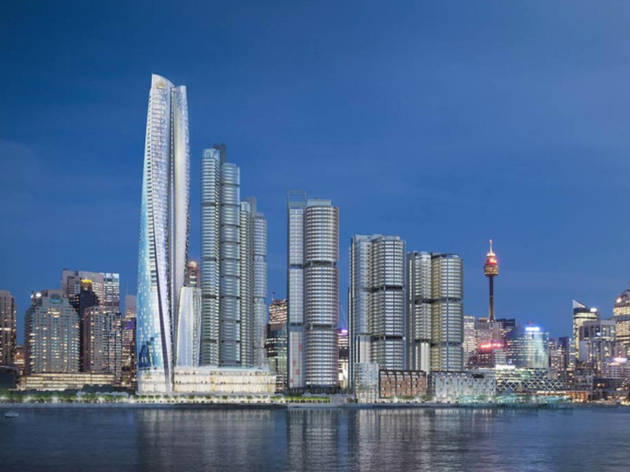 Photograph: Lendlease
One of the last major components of the multibillion-dollar redevelopment of Barangaroo, this trio of skyscrapers adjacent to the city's tallest building, the Crown Tower, will feature some of the ritziest private residences anywhere in Sydney. The complex will comprise a 30 storey tower with 210 apartments, a 60 storey tower with 297 apartments, and a 72 storey tower with 327 apartments, all boasting stunning views of either Darling Harbour or Sydney Cove. The $4 billion development is due to be completed by mid-2023.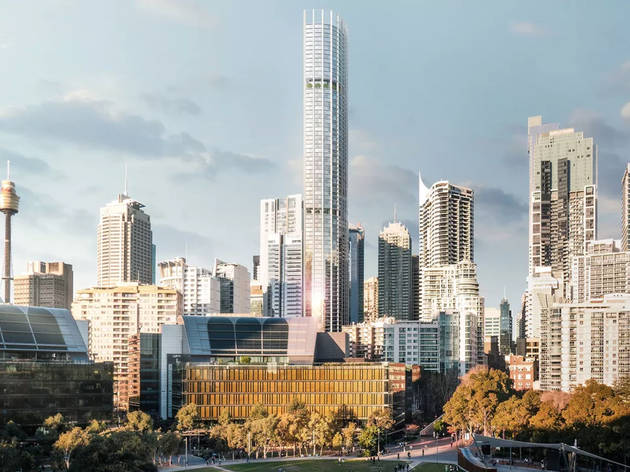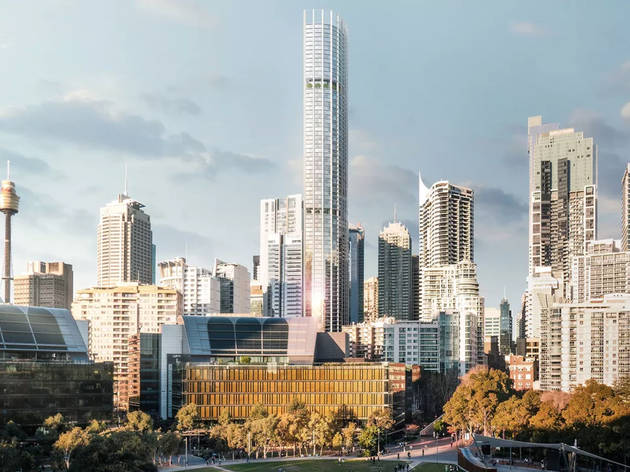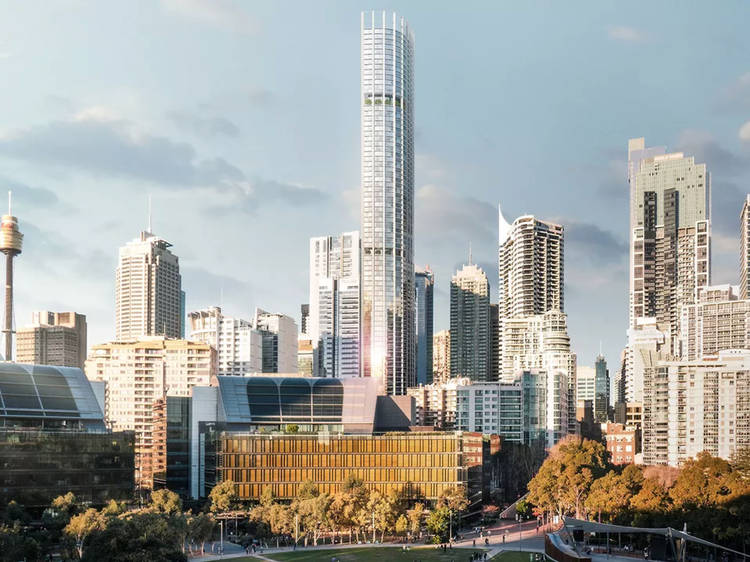 Photograph: Mirvac
Rising from the site of the much-loved George Street Event Cinema, this sleek, 81-storey, $1 billion tower will be Sydney's tallest residential building when complete. In addition to more than 51,000 square meters of residential space, there will also be a large retail presence in the tower, including a cinema to replace the multiplex that was a stalwart of George Street for decades. Given its central CBD location and the logistical challenges this creates, construction is expected to take at least five years, and could break ground as early as 2022.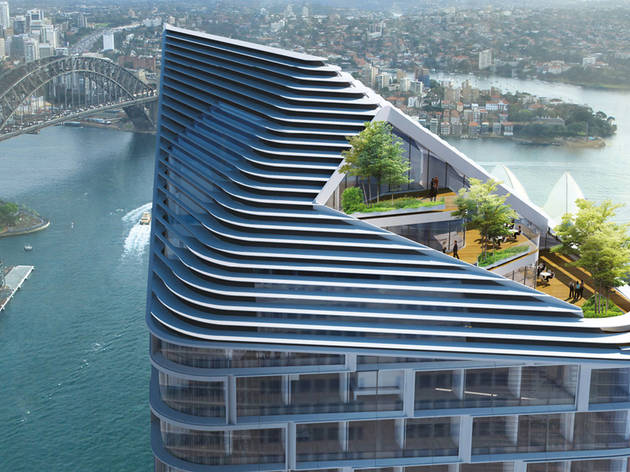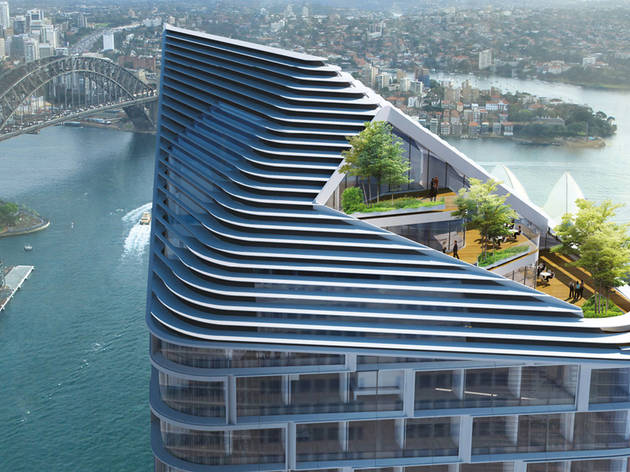 Photograph: BNV
Part of a multi-billion-dollar rejuvenation plan for Sydney's CBD waterfront, this 200-metre tall, 50-storey tower will overlook the docks of Circular Quay and Bennelong Point. Its quirky design features five distinct glazed boxes, stacked at angles to maximise its picturesque location and capture the most natural light. Located at 50 Bridge Street, the huge development covers a footprint of two city blocks – approximately 11,000 square metres. While its towering facade has been designed to be a striking presence when viewed from afar, its base features an intimate network of shopping malls and laneways creating a new dining, retail and residential precinct in one of the most desirable neighbourhoods in the city. It's on track to be completed by early 2022.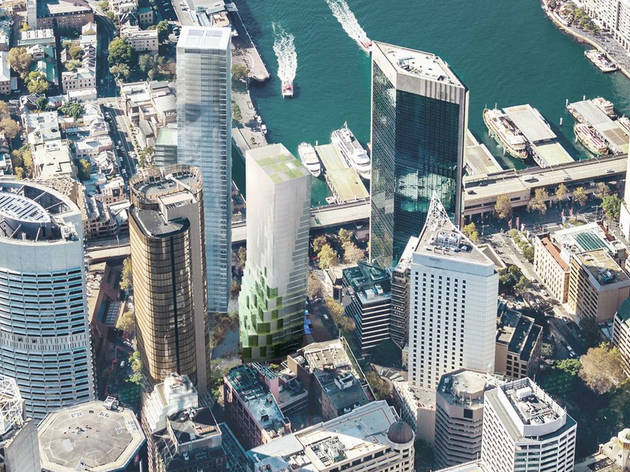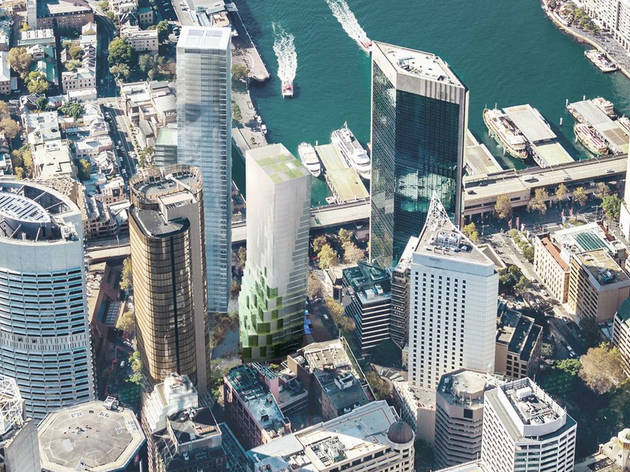 Photograph: Kerry Hill Architects
Another major component of the CBD's waterfront rejuvenation plan, this 57 storey residential development is located on the corner of George Street and Alfred Street and will feature more than 300 luxury apartments, as well as a hotel, spread throughout a pair of towers. The development has technically been underway for more than four years, but has been stalled several times as ownership of the site has passed between different companies. It is now finally under construction, after Yuhu Group, the owners of the Gold Coast's Jewel development, took control of the project in 2018.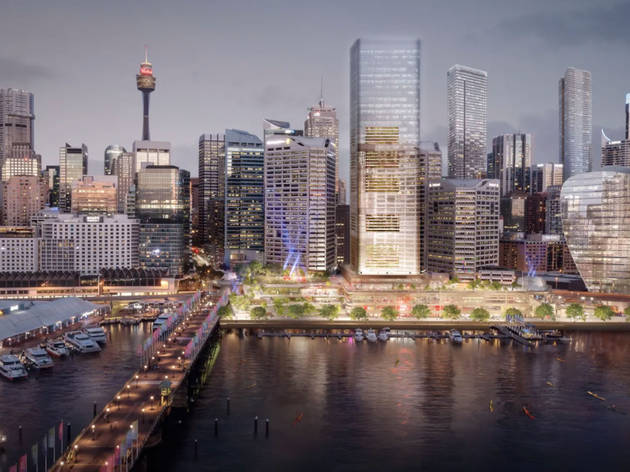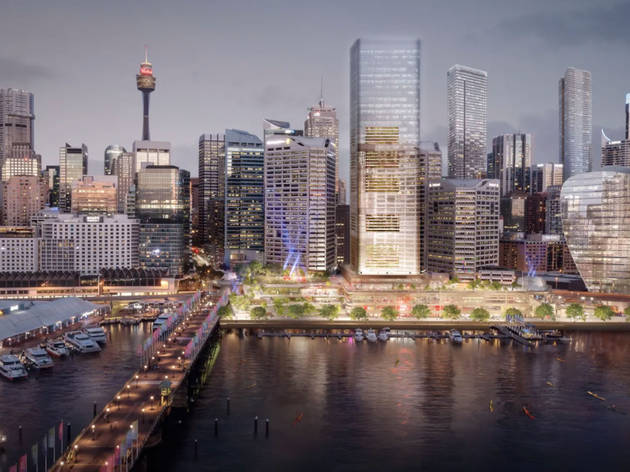 Photograph: Supplied
Over the past decade, Darling Square and Barangaroo have received billions of dollars of investment, transforming these once rundown and undervalued corners of Sydney into two of the city's top hospitality, retail and residential destinations. Connecting these two locations, a major redevelopment of Cockle Bay Wharf is the final phase of this multi-year facelift for the CBD's western waterfront. At its heart will be a 40-storey tower overlooking Pyrmont Bridge, atop a 24,900 square meter complex of retail and hospitality spaces. All the existing buildings in the Cockle Bay Wharf area will be demolished to make way for this development (including, sadly, one of Sydney's last remaining monorail stations).
Nature is a pretty good architect as well
Mother Nature sure did bless Sydney with an abundance of beauty. But head out in just about any direction beyond the city limits and you'll find natural attractions that put Sydney's citybound sights to shame. We've cherry-picked a selection of the state's most beautiful nature spots that you can visit in a day and be back home by bedtime.