Heads up! We're working hard to be accurate – but these are unusual times, so please always check before heading out.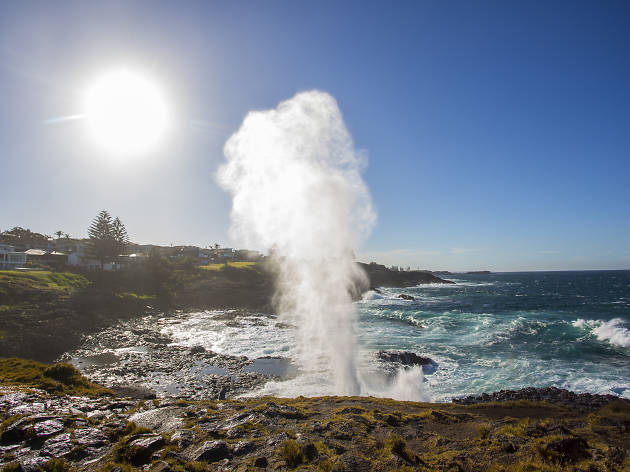 13 gorgeous natural wonders worth a day trip from Sydney
These must-see beauty spots are just a road trip away
Mother Nature sure did bless Sydney with an abundance of beauty. Look, beaches! Over there, parklands! And hubba hubba, how about that harbour? But head out in just about any direction beyond the city limits and you'll find natural attractions that put Sydney's citybound sights to shame.
We've cherry-picked a selection of the state's most beautiful nature spots that you can visit in a day and be back home by bedtime. So grab some supplies, some sun cream, and your sense of adventure and get into it.
RECCOMENDED: Keep up to date with the latest travel advice.
Natural wonders worth travelling for
Photograph: Destination NSW
It took more than 340 million years for geological processes to carve these cathedral-esque caverns from the soft limestone of the Blue Mountains, making the Jenolan Caves the oldest open cave system in the world. Fortunately, it'll take you a lot less time to make the 175-kilometre drive from Sydney to see them for yourself. Currently underway, major upgrades to the caves' visitor facilities, walkways and lookouts are due to be completed by 2021. In the meantime, there are still breathtaking tours open to the public, revealing the dramatic rock formations, towering stalactites and crystal pools that make the Jenolan Caves one of the state's most visited attractions.

Time Out tip: If the subterranean splendour of the caves only whets your appetite for yet more nature, Kanangra-Boyd National Park is just a 10-minute drive away, where you'll find a spectacular look-out point with views of the Kanangra Walls and Mount Cloudmaker.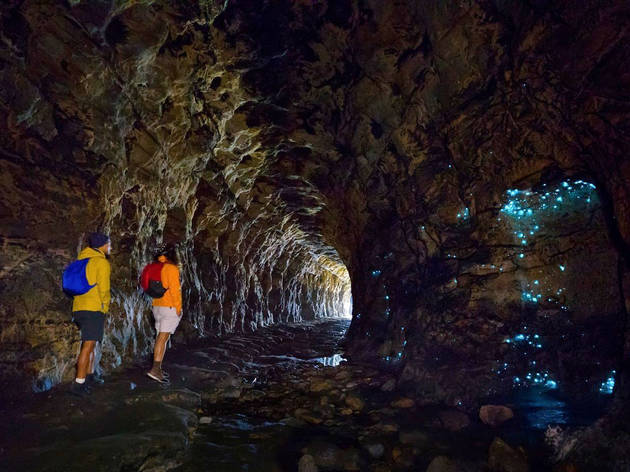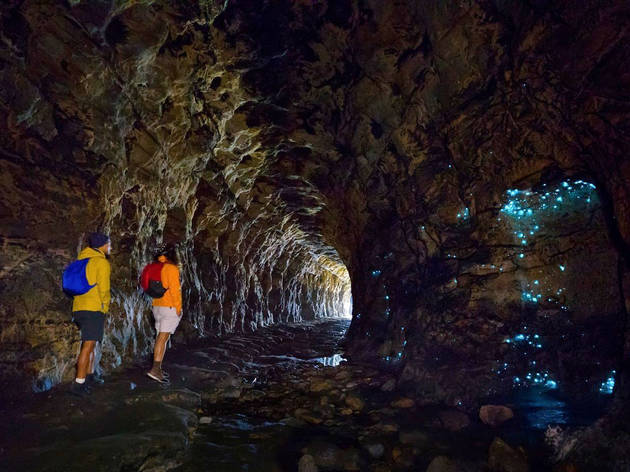 Photograph: National Parks Service
2. The Wollemi National Park Glow Worm Tunnel
Look up, and it's like you're gazing into the starry skies. But that's not the cosmos overhead, because you're deep inside a cave in Wollemi National Park just north of the Blue Mountains. This fantastical light show is being produced by thousands of tiny, bioluminescent critters who call this cavern home. Think of it as Mother Nature's version of Vivid, without the annoying crowds. The tunnel itself, however, is man-made, the remnants of a train line that once connected the now long-abandoned mining community of Newnes to the outside world. It's been many decades since any locomotive passed through this 400-meter long tunnel, and today this chiseled passage is home to huge colonies of fungus gnat larvae, better known by their way less gross name, glow worms.
Time Out tip: It's recommended that you bring a torch to light your path through the tunnel, but it's vitally important that you don't shine it up at the blue-green lights of the worms. The torchlight will distress the worms and instantly kill the lights.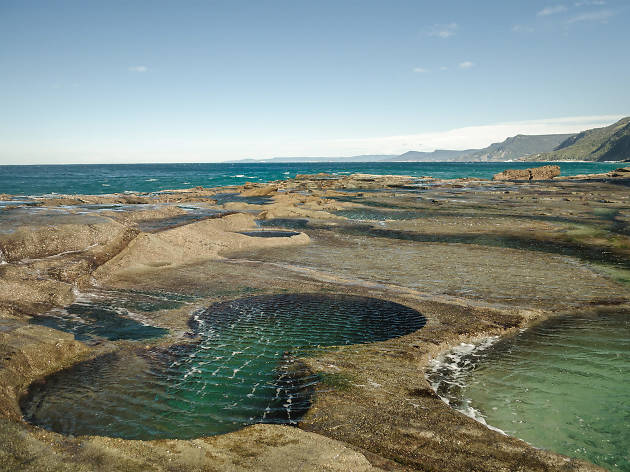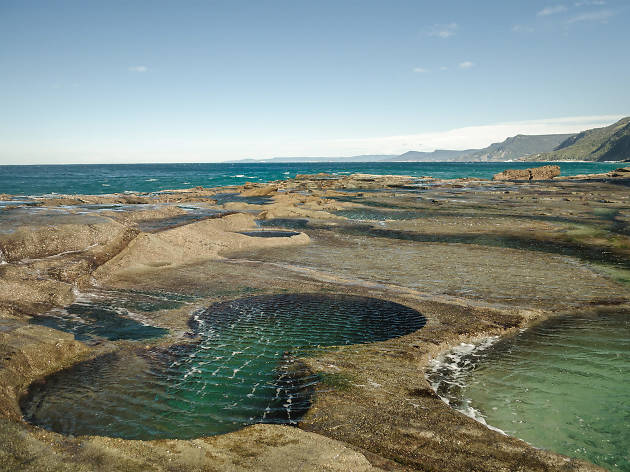 Photograph: Supplied
3. The Figure Eight Pools
By pure fluke, many thousands of years ago, a social media icon was born when two serendipitous sinkholes in coastal rocks created a pair of nearly perfectly cylindrical pools in the shape of, you guessed it, the number eight. In recent years, visitors have flocked to the Royal National Park in droves, hoping to 'gram it up while splashing about in this nautical numeral. Contrary to the plural implications of its name, there is just a single figure eight pool here, although there are several other rock pools to plunge into nearby. However, be warned: a visit should only be attempted at low tide when the waters are calm, as injuries have occurred when rough seas have lashed this corner of the NSW coast.

Time Out tip: Photogenic as these pools may be, their popularity has led to them being maddeningly overcrowded. Head there in the early morning or on weekdays to beat the tourist crush, and be sure to use the loo and stock up on drinking water before your adventure: it takes more than an hour to walk to the pools from the nearest parking.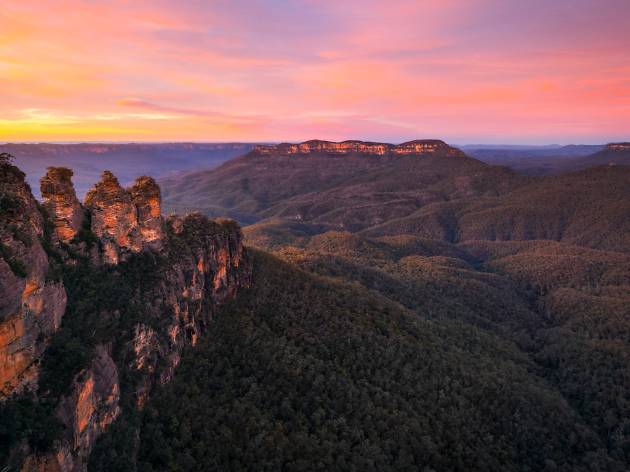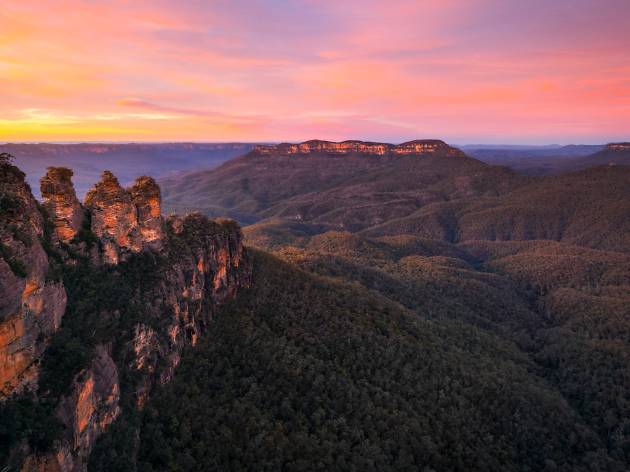 Photograph: Destination NSW
This trio of rocky wonders easily ranks among the nation's most famous natural landmarks, alongside the likes of Uluru and the Great Barrier Reef. Each year, millions of people flock to Echo Point, 100 kilometres west of central Sydney, to see this distinctive rock formation. Enshrined in local Indigenous lore, the Dreamtime story tells of Meehni, Wimlah and Gunnedoo, three sisters from the Katoomba people who were turned to stone to protect them from a great battle (or so one of the legends about these towering formations tells us). The most dramatic views of the Three Sisters can be found at Echo Point Lookout, where there's also an excellent visitor centre with information about the area and local First Nations history. For a closer look, follow the trail till you reach Honeymoon Bridge, which connects with the first sister. If you're in an athletic mood, there are plenty of walking trails to explore in the area too, such as the Prince Henry Cliff walk or the Dardanelles Pass loop walking track.
Time Out tip: For truly outstanding views of the Three Sisters and the Blue Mountains in general, you can't beat the Scenic Skyway. This glass-bottomed cable car soars over 270 metres above the rainforest canopy, for 720 metres between clifftops. You'll also get eyes on Katoomba Falls and the Jamison Valley stretching out to the horizon.
Photograph: Supplied
It's not exactly clear whose nuptials were ruined by a sagging, square, chalky-looking wedding cake, but whoever they were, they christened this enduringly popular wedge of sandstone with the catchy epithet that's stuck ever since. In recent years, it has become an Insta-magnet for snap-happy visitors ready to strike a pose on this pearly platform. Unfortunately, because of the rock's precarious location, it is expected to collapse into the sea at some point in the not-so-distant future, so fencing now prevents visitors clambering all over it. That hasn't deterred everyone, however, so because selfie ops often trump self-preservation, the NSW government has started calling in the cops to ensure some poor soul doesn't accidentally 'gram themself into the grave. Please, stay behind the fence; it's for your own good.

Time Out tip: While you might not be able to share the intimate moment of your social media dreams with ol' mate Wedding Cake, there are so many beauties to behold in Royal National Park, we suggest you put that phone down and enjoy your visit, IRL. And just 20 minutes' amble further south on the coastal path, you'll reach the unplugged serenity of Marley Beach: the perfect place to escape your screen.
Photograph: Destination NSW
6. The Liesegang rings of Bouddi National Park
A couple of hours drive from central Sydney, just beyond the Northern Beaches and Barrenjoey Head, the rocky wilds of the southern Central Coast boasts some of the most dramatic landscapes you can find – and just 100 kilometres from the city. Most strikingly, the sedimentary rock that makes up this area of coastline has been eroded into beautiful patterns, as different strata of the stone, known as Liesegang rings, have been revealed. The best examples can be found on the eight-kilometre Bouddi Coastal Walk, which runs between the eastern end of Putty Beach to MacMasters Beach. It's a hike best suited to more experienced walkers, but the stunning scenery of this coastal heathland is well worth the slog.

Time Out tip: The Liesegang ring formations are not the only beautiful sight to see here. Once you arrive at MacMasters, there's incredible whale watching during the season (May to November), but the ocean vistas alone are stunning enough year round. Once you've enjoyed a feast for the eyes, treat yourself to a gastronomic treat at popular nearby eatery the Fat Goose in Killcare.
Just two hours north of Sydney, this magical sea grotto at Deep Cave Bay can be found a short stroll from the northern end of Moonee Beach in Munmorah State Conservation Area. As you approach, you'll notice the mouths of rockpools are tinged with a fleshy hue, but this is nothing compared to the sea channel that flows into the main cave system, which blushes a vivid shade of bubble-gum pink. This vibrant colour also has the effect of turning the waters a particularly dazzling shade of turquoise. And it's not just the sight of these rosy caverns that are worth a visit. When the tides push the incoming waves through the cave's central channel, the thunderous sound reverberates around the rocks, amplifying the rumble as it travels deeper into the system.
Time Out tip: Many visitors head here to take a few snaps to capture these caves in all their technicolour glory, but if those azure waters look just too inviting to resist taking a dip, there are also plunge pools near the cave's entrance.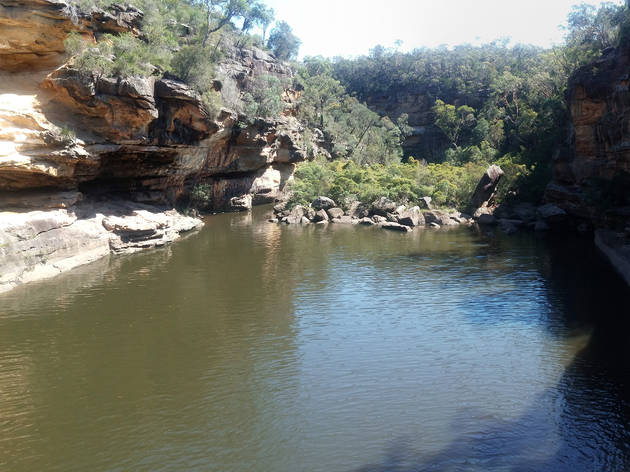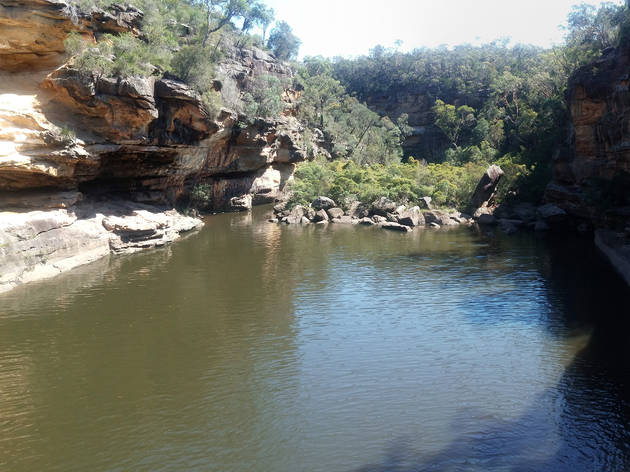 Photograph: Andrew Harvey
This popular beauty spot in the Southern Highlands is on Crown land, which means you won't find any of the facilities you'd expect in a national park, including clear signage. The trail to get to this site is signalled by small blue and yellow markers attached to trees, and it's relatively easy to get lost, so make sure you bring a mate and provisions. The first recorded European sighting of a koala took place here, so keep your eyes peeled for the sleepy marsupials in the leafy boughs overhead. The walk to get to the pools is about five kilometres, but we promise the trek is worth it. Once you arrive, you'll see a stunning green basin, wrapped by cliffs, with the Bargo River flowing into it from above. While it's known as being a swimming hole, taking the plunge is not only dangerous but also disrespectful, as these waters are a sacred space for the local Indigenous community, the Tharawal people.

Time Out tip: If your heart is set on getting wet, there's a swimming spot not far from the pools in the Bargo River, near the corner of Rockford Road and Charlie's Point Road. Remember, when river swimming it's recommended you don't swallow too much water if possible, so try to keep your head above the surface.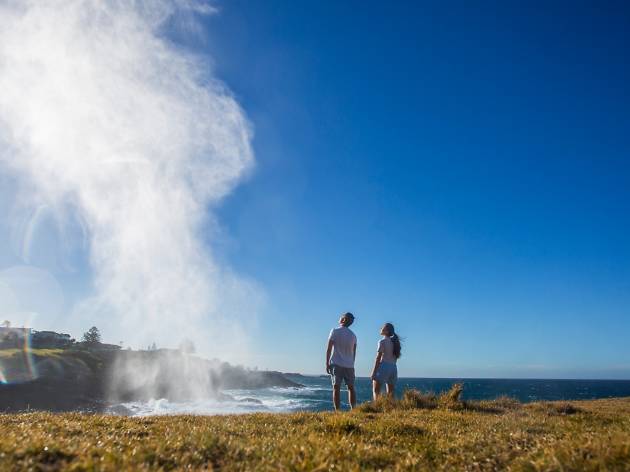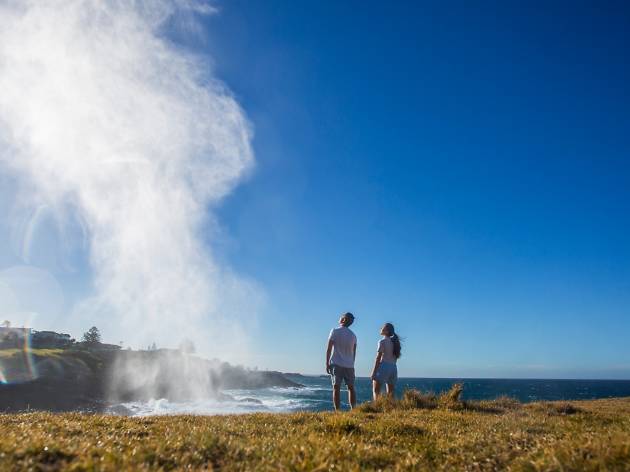 Photograph: Destination NSW
Less than two hours' drive south of Sydney, this gorgeous gusher isn't just the most impressive blowhole in New South Wales. With jets of salty spray reaching heights of 25 metres or more, it's the largest ocean blowhole in the world. This natural spectacle occurs when waves surge through an underwater channel in the rock, driving some 50 litres of water high into the air. This isn't so much a PSA as it is a rite of passage when visiting the Kiama: you will get wet. Embrace the seaside sogginess for the most dramatic, up-close views of this rare phenomenon.
Time Out tip: If you need a place to dry off, the cute-as-a-button town of Berry is just 20 minutes by car from Kiama. There are some great local spots for foodies, including the Sourdough Cafe and Milkwood Bakery, or for slightly fancier fare, the Queen Street Eatery.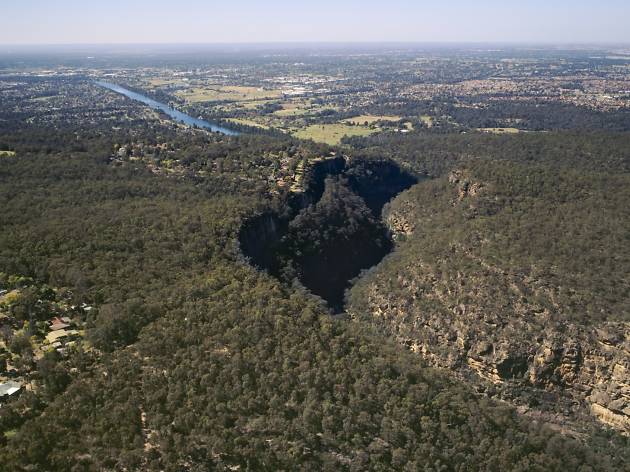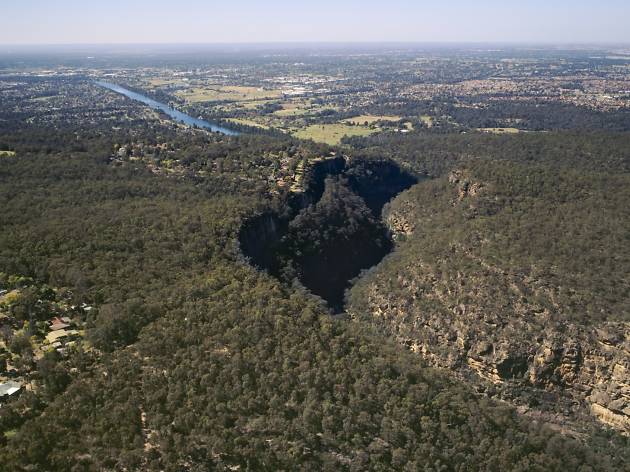 Photograph: Jeff Coles/Penrith City Council
Gorge by name and gorge by nature, this breathtaking canyon on the eastern edge of the Blue Mountains National Park makes for a surprisingly versatile day trip. You can marvel at it from afar, from Tunnel View Lookout or Mount Portal Lookout, or get to grips with it at close quarters, on the Glenbrook Gorge track – a reasonably physical hike for confident walkers. Alternatively, take the easier trail to Jellybean Pool, where you can take a dip if you're in the mood (although swimming isn't recommended immediately after rain). While you're down in this vast crevasse, surrounded by imposing boulders and beautiful bushland, it's easy to imagine you're miles from civilisation, when in fact, you're just an hour outside the city.
Time Out tip: If you're keen for a day out but don't have any wheels, Glenbrook is just an hour on the train from Sydney Central for only $6.89 on your Opal Card. From the town centre, it's a 20-minute walk to the Jellybean Walking track and another 10 minutes to Tunnel View Lookout, so you can enjoy a day in nature, sans car.
Photograph: Destination NSW
In the heart of the Blue Mountains, along the National Pass walking trail, you'll find Princes Lookout and the achingly pretty Wentworth Falls. Here you'll need to make a choice: if you're after a quick encounter with the falls, you can settle for a picnic near the conservation hut and be on your way in 15 minutes flat. If you came for a more hardcore adventure, strap in for a three-hour hike through the eucalypt forest to see Wentworth Falls up close, as well as Empress, Silvia and Lodore Falls. The looped track is just over five kilometres, however, it's a hard trek and you'll want to pack a bag with water, sunscreen and snacks for the journey. The mountain track hugs the cliffs, overlooking the Jamison Valley, and it ends with the glute-destroying Giant Staircase, so get ready to have buns of steel.
Time Out tip: If you've made it this far into the Blue Mountains and haven't factored in a trip to Katoomba, you're missing a trick. This major tourist hub is perfect for a bougie pitstop at the Red Door Cafe or a lazy lunch at Leura Garage. So you reckon you're a gastronome, huh? You best head to Darley's Restaurant, for hatted cuisine in a heritage-listed venue, with a candlelit outlook onto superbly manicured gardens.
Photograph: Destination NSW
12. The Stockton Sand Dunes
Australia is the land of big things: the big banana, the big prawn, the big Ned Kelly, the list goes on. But of all the big things in this big land of ours, few can compete with the truly epic dunes of the Worimi Conservation Lands at Anna Bay in Port Stephens. These shifting sands stretch for 32 kilometres, over a footprint of more than 4,200 hectares, just north of Newcastle. At just over 2.5 hours' drive from Sydney, this is the most distant landmark on our list, but as one of the Southern Hemisphere's most impressive vistas, the road trip up the Central Coast is well worth it.
Time Out tip: You cannot truly appreciate just how many things you can do on sand until you pay a visit to Stockton. There's camel riding, 4WD, quad biking and sand-boarding, all year round. And if you're a photographer, the dawn light over the dunes is renowned for its photo-ready majesty.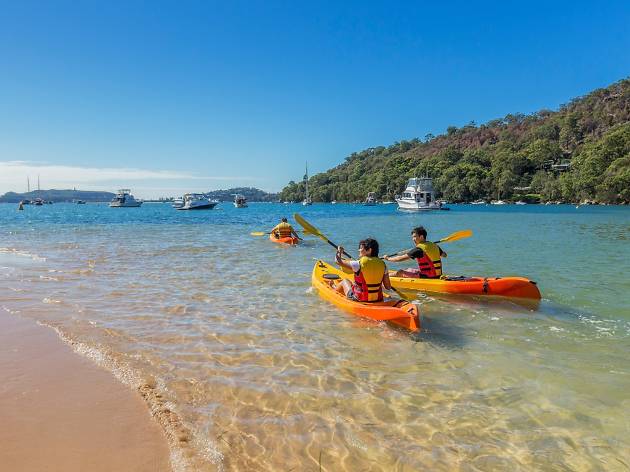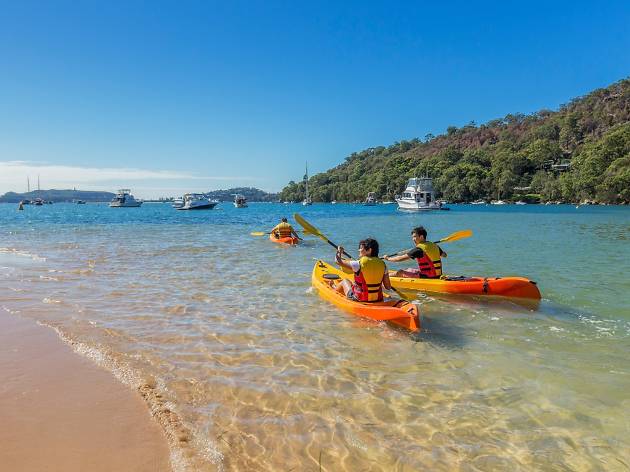 Photograph: Destination NSW
When it comes to expanses of water, Sydneysiders are spoilt for choice. But pay heed, oh Sydney folk, lest ye be complacent about your nearby aquatic treasures. Sheltered from the Pacific Ocean by the insular peninsula of the Northern Beaches, Pittwater is a thriving waterway fringed by the lush greenery of the Ku-ring-gai Chase National Park. The number of ways to enjoy this area is staggering: paddleboarding and fishing, coastal hikes and bushwalks, swimming and sailing, cycling and jogging, and more besides. It's an area of outstanding natural beauty, with a rich Indigenous history, heaps of top-notch cafes and eateries, and less than 45 kilometres from Sydney CBD.
Time Out tip: One of the best ways to experience Pittwater is by kayak. Not only does this bring you out onto the water, but it also allows for a few moments to simply be and take in the surrounds. The sheltered waters here are gentle and the meditative calm you feel while gently floating upon them is the perfect way to shed the stress of the city.
Enjoy a longer stay in the great outdoors
Natural beauty is one of Sydney's best assets, so it makes sense you'd want to experience a night or two in the city's great outdoors. Fortunately, camping around Sydney is not only possible, it's often very affordable. Check out our edit of the city's best camping sites for the chance to wake up next to the Harbour, adjacent to crashing waves, or deep in a national park.