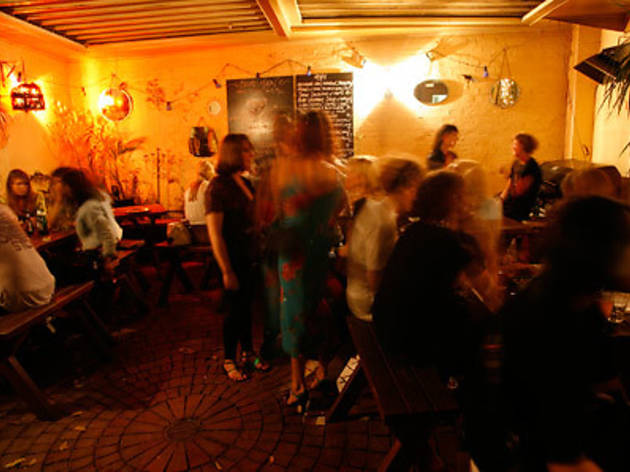 This Surry Hills pub is the perfect place for a post-game wrap up
As more and more great old pubs go under the knife the Cricketers Arms remains resolutely as it ever was, wearing its sticky floor and chipped original tiles with the grizzled pride of an old-timer who's refused to move with the times, and with good reason – everybody loves the Crix.
In fine weather finding a seat in the courtyard is like winning the boozehound's lottery, especially if it's not the seat right by the entrance to the famously scuzzy, graffiti-covered men's bathroom. The women's bathrooms are, by contrast, charming in a homemade-floral-decoupage-on-the-roof kind of way. In winter, the same small odds are applied to the three tables sandwiched between the open fireplace and the vending machine, and many a friendship has begun and ended over the worn green of the pool table up the back.
They like to theme the tunes here. Depending on the day the DJ booth could be pumping out reggaeton, old-school rock'n'roll, jazz, Latin, hip hop and some alt-country when the mood takes them. You're in Swans territory when you're drinking up at the bar here. Games are screened on TVs artfully placed so that the bar staff can see them too, and if it's a home-ground game over at the SCG you want to get in the door before the full-time buzzer sounds – postgame, this place fills fast.
Venue name:
Cricketers Arms Hotel
Contact:
Address:
106 Fitzroy St
Surry Hills
2010

Opening hours:
Mon-Fri 3pm-midnight; Sat 1pm-midnight; Sun 1-10pm