The best French restaurants Sydney has to offer
Voulez vous manger avec moi ce soir?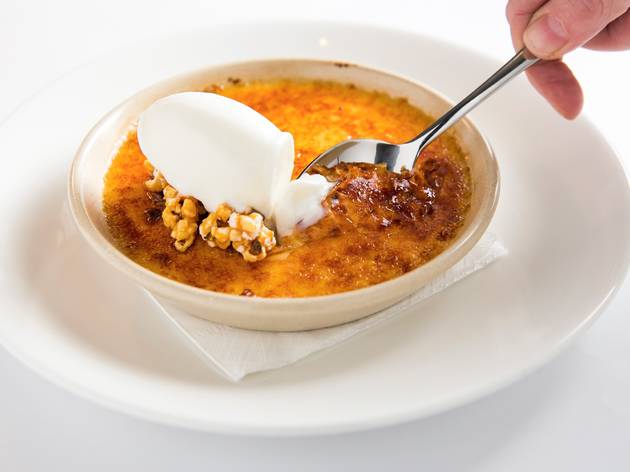 From light-as-air crepes to seafood bouillabaisse and rich steak tartare, Sydney has a lot of to offer in its French restaurants. Here's our ranked list of where to get your Gallic on Sydneyside, so you can get so-Frenchy-so-chic without even having to don your gumboots.
8
Take an outdoor table and watch the giant chess tournaments happening just across the way in Hyde Park while plane trees and old oaks create dappled shade over your croque monsieur. This guy features a light and creamy béchamel, silky ham and good bread.
Read more
7
Four Frogs is run by four French friends who missed crepes so much they opened their own shop dedicated to the art of wafer-thin pancakes. Try the galette with goat's cheese and dried fig or the "Tartiflette" – made with melty raclette cheese and smoky bacon.
Read more
6
Rustic fare features on the seasonally changing menu. Plump seared scallops with capsicum caramel are briny and sweet but given complexity when coupled with gravelly, sautéed black pudding and tiny knolls of veal sweet breads. And don't miss the steak frites.
Read more
3
The first restaurant from Neil Perry's daughter shows great promise, not to mention a few early triumphs. Try the barramundi Grenobloise – the fish is perfectly cooked – lightly caramelised on the outside and meltingly tender within – and topped with burnt butter, salted anchovies, capers, green olives and a rich, crunchy crumb.
Read more
2
Get all the thrills with plenty of frills at this restaurant from top chef Guillaume Brahimi. Kick off with the rich yet gently flavoured creamed asparagus sporting a layer of finely chopped truffle and sweet striations of mud crab. Paired with a Loire Valley Sancerre, it's perfectly balanced.
Read more
1
To experience not just France, but Paris during the Belle Époque, head to Hubert in the CBD. From the candlelit tables and old-fashioned tunes to the carefully crafted cocktails and beautiful food, as soon as you sit down you'll be planning your next visit. Whatever you do, order the chicken fricassée: it's a whole bird sectioned up and drenched in rich, thick tarragon-infused gravy and confit mushrooms. And it's one of the best dishes in Sydney right now.
Read more
Want more Euro fare?
Italian food needn't be just about the red sauce joints (although they hold a pretty special place in our hearts too). With Sydney's extensive Italian population, we do some of the best fancy Italian in the country. Here's our list of where to go for a romantic Italian meal, or just an epic feast of beautiful Italian food. 
Read more