The best French restaurants in Sydney
For when you want the classics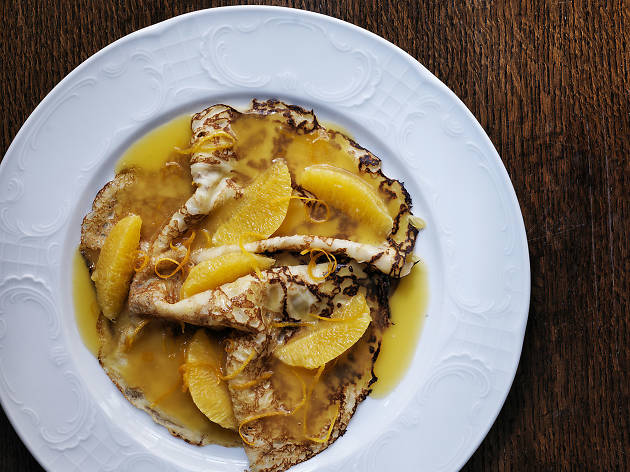 To experience not just France, but Paris during the Belle Époque, head to Hubert in the CBD. From the candlelit tables and old-fashioned tunes to the carefully crafted cocktails and beautiful food, as soon as you sit down you'll be planning your next visit.
Chippendale's latest French eatery is all about giving punters that classic-French bistro experience. There is pâté en croûte de grand-père Henri and French onion soup also dedicated to the chef's grandfather. Plus, escargots (snails), king crab thermidor, and a classic melted goat's cheese salad.
The restaurant's name – French for summer – is a nod to the vision for the menu: bright, welcoming and liberated from the buttoned-up sensibility of classical French dining. The waterfront space has the vibe of a relaxed, natural light-drenched brasserie.
One of the first things you'll notice about Loluk Bistro is that its patrons are mostly French. Close your eyes in the middle of the whitewashed, Riviera-inspired dining room and it's easy to forget you're steps away from Taylor Square. The unmistakably Provençal menu may have something to do with its Gallic clientele.
In Paris, where day drinking is encouraged and a tote bag is incomplete without a fresh baguette sticking out of it, you take the availability of an everyday, local bistro for granted. But here in Sydney, finding a good, mid-week steak frites is much harder work – Potts Point's Bistro Rex is setting out to change this.
Restaurant years are like dogs years, so venues like this quiet, unassuming French bistro at the well-tailored end of CBD anywhere basically qualifies for long service. For the last eight years, Bistro Papillon's owners, Xavier Huitorel and Ludovic Geyer, keep things simple – but extravagantly French — with both the menu and decor at this solid 40-seater.
Think of a night out at a French restaurant, and it's unlikely you'll picture yourself surrounded by giant tanks of beer. Yet at Frenchies Bistro and Brewery in Rosebery, that's exactly the kind of sweet spot that craft beer and charcuterie lovers would find themselves in.
Bistro Guillaume is the more casual offering from Guillaume Brahimi, everyone's favourite Frenchie. The menu is traditional French bistro fare, like steak tartare and classic cheese soufflés, served in a beautiful, blue and black toned space designed by Blainey North.
Want more Euro fare?
Italian food is the unofficial second cuisine of Sydney (the first being Thai), so we've picked our favourites, from red sauce joints to high end pasta purveyors.