Where to watch the Super Bowl in Sydney
The best excuse to take Monday off
The time has come again to watch grown men with curiously wide shoulder pads slug it out for the ultimate NFL championship game, the Super Bowl. Get onside at the best places in Sydney to catch the New England Patriots take on the Philadelphia Eagles on Monday Feb 5, accompanied by some American snacks, morning beers (it's nighttime in the USA) and a half-time show care of Justin Timberlake and friends.
Just after a drink? Try one of Sydney's 50 best bars.
NFL not yoru sport? Find your game at Sydney's best sports bars.
Where to watch the Super Bowl in Sydney 2018
1
This Bondi newbie will screening the game from 10am while the kitchen whips up Philli cheesesteak snack packs, chilli fries and New England fish and chips with smoked clam mayonnaise. They'll also be adding a few U.S.A beers and wines to the list, and the pizza menu will be available from 10am.
2
The Chippo Hotel is running a ticketed event for the big day. It's not cheap but entry includes unlimited beer (within RSA limits), all you can eat chicken wings (excellent), as well as giveaways (welcome).

3
Hut...hut...hike! Huddle in at The Erko for a pre-game fix of yank dude food: hot dawgs, Buffalo wings and fried chicken. Drink specials and American beers will help get you, if not your team, over the line.
4
Immerse yourself in the action at the Star's dedicated 24/7 Sports Bar. With pre and post match entertainment, cheerleaders and live music it'll be almost like the real thing. There'll be drink specials to keep you limber while shouting for your team and there's even a trip to the U S of A up for grabs. Game day festivities start from 10am.
5
Harrys will be totally decked out in NFL regalia, with loads of TVs screening the game. During the match you can get around $10 pulled beef nachoes, $10 buttermilk fried chicken and beef burgers. Refreshments include $5 Coors tinnies, $16 buckets of Coors and $14 moonshine milkshakes.
6
The Hard Rock will be open early especially for Super Bowl on Monday from 9am. They'll be screening pre-match commentary before the big game on the giant screen, plus there'll be two projectors and 18 screens. Prep your nerves with hot dogs, nachos and chilli cheese fries, $25 buckets of Bud and Corona and $12 Bloody Mary's.
7
The Lady Hamp will be swinging the pub doors open early at 9am for some feasting and football. The game starts at 10.30am and you can enjoy $6 Coors tinnies and $10 baskets of Buffalo wings, alongside a $12 lunch specials. If you've got a crew make sure you call ahead to book a table.
8
This Cleveland Street mainstay will be doing Americana food specials including wings, hot dogs, and burgers. You can also order up buckets of Coors for $25 and there will be an NFL jersey up for grabs at halftime.
9
Enjoy super craft beers while enjoying the Super Bowl down at Darling Harbour. Beer Deluxe will be pouring a special selection of craft beers and pumping out American snack specials all day long.
10
The Forries will be doing $20 buckets of Budweiser, $10 wings, $8 hot-diggity-dogs and $10 loaded fries during the game. Also during half time they will be handing out prizes.
11
Whether you're in it for the men on the field or the ludicrous halftime entertainment, there's few better places in Sydney to watch the 52nd installment of this great American tradition. Settle in from 10.30am with a $15 beer and wings special and buckets of Budweiser for $25.
12
Score a spot at the Bucket List from 10am on match day. In keeping with the theme there'll be $10 Buffalo hot wings and beef brisket rolls on offer to help keep you energised and $20 Super Dry pitchers. Cheer on your team and celebrate, or commiserate, with a post-game swim.
13
The Brigade will swing open its doors from 10am and screen the game on massive 103″ plasmas. There will also be $20 Bud buckets, $7.50 Budweisers and $10 Bloody Mary's. You can reserve the lounge with a private screen for 12-15 people if you want to party it up with your mates.
14
This King Street pub will be revving up pre-game and opening at 9am. Catch the action on the big screen and feast on wings, beer tins and bourbon Bloody Marys.
17
See all the action in HD on a 100" screen at Dee Why Hotel. To get you match fit there'll be breakfast burgers as well as American food served all day, including Buffalo wings, nachos, and hot dogs. There will also be $20 Bud buckets and $6 Bud singles. Doors open from a very spritely 8am so there'll be plenty of time to warm up before the main event.
Hungry? This should sort you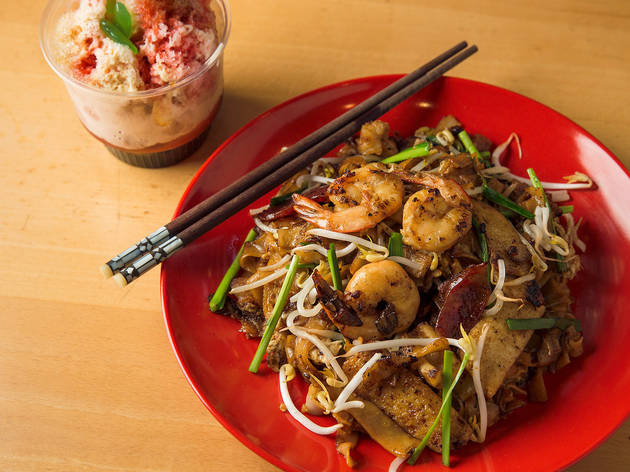 Work your way through these cheap restaurants in Sydney, serving up tasty food at prices that won't leave your wallet bare.