The best bars in Sydney
All the bars you should be drinking in this year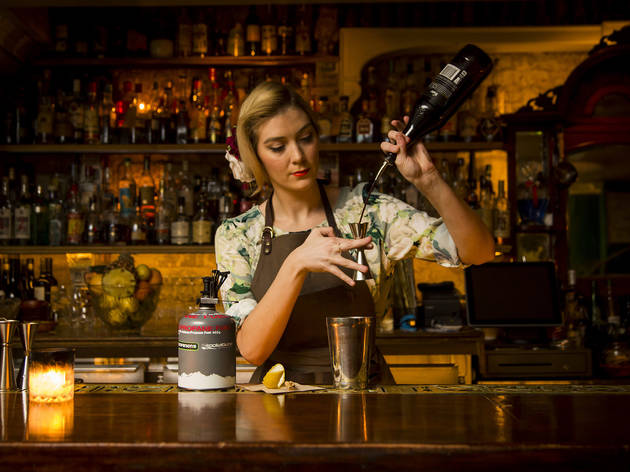 We scoured the city to find the best drinks, greatest chat, most perfectly crafted playlists, tastiest snacks and top vibes to be had in Sydney. We put our livers and our sleep patterns on the line to bring you, dear reader, a comprehensive guide to the best bars in town.
All the best cocktail bars, wine merchants, neighbourhood boltholes, party palaces and snack suppliers that took out the top gongs at this year's Time Out Sydney Bar Awards.
Read more
You can't exactly spy the waterline from this nautical cocktail den in South Bondi, but you can taste it on the breeze and were it not for an inconveniently placed apartment building the full splendour of Bondi Beach would be visible from the outdoor tables at the Anchor Bar. No matter, because you've probably already been in the drink, and are now ready to have the drink be in you. Specifically, you'll want a gin and fresh watermelon juice to cool you down in Snoop-approved style.
Read more
We have an unashamed love of carb-on-carb bar snacks here at Time Out. Chips inside your gyros? Bring it on. Potato soup inside a bread bowl? Come at us. Pasta inside a jaffle? We're in. Which is why when the afternoon chill pushes us off the shoreline at Bondi we'll be making tracks to Curlewis Street where there's a neighbourhood bar stuffing their jaffles with mac and cheese. It's pretty serious party fuel – two golden brown slices packed with creamy pasta laced with truffle oil and given a savoury kick from mustard and more cheese.
Read more
The line between restaurant and bar has gone from a little fuzzy to indistinct, and nowhere is this more so than at Brent Savage and Nick Hildebrandt's Potts Point wine bar and restaurant, Monopole. You could pop in for a cheeky drink and end up eating the full tasting menu. You could opt for a quick supper that turns into rolling home heavy with biodynamic wines and light on cash. It all depends on what you're in the mood for.
Read more
Teddy Roosevelt was the 26th president of the United States, and Franklin D. Roosevelt, who was in office from 1933-1945, was the 32nd. The Roosevelt in Potts Point has never been commander in chief, but in its arsenal is a seriously good liquid-nitrogen Martini, called the Continental. They take the hard decisions out of the equation by using vodka and gin, Cocchi Americano in place of vermouth and a little Chartreuse to add more herbal complexity to your drink. The serving suggestion recommends an oyster on the side, and it's solid advice –hell, why not make it two of the plump and briny little bivalves.
Read more
One of Redfern's original small bars is still as loud, fairy-lit and friendly as ever. And cheap. Where else can you get a eminently drinkable semillon sauvignon for six bucks and a grilled ham cheese and tomato sandwich for a fiver, other than student housing? There is a wonderful reliability to any visit to Arcadia. It's always full but somehow you can manage to rustle up a bar stool or one of those vintage metal chairs, or find a spot out in the brick courtyard featuring many hanging plants and all the nautical paintings available at Vinnies.
Read more
If you want to see Sydney at her absolute best, go for a drink at Redfern's neighbourhood art bar, the Bearded Tit. Inside this cosy establishment you get a glimpse of what it could be like if we all just got along. The weird and wonderful are welcomed here; there is a mix of punters that properly reflects the Sydney rainbow, and nobody gives it a second thought. We're all too busy having a brilliant time.
Read more
All rounder is not an insult, especially when it's describing a neighbourhood party bar that knows how to keep things cruisey in the early part of the week and ramp it up for a blow out at the pointy end. And that is a particular skill of Freda's, the Chippendale bar tucked out of sight off Regent Street just down from the White Rabbit Gallery. Head here on a school night and gentle disco and house mixes are kept at comfortable chatting volume – put this on your first-date bar list – and they're projecting a wood fire behind the decks to give the industrial space a cosy vibe. Thursdays through Saturdays it's a whole other story. You could find yourself at a night of Italo pop, or maybe some psychedelic synth pop. You might catch a Madonna-themed rager, or a line-up of '90s R'n'B anthems that will see you shake out that desk-bound hump. It's a licensed lucky dip.
Read more
The Old Clare Hotel is full of ghosts – not the Stephen King kind, but the ghosts of parties past. If you listen closely you can probably hear echoes of Brit pop reverb and dropped bass lines ricocheting off the mottled yellow tiles that still line the room. Thank God for heritage listings. We're betting there are also trace elements of Jager bombs in the grout. But a whole new era has begun at the old Carlton Brewery site: where once was a temple to sticky carpeted uni shenanigans, now stands a vintage-styled cocktail bar beneath a slick boutique hotel, complete with rooftop pool. About time too.
Read more
And now for the city's best eats...
Unless you have the metabolism of a nine-year-old and the finances of a Kardashian, you never stand a chance against Sydney's ferocious dining machine. The openings just don't stop – and ain't nobody got time to keep on top of what's what. Except us, of course. Behold: our definitive eat-and-destroy list.
Read more