Building the Goodgod Super Club
What happens when you make a small club super?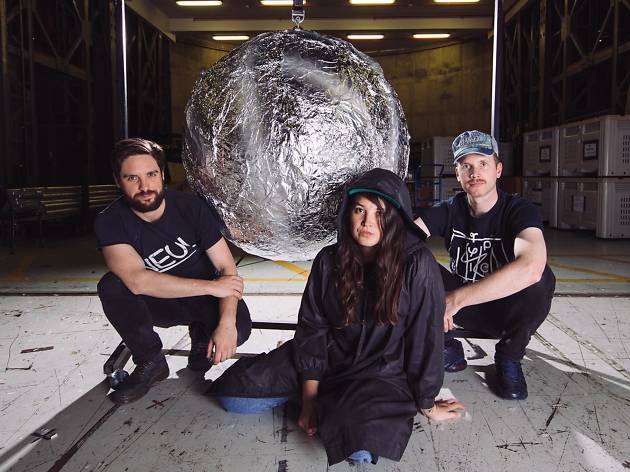 Goodgod Small Club had its last dance on Liverpool Street late last year – but this didn't mean they disappeared from Sydney forever. Since pulling down the awning for the last time Goodgod's Jimmy Sing and Hana Shimada have been busy behind the scenes planning its incremental return, by the way of the Goodgod Super Club parties as a part of Vivid Live.
Alongside curating the line-up – which includes Bradley Zero, Junglepussy and Oneman – the duo also gained total creative control of the Opera House Studio's visuals, with some help from co-designer Jeremy Wolfe. Speaking to Time Out from the underbelly of the Opera House where set up for the Super Club was well under way, Sing explains. "It's the first time we're doing the full design... So that's everything from the layout of the room to the sound system design to the lighting."
Essentially the trio approached the space by considering the essential ingredients that make up the ultimate dancefloor. "Rather than going and trying to make it like a theme we just spent a whole month working through what is it that makes people comfortable to start dancing," Sing explains.
"If you walk in at 9pm, it'll be totally different than it is at 2am."
Lighting, layout and smoke are three of the cornerstones they've used to create an inclusive and immersive space. "We've kind of designed a whole bunch of really quite low-fi tricks," Sing adds, "if you walk in at 9pm, it'ill be totally different than it is at 2am."
To this end, they've deployed a cool 13 different types of smoke machines, a detailed piping system which acts as a false roof, a venetian blind curtained disco ball and light up corrugated Corinthian columns. "While [we had the club] we couldn't afforded to spend this much time on it." Sing says.
Finally a top-notch soundsystem is the icing on their disco cake. Wolf explains, "We've worked together with the audio team at the Opera House to create custom soundsystem. They had to go back to the German company to map out how the sound will behave and travel to find the position for the DJ." Which informed centrepiece of the evening – a DJ booth, which sits smack bang in the middle of the dancefloor.
So once GG packs up shop again, can we expect to see more incarnations of the Goodgod brand beyond Vivid? "Yeah definitely. We intended for Goodgod to continue to be an experience. It was nightclub within four walls in the CBD for almost seven years, but now it's other things. We've got other experiences planned." Sing explains: "We didn't think we'd be doing like another nightclub space straight away, but this opportunity came up and it was so perfect." And thank god it did.
Want more Goodgod goodness?
More to explore