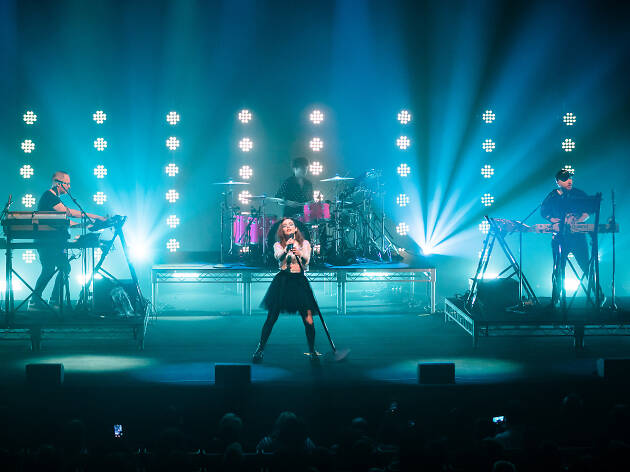 The best gigs in Sydney this week
Here are the live music shows you'll want to listen out for in the next seven days
The best live music in Sydney this week
Note: This event has been postponed in light of the recently extended restrictions on singing and dancing in public venues, including nightclubs. We'll keep you posted on the latest, or you can sign up for updates here. Since lockouts were rolled back in Sydney and a swathe of red-tape-cutting legislation was passed last year – not to mention the recent return of dancefloors – there's been a lot of talk about the revival of the city's late-night scene. But if you're stitting in the skeptics camp on this one, we don't blame you. If you're the believe-it-when-I-see-it type, we've got news for you: there's a 24-hour party coming to Sydney in May, and it's set to be a ripper. A total of 80 DJs and live acts will perform in 12 venues across the city, including the Kings Cross Hotel, the Marly, the Bank, Goros, the Golden Sheaf, the Albion Parramatta, Barangaroo House, the Erko, Public House Petersham, the Sackville Rozelle, and the Clock in Surry Hills. The latest to be added? Darlo Bar, which will see performances take over the venue from 6pm. In fact, each venue involved will be clearing its stage and dusting off its sound equipment to put on some live gigs, kicking off at 8am at the Golden Sheaf with the 80s-style aerobics queens of Retrosweat. Other highlights across the venues include singer-songwriter Hayley Mary, formerly of the Jezebels, five-piece all-female Sydney indie folk band Megafauna, and 12-piece funk collective The Regime. Party starters Heaps Gay, Fruit Bowl,
One of Redfern's coolest bars will soon be pumping to the beat of a new gig series, curated in partnership with FBi Radio. It's the first time Redfern Surf Club has hosted live music, but co-owners Yannick Maslard and Jade New are no strangers to Sydney's music scene, having previously worked at Oxford Art Factory and the Future Music Festival respectively. After a year of hardship for many musicians, the pair are now offering a platform for top Sydney musos to reconnect with live audiences, establishing Redfern Surf Club as Sydney's newest gig room in the process. Best of all, every concert in this inaugural series will be absolutely free to attend. But don't be fooled by the non-existent price tag – this ain't no open mic night. Every Sunday between May 16 and June 13, a roll call of Australia's most exciting ascendant artists, across a wide range of genres and influences, will showcase their talents on stage. This is a chance to experience the young creatives who are shaping the future of music in Australia, and you won't have the pay a cent for the privilege.On May 16, 19-year-old Byron Bay-based pop prodigy May-A shares the spotlight with the dreamy R'n'B of Liyah Knight and D'Arcy Spiller's mercurial indie vocals. The following Sunday, May 23, the series changes gear with the edgy hip-hop of Tasman Keith, the soulful strains of Ms Thandi and 15-year-old singer-songwriter and former The Voice Kids star, Mi-Kaisha. On May 30, things get loose with Mini Skirt, the maveric
Barrack Street, CBD, is a street with a lot of history. Named for Sydney's earliest colonial military barracks complex, Wynyard Barracks, it's here that the famous Rum Rebellion started, resuting in the arrest of Governor Bligh.Now, history will be made again as Barrack Street becomes the epicentre for a live concert event capping off six weeks of celebration of the small bars of central Sydney. YCK Laneways Block Party has opened the city's eyes to the great bars of the area, and on Wednesday May 19 the Block Party officially concludes with Live at Barrack Street. Live at Barrack Street is headlined by Jarryd James, who is set to deliver the soulful blend of electro-pop and R'n'B that has gained him international recognition. Indie pop songstress D'Arcy Spiller will perform, as will up-and-coming singer-songwriter Budjerah. Gates open from 5pm and ticketholders are invited to settle in and enjoy the musical warm-up led by DJ Levins, whilst sipping on a selection of Patrón Silver cocktails and Bombay Sapphire G&Ts at the pop-up Fever-Tree bar. The live performances kick off at 7pm. Kicking on afterwards? Ticketholders get 50 per cent off their first festival cocktail at select bars within the YCK (York-Clarence-Kent) precinct, including Since I Left You, Papa Gede's, Spawn Point, the Barber Shop, the Duke of Clarence, Stitch Bar, Uncle Mings, the Lobo, Prince of York, Burrow Bar, the Rook, Sammy Junior, Grandma's Bar, Esteban and the Swinging Cat. YCK had been made possible
Want more chill gigs?
Contrary to contemporary yarns, there are still pubs who play live music in Sydney. Gigs and live music still thrive in the smaller drinking hole worlds of the Inner West and beyond.