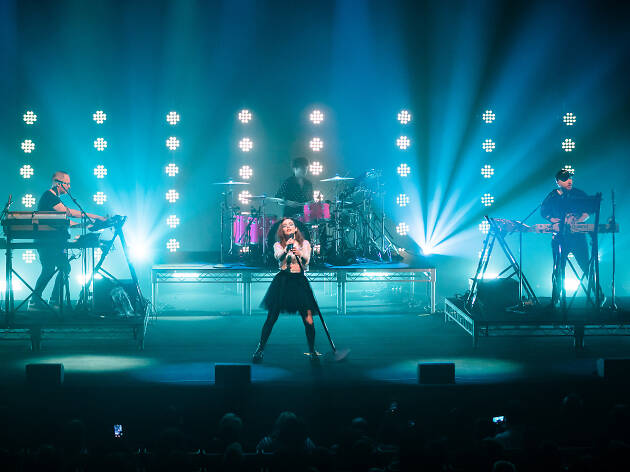 The best gigs in Sydney this week
Here are the live music shows you'll want to listen out for in the next seven days
The best live music in Sydney this week
Dust off that old kohl eyeliner and get ready to 'Sway Sway Baby', Short Stack are back. Their fringes may be decidedly less sweeping, but the Aussie pop-rock band is sure to be packing plenty of 2000's emo nostalgia. Breaking into the Aussie charts in 2009, Short Stack topped the ARIA charts with their very on-brand debut album Stack is the New Black. The trio, harking from a garage in Budgewoi on the Central Coast of NSW, were pretty successful for a brief period in the early twenty-tens, winning the hearts and minds of many a tweenie bopper. If you were on MySpace during this time, you certainly clicked on the profile of a girl sporting a 'racoon tail' streak of hair and got blasted with some 'Drop Dead Gorgeous' before scrambling for the mute button. They disbanded in 2012 after producing two gold-selling albums and three top ten singles (remember 'Shimmy A Go Go'?). You may recall the Stack had a short-lived reunion in 2014, but it seems Australia wasn't ready yet for an emo revival, and they put the guyliner to bed again soon after. The announcement of Short Stack's reunion joins a wave of sentimental pop-punk tours sweeping across the country. Including skate-punk legends the Offspring, who must be feeling 'Pretty Fly (For a White Guy)' teaming up with Canadian punks Sum 41 for a national tour, and the confirmation of the much-rumoured Hella Mega Tour with headliners Green Day having the time of their life with Fall Out Boy and Weezer. Short Stack will be touring c
Emboldened by the lifting of the lockout laws, Frankie's Pizza has introduced a brand spankin' new weeknight burlesque and variety show that rolls out of the more niche and nasty side of the bed. Expect live bands and badass burlesque stars, sideshows freaks and obscene beauty queens rocking out to alternative bangers that fit right in amongst the pinball machines mullets.
Want more chill gigs?
Contrary to contemporary yarns, there are still pubs who play live music in Sydney. Gigs and live music still thrive in the smaller drinking hole worlds of the Inner West and beyond.