The best jazz clubs in Sydney
Sydney is exploding in polyrhythm, and these are the best places to hear it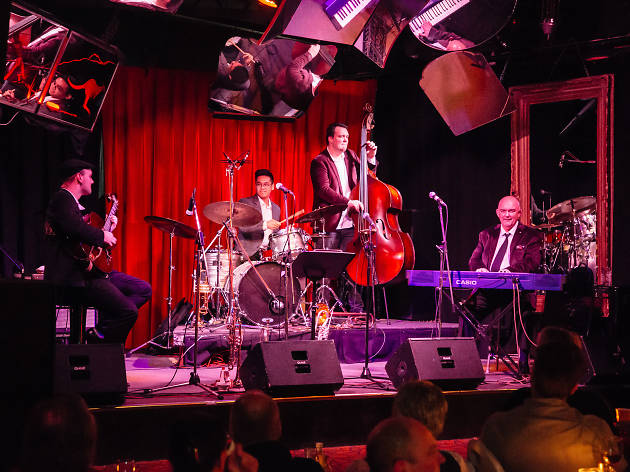 This year, the prestigious Downbeat magazine's Great Jazz Venue guide names only five Australian venues in its international awards, but the good news is three of these places are in Sydney: Foundry 616, Sound Lounge and Venue 505. So is jazz thriving? Let's be honest here, Sydney's live music scene has taken a massive hit since the lockout laws and through ongoing construction in the city, but somehow, the tenacity and resourcefulness of those in the jazz scene means that there are places to do some serious listening. Take heart that jazz lovers are a resilient lot, so the syncopated beat goes on.
Want more live music? These are the best bars and pubs in Sydney for watching bands. Here's where to see free live music every night of the week.
Where to hear jazz in Sydney
Upcoming jazz events in Sydney
Can you believe it's already been 16 years since the world opened their ears and hearts to Norah Jones? It seems just like yesterday that 'Come Away With Me' graced our airwaves and now this nine-time Grammy winner is coming to Sydney – for two whole nights. We all know this singer/songwriter is a master of jazz, country, folk and rock, so sit back and relax as her effortless and warm vocals float around the State Theatre. You can expect to hear songs that span her successful career including her old stuff and her 2016 album Day Breaks which saw her return to her jazz roots. We 'Don't Know Why' you wouldn't want to go.
Music, Folk, country and blues
The Factory Theatre, Marrickville
This Compton-born, postmodern bluesman has garnered a strong reputation among his American rock, country and folk brothers and sisters since he started strumming for the big time in 1994. In less than 30 years, Keb' Mo' (aka Kevin Roosevelt Moore) has produce 14 albums, won four Grammy awards and received another 11 nominations. The singer-songwriter and guitarist will visit Sydney on April 16, 2019 at the Factory Theatre for a solo performance. This will mark his third stop on a national tour before his Byron Bay Bluesfest appearance, where he'll continue to celebrate the festival's 30th anniversary. Look out for early hits like 'She Just Wants to Dance' and more recent creations from his collaborative album TajMo, which he produced in 2017 with multi-instrumentalist and singer-songwriter Taj Mahal, who's known off-stage as Henry Fredericks. Keb' Mo' now hails from Nashville, where he's cultivated a strong following for his American roots music. His open-hearted sound is influenced by many eras of rock, jazz, country and pop, and he has collaborated with a multitude of artists across these genres. Now 66 years of age, Keb' Mo' is also known for a considered political and social stand, actively supporting initiatives like Vote for Change and the No Nukes Group while also tutoring young aspiring musicians, and once performing in the White House for former US president Barack Obama.
Music, Funk, soul and disco
The Factory Theatre, Marrickville
Before she brings her ethereal R'n'B to Bluesfest in 2019, Meshell Ndegeocello will share an intimate performance with Sydney at the Factory Theatre on Saturday, April 20. The master vocalist, songwriter, rapper and talented multi-instrumentalist, Ndegeocello will be performing tracks from her 2018 release Ventriloquism, all the way back to her landmark neo-soul album Plantation Lullabies, which debuted in 1993. As a key proponent for this collaborative genre, Ndegeocello's songs are characterised by the diverse influences of neo-soul. In her majestic stage performance, you'll hear elements of soul, contemporary R'n'B, jazz, funk, hip-hop, African roots and even touches of electronic and pop music. This Bluesfest sideshow from the ten-time Grammy nominee is set to be an impressive performance. Those who have followed her work over the last 25 years can look out for old favourites like 'I'm Digging You (Like an Old Soul Record)' and 'Step Into the Projects' along with early hits which explore Ndegeocello's experiences as an African American, gender and race relations, and her sexuality. Her most recent album, Ventriloquism, reflects on the era of Ndegeocello's popularisation, covering hit tracks recorded in the '80s and '90s. We're looking forward to hearing her renditions of pop and R'n'B classics like 'I Wonder If I Take You Home' originally recorded by Lisa Lisa and Cult Jam with Full Force, TLC's 'Waterfalls' and Sade's 'Smooth Operator'.
More to explore