The best jazz clubs in Sydney
Sydney is exploding in polyrhythm, and these are the best places to hear it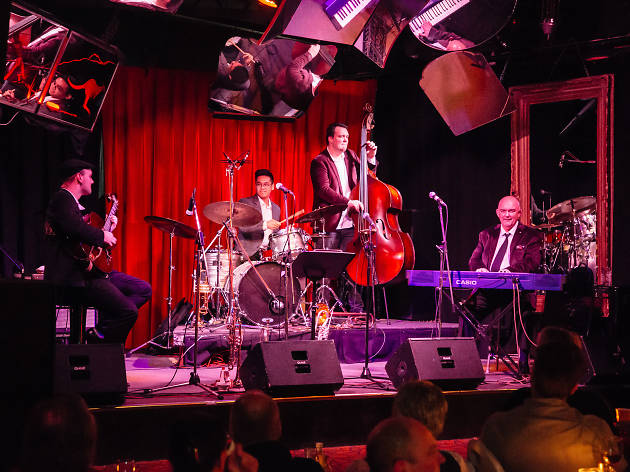 This year, the prestigious Downbeat magazine's Great Jazz Venue guide names only five Australian venues in its international awards, but the good news is three of these places are in Sydney: Foundry 616, Sound Lounge and Venue 505. So is jazz thriving? Let's be honest here, Sydney's live music scene has taken a massive hit since the lockout laws and through ongoing construction in the city, but somehow, the tenacity and resourcefulness of those in the jazz scene means that there are places to do some serious listening. Take heart that jazz lovers are a resilient lot, so the syncopated beat goes on.
Want more live music? These are the best bars and pubs in Sydney for watching bands. Here's where to see free live music every night of the week.
Where to hear jazz in Sydney
Upcoming jazz events in Sydney
Music, Jazz
Sydney Opera House, Sydney
Even if you've never heard of Postmodern Jukebox before today, you're sure to have a delightful time at their theatrical live show. The American group is made up of a rotating cast of singers and big band musicians who cover an enormous playlist of pop hits. The collective was founded by arranger and pianist Scott Bradlee in 2009, and has gained a dedicated following, with more than four million YouTube subscribers who are glued to their computers each time the group releases a new jazzed-up version of a beloved song. They add all the razzle dazzle visuals you'd expect from their predominantly early 20th century swing and jazz repertoire, from flapper dresses to suspenders and red curtained glamour. Their Sydney Opera House show will be one of the final stops on a huge national tour that'll take the group to regional Australian towns and major cities this spring. You'll want to perfect your Charleston and waltz, as it's called the Welcome to the Twenties 2.0 tour, and preparing us for the 2020 golden age (here's hoping). Expect extravagant covers of powerhouse numbers from Lady Gaga, Rihanna and Gotye, plus one-hit-wonders we love to hate (and know all the words to) like 'Call Me Maybe' and 'Stacy's Mom' The tour will see Adam Kubota slapping the bass, Tom Jorgenson on drums, Jeremy Viner leading woodwinds, PJ Floyd playing trombone and Reggie Berg on piano. Casey Abrams, Aubrey Logan, Hannah Gill and newcomer Dave Simmons Jr will be tapping in and out and collaborating
Music, Jazz
Sydney Opera House, Sydney
Los Angeles' tenor saxophonist Kamasi Washington is returning to Sydney Opera House to perform his second album Heaven and Earth for the first time in Australia. The modern jazz visionary entered the charts in 2015 and since then he's worked with Kendrick Lamar (on 'Lust' and 'Mortal Man'), Florence and the Machine ('Big God'), Run the Jewels, Snoop Dogg and Flying Lotus. In the two-and-a-half-hour double album, Washington explores current global politics with his funk and gospel choir-soundtracked hope for the future. With his eight-piece band, the jazz conceptualist will perform songs like 'Street Fighter Mas' and 'Fists of Fury' at the Concert Hall in an in-the-round stage set up. Don't wait till October to get your tickets – his last performance sold out entirely. Tickets go on sale to the general public at 9am, Thursday July 18.