The best jazz clubs in Sydney
Sydney is exploding in polyrhythm, and these are the best places to hear it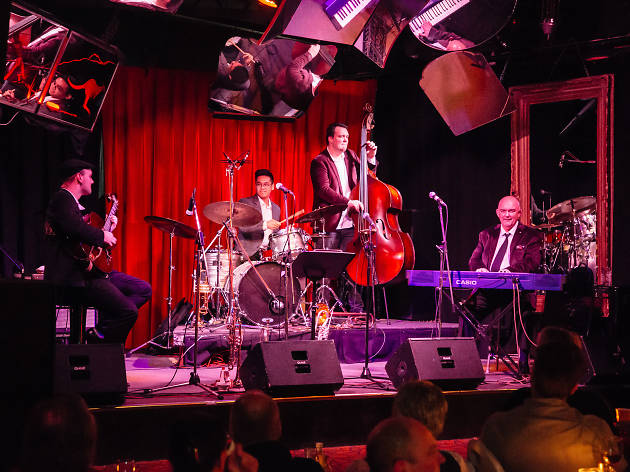 This year, the prestigious Downbeat magazine's Great Jazz Venue guide names only five Australian venues in its international awards, but the good news is three of these places are in Sydney: Foundry 616, Sound Lounge and Venue 505. So is jazz thriving? Let's be honest here, Sydney's live music scene has taken a massive hit since the lockout laws and through ongoing construction in the city, but somehow, the tenacity and resourcefulness of those in the jazz scene means that there are places to do some serious listening. Take heart that jazz lovers are a resilient lot, so the syncopated beat goes on.
Want more live music? These are the best bars and pubs in Sydney for watching bands. Here's where to see free live music every night of the week.
Where to hear jazz in Sydney
Upcoming jazz events in Sydney
Music, Jazz
Sydney Opera House, Sydney
With six decades of musical innovation across jazz, hip-hop, electro-fusion, and funk under his belt, you can expect Herbie Hancock will bring nothing less than a remarkable presence to the stage. The Chicago-born pianist and composer has an impressive history of musical accolades, winning his first Grammy in 1983, and going on to win 13 more over his career. He was a key member of the Miles Davis Quintet and has also worked alongside generations of chart-topping artists, including Chick Corea, Wayne Shorter, Stevie Wonder, Joni Mitchell and Kendrick Lamar. At his performance during Vivid, everyone will be looking forward to hearing groundbreaking hits from his twelfth studio album Head Hunters, Grammy Award-winning tribute album covering the work of Joni Mitchell, River: The Joni Letters, as well as his beloved early compositions like 'Cantaloupe Island' and 'Watermelon Man'. This is your chance to see a legend in the flesh.
Music, Rap, hip hop and R&B
Hordern Pavilion, Moore Park
After years on the margins, American singer SZA's career blew up in 2017 with the release of her long-awaited debut album Ctrl, which delivered modern-day R'n'B with introspective reflections and a willingness to borrow from other genres. Ctrl led to an appearance on the Black Panther soundtrack and 'Power is Power' – SZA's collaboration with the Weeknd and Travis Scott, which has ended up the soundtrack for the final series of Game of Thrones. Her name is everywhere, so you'd better catch her while she's here.