The best jazz clubs in Sydney
Sydney is exploding in polyrhythm, and these are the best places to hear it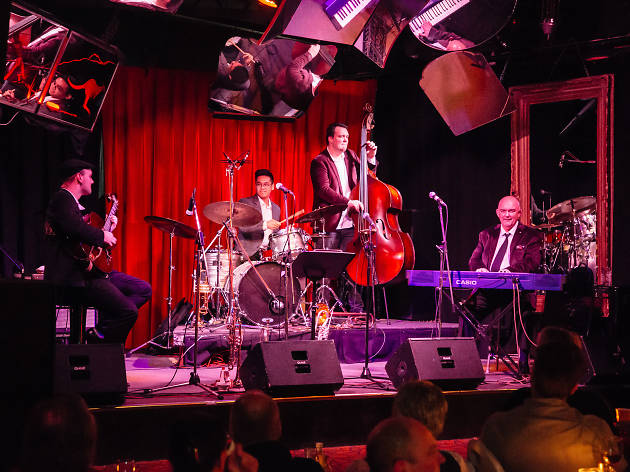 This year, the prestigious Downbeat magazine's Great Jazz Venue guide names only five Australian venues in its international awards, but the good news is three of these places are in Sydney: Foundry 616, Sound Lounge and Venue 505. So is jazz thriving? Let's be honest here, Sydney's live music scene has taken a massive hit since the lockout laws and through ongoing construction in the city, but somehow, the tenacity and resourcefulness of those in the jazz scene means that there are places to do some serious listening. Take heart that jazz lovers are a resilient lot, so the syncopated beat goes on.
Want more live music? These are the best bars and pubs in Sydney for watching bands. Here's where to see free live music every night of the week.
Where to hear jazz in Sydney
Upcoming jazz events in Sydney
If you're partial to an evening of smooth jazz or wild scat cat abandon, then this huge jazz festival will be right up your alley. It exclusively stars jazz musicians who identify as female and will be taking place in bars and clubs across Sydney for its ninth year, this November. The Sydney International Women's Jazz Festival program will unite the world of jazz, with artists from Australia, Brazil, Armenia, the US and Canada. Exciting acts on the line-up include bold New York saxophonist Lakecia Benjamin, who's performed beside huge acts such as Stevie Wonder, Macy Gray and Alicia Keys. She's collaborating with ten-piece women's jazz ensemble Pharos for the festival (Nov 13). Singer-songwriter Anna Setton will be modernising Brazil's romantic jazz sounds with a nylon string guitar and breezy vocals (Nov 3), while Canadian sax composer Chelsea McBride performers her bustling, bombastic creations alongside the Divergence Jazz Orchestra (Nov 12). Experience the intersection of jazz with Armenia folk music when classically trained jazz pianist Zela Margossian performs on November 15, and explore all the free, family-friendly festival events happening at the Joynton Avenue Creative Centre in Zetland – featuring ARIA-Award winner Justine Clarke – on November 16. You can find all these jazz masters and more at Bondi Pavilion, Pier One, Foundry 616, Venue 505, the Newsagency and Studios 301 from November 2-17.