Congratulations, you've cooked it. It's Christmas Day, you were planning on staycationing in Sydney all summer long and now you've realised you have to get out.
Even if you vow to visit a different ocean pool every day of the break, even if you hit up all of these things to do between Christmas and New Year's Eve, it still doesn't feel worth staying in the city. The good news is, there's still time. You can still go on a perfectly beautiful summer vacation (or even skip town for New Year's Eve). You just have to be smart about where to go. First up, you can pretty much forget the coast. From Shoalhaven, all the way up to the Northern Rivers region, every charming seaside holiday town in New South Wales is experiencing its busiest period. Also, it's going to be raining the whole time (sorry). Even if you do get a room you'll likely have to a pay a premium for it. Here's where to go instead.
The Blue Mountains
The Fairmont (pictured) still has availability up to and over the New Year's Eve period. Many of the Blue Mountains' best attractions, like gorgeous views and beautiful hikes, don't shut down over the summer season. Ticketed attraction Scenic World is also open throughout summer, including Boxing Day and New Year's Day. Plus, it's just a two hour train ride, or hour-and-a-half drive from Sydney.
The Hunter Valley
While it's busy over the holiday period, the Hunter Valley isn't totally booked out. The wine region is two and a half hours' drive from Sydney. You can still find accommodation in Pokolbin and surrounds, from hotels like the Sebel Kirkton Park and H Boutique Hotel to self-contained cottages. All these options have pools to lounge by while you sip on some newly acquired Semillon – which is easy to do, since most of the region's cellar doors are open throughout the period. The Hunter Valley's visitor information center has compiled a helpful guide to which businesses are open and when. Still not sure where to visit? Here's our guide to the Hunter Valley's best wineries.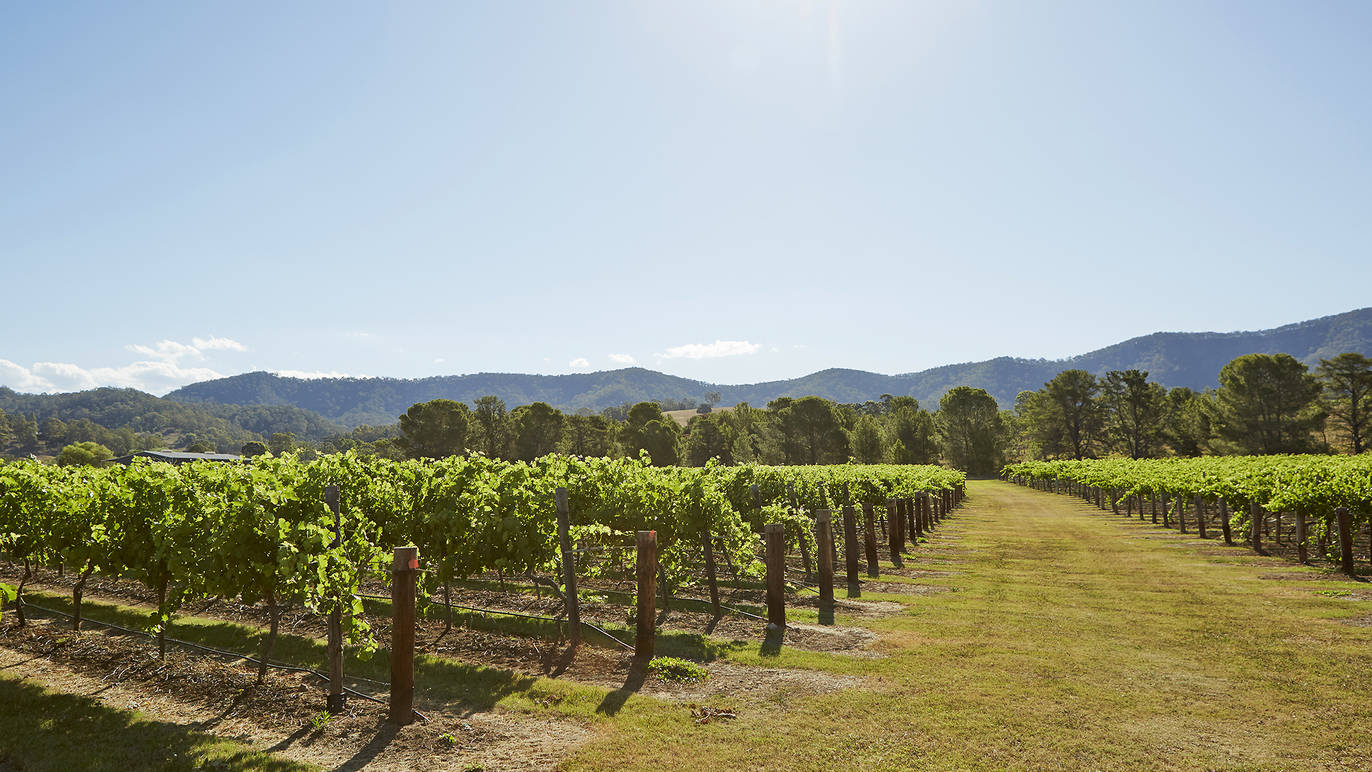 The Snowy Mountains
Boasting the highest mountain in Australia, with temperatures of around 20 degrees this time of year, the Snowies might not seem like an ideal summer vacation. But unlike coastal New South Wales, the weather report for this beautiful mountainous region is mostly sunny. There are hot springs to dip in (open daily, except Christmas Day), horses to ride and mountains to climb (it's currently peak season for alpine wildflowers). Plus, it's not a busy time of year, so you can score a well-priced room at luxury hotels like the Denman or a self-contained apartment like Pinot Noir Studios.
Yuin Country
Discover the South Coast through the eyes of its First People on Ngaran Nagran Cultural Awareness' Djirringanj Dreaming Tour, which runs two nights, from January 5. Accommodation is belle tent glamping at Tilba Lake Camp. There are still a couple of spots left on this tour, which will involve yarning ceremonies, dinners prepared using native ingredients, and visits to sites of spiritual and cultural significance to the Yuin people. This tour takes place around the Bega Valley and Bermagui area, which is around five hours south of Sydney by car.
Want more holiday inspiration? Check out the best glamping spots near Sydney.