Chef Peter Gilmore will be taking the famed snow egg off the Quay menu – permanently – when the restaurant closes for renovations this April. If you already have a reservation at Quay, it'll be your last chance to order the dessert, which will no longer be served after April 1.
The signature dessert made its TV debut on the 2010 season of MasterChef and subsequently became one of the best known desserts in Australia, despite it being a part of a $180 degustation in one of Sydney's swankiest restaurants. Food fans flocked to the Circular Quay restaurant to order the enchanting spherical sweet treat that's known for the sound it makes when you crack open the 'egg'; it's been snapped, cracked and eaten every single day since. The orb-shaped dessert has been on the menu since 2009, and in its time more than half a million snow eggs have been ordered.
The flavours have changed with seasons – guava, white peach and mulberry combos have all made an appearance – but when Time Out visited the meringue globe was filled with feijoa ice cream, encased in a crisp, caramelised shell that tastes of fairy floss. The whole thing has a childhood appeal to it: from the creamy custard apple fool at its base, to the coconut granita reminiscent of smashed-up icy pole – only it's glorious.
When the restaurant reopens in July, there'll be no snow egg on the menu. So, if you want to try one for yourself you may need to take on the gargantuan task of making one yourself... The restaurant is currently booked out until its closure on April 1. If you're really hankering to splash some cash on a flashy dessert you can always try Peter Gilmore's other signature dessert – Bennelong's pavlova (seen below) – in the meantime.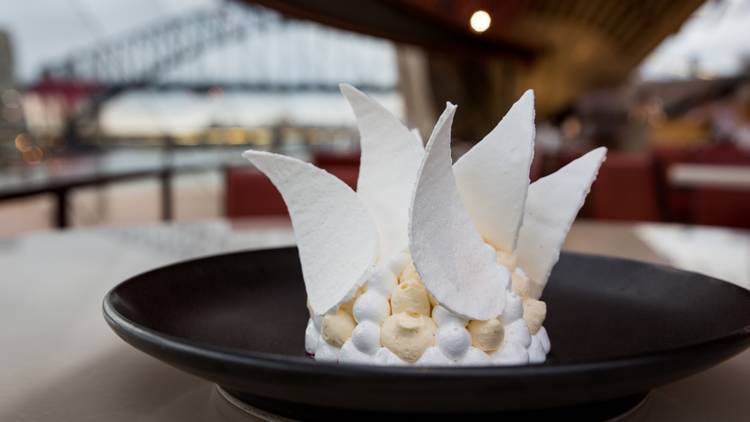 Want more of Sydney's finest? Check out our guide to the best restaurants in Sydney.
After a more budget friendly dessert? Check out Sydney's best sweet treats.