The best sweet treats in Sydney
Sydney spoils us with extraordinary takeaway cakes, pastries and frozen desserts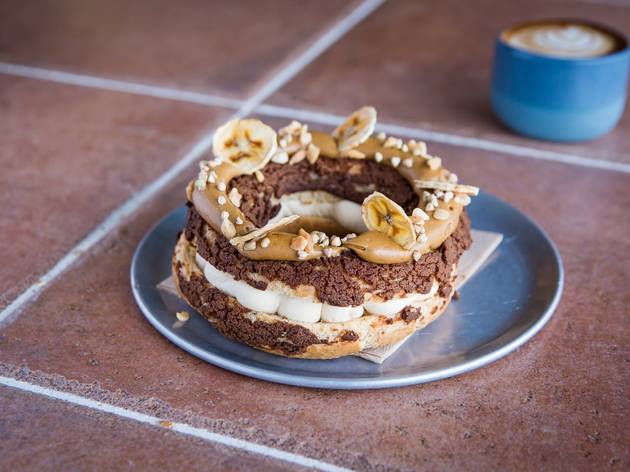 The best sweet treats in Sydney
Try the: Rose and lychee 'pig' cookie puff
Usually food that looks this fun never delivers in flavour, but not so with this little piggy. Frothy rose cream studded with teeny lychee pieces is encased by a fine choux crust. And it looks like a pig.
Read more
Try the: Portuguese custard tart
You don't get closer to the real-Lisbon-deal here in Sydney than with these bad boys. The custard filling is thick and sweet and the pastry flaky and caramelised – and cinnamon over the top is a must.
Read more
Try the: Strawberry watermelon cake
This cake never fails to be everything it's cracked up to be. Texturally it is perfection – light, fluffy rose-scented cream, softly crumbed almond dacquoise and crisp, juicy watermelon. The topping of jelly-like strawberry glaze, fresh strawberries, Iranian pistachios and rose petals complete what is truly a masterpiece of baking. Like Beyoncé, this cake just seems to get better and better, no matter how long it's been around.
Read more
Try the: Buttermilk and passionfruit gelato
Out of all the gelatos in Sydney, this is our pick. It's one of the few that isn't too sweet and doesn't have a gummy texture, and it's as refreshing as it is creamy, thanks to Mother Nature's favourite sweet'n'sour, passionfruit, not to mention the top shelf Pepe Saya buttermilk.
Read more
Try the: Ginger brûlée tart
This Bourke Street classic sees thick, rich custard infused with a slap of hot ginger, all encased in short, crisp pastry before being brûléed to add a bitter, balancing dimension.
Read more
Try the: Flourless chocolate cake
It's hard to find a good chocolate cake in this town, but Mrs Jones have nailed it: fudgy on the bottom and moussey on top (their trick is adding half the mix halfway through baking) and it's just bitter enough to keep it in adult territory.
Read more
Try the: Cheesecake
We're calling it – this is the best cheesecake in Sydney. The velvety cream cheese filling is light as a feather, while the butter-rich crust is pleasingly robust. Just don't try and eat this on the run, because she's very delicate little thing.
Read more
Try the: Panna cotta lamington
This timeless cake sees sponge that's been soaked in panna cotta to creamy tenderness matched against slightly sour cherry jam and sweet dark chocolate, all coated in texturally pleasing, waxy shards of coconut.
Read more
Try the: Baked ricotta cake
Pasticceria Papa's cheesecake is the stuff of Sydney legend. Enveloped in strangely but deliciously fudgy pastry, its whipped ricotta filling is light as a cloud and just tart enough. A fine dusting of cinnamon makes this one of Sydney's most comforting eats.
Read more
Want more? Find out where to get Sydney's best gelato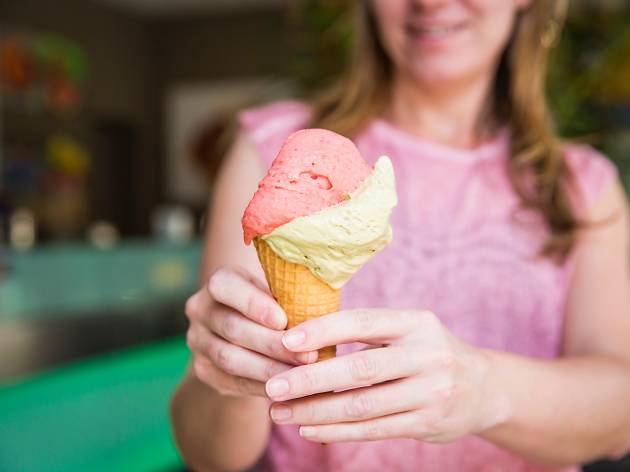 Ever since Messina opened back in 2002, Sydney has been head over heals in love with gelato. Which we always should have been, really, given that we are a seaside city that's also stinking-hot half of the year – because what do beaches and heat equal? That's right: ice cream. There are a thousand places to get it – from the gummy, overly saccharine crap, to smooth, silky excellence. Rest assured, though, that these ten are all in the latter category. Here are our top ten favourite gelaterias in Sydney right now.
Read more
Check out Sydney's best patisseries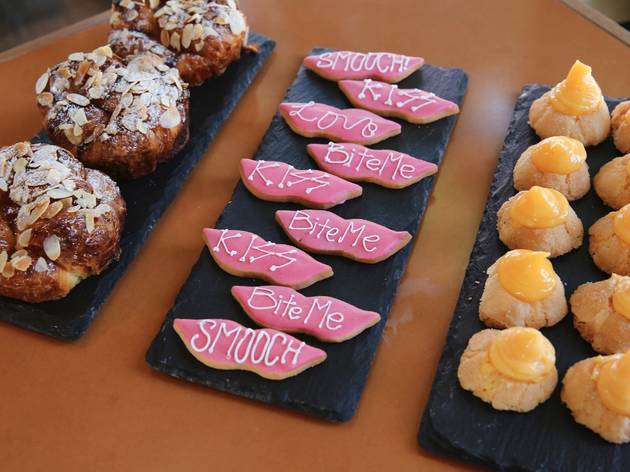 We're pretty lucky that here in Sydney we have some of the best darn pastry chefs in the country. From the genius that is the strawberry watermelon cake at Black Star Pastry, to that ginger tart at Bourke Street Bakery, here's where to get a lil'sweet stuff in Sydney.
Read more