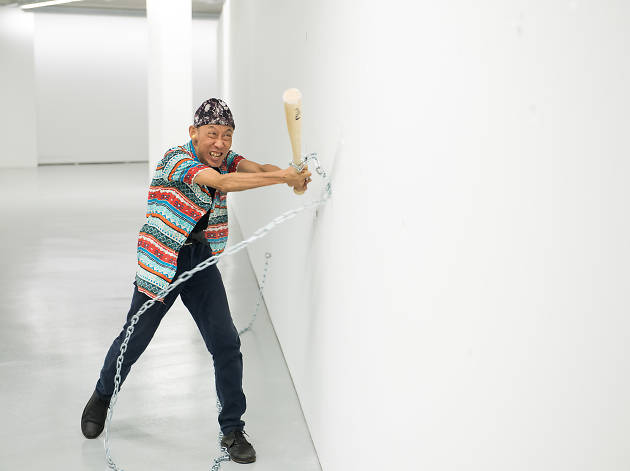 Six must-see works at Biennale of Sydney
Posted: Friday March 2 2018, 6:49pm
Mami Kataoka, artistic director of the 21st Biennale of Sydney (March 16-June 11), enjoys participatory art as much as anyone. But it has to be an experience that is more than "one-off fun" she says. "Often, people see a participatory work and as soon as they leave the museum they forget it. I need a little bit more than that. "
Kataoka has programmed a series of immersive, large-scale, participation-driven artworks across the city. Here she takes you on a tour of the works in which you can get your hands dirty, your fingers inky, raise the rafters with your voice and smack your frustrations out of the ballpark. And yes, there will be plenty to think about afterwards.
↑ 1.

Marco Fusinato

A musician as well as an artist, Melbourne's Marco Fusinato invites visitors to Carriageworks to pick up a baseball bat and pummel a colossal white wall – just once. Microphones embedded in the wall then transmit the vibrations to amplifiers, which beef up the impact to a resounding 120db throughout the gallery space.

"It's an extraordinary sound," says Kataoka. "But what does it mean in an art space? To me it's like throwing a chunk of rock into the ocean. But it's also an interesting metaphor for the anger and anxiety everyone feels in contemporary life. What would happen in the world if we were to release all our anger and emotion?"

There will be staff nearby to make sure you adhere to the rules. Two strikes? You're out.
2.

Yasmin Smith
Sydney-based ceramicist Yasmin Smith will install a large-scale participatory work in what was once a timber-drying shed on Cockatoo Island. It's an ambitious project involving the creation of an operating studio with a kiln and its own salt farm.
Using materials gathered from the island and salt from the surrounding water, Smith will create a forest of ceramic tree branches. The public contributes by offering their labour to the production of clay vessels for salt harvesting, Kataoka explains.
"I think ceramics is a very important thing to understand because it embodies so much human history and how we use natural elements: Earth and water made into some kind of form using fire. It is how our civilisation was formed."
3.

Ciara Phillips
Canadian artist Ciara Phillips will establish a working printmaking studio at the Museum of Contemporary Art and will invite community groups to work alongside her to produce new artworks.
"It is looking at the nature of printing itself," Kataoka says. "Printmaking is so important in the history of multiplying images and text and distributing them to the world … For Ciara, printmaking is about giving a voice to people and speaking out about something."
4.

Jacob Kirkegaard
Danish artist Jacob Kirkegaard's 2013 work 'Through the Wall' asks viewers to contemplate both sides of the barrier separating Israelis and Palestinians.
"It is a wall built in the MCA gallery space with sound contained inside – sounds recorded from both sides of the wall in Palestine," Kataoka says. "It's an interesting idea, experiencing both sides of the wall. Normally we see only one side."
Using highly sensitive microphones, Kirkegaard recorded a deep rumble all along the wall. "I also picked up sounds like the call to prayer from the Palestinian cities and villages that fly freely over the wall and into the Zionist settlements on the other side," he says. "I know what my feelings and political standpoints are about the whole situation, but my work should emphasise the importance of listening. And in this case I wanted to listen to the wall, and to both sides of it. To hear what the wall itself has to say."
5.

Oliver Beer

British performance artist Oliver Beer will set the Sydney Opera House ringing with one of his Resonance Projects, a performance-installation in which the human voice is used to stimulate architectural spaces to resound at their natural frequencies.

"We wanted to go back to the Sydney Opera House because it's where the Biennale started in 1973," says Kataoka. "Oliver is one of those genius people who can find a resonating tone of the space. It's like ringing a wine glass. You can do the same thing with architecture."

The Resonance Project will take place in one of the Opera House's usually inaccessible-to-public areas and the performance limited to the ten people invited to participate.
6.

Akira Takayama

In one case, the participatory element will have occurred long before the artwork is shown. On January 28, Japanese artist and filmmaker Akira Takayama invited Sydneysiders to sing songs to their ancestors from a hanamichi, a wooden bridge traditionally part of a Kabuki theatre set. More than 70 people took part in the Sydney Town Hall event, singing in languages including Gadigal, Yiddish, Arabic and Dutch.

"Akira says the origin of Kabuki is related to the immigration of people to other communities," Kataoka says. "We had close to 40 different languages. It is amazing to see how diverse the culture is in Sydney, and it's so beautiful how those cultures coexist."

The finished work will be a film, The Sydney Kabuki Project screened at 4A Centre for Contemporary Asian Art in Haymarket. "It is an epic of the entire 20th century," says Kataoka. "I like to think what we see in Akira's work is a microcosm of the history of the whole world."

The Biennale of Sydney is on from Mar 16-Jun 11.

See our hit-list for the best art in Sydney this month.

Share the story