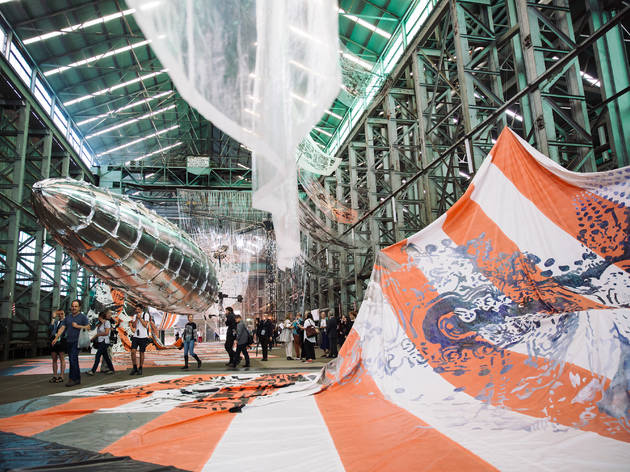 Galleries become "embassies", streets become galleries and art infiltrates everday life in the latest city-wide art takeover
The 20th Biennale is curated by Stephanie Rosenthal, who comes from Munich's Haus der Kunst, via a post at London's Hayward Gallery (who were behind the fabulously successful Light Show that toured to the MCA in 2015).
Rosenthal assembled an advisory group of 13 international curators, writers and theorists to help shape the Biennale with her – from the lineup of artists and works to the thematic strands, and the public programs before and during the festival. This advisory group includes curators from Tokyo's Mori Art Museum, New York's Guggenheim Museum, the as-yet-unopened Fondation Galeries Lafayette (Paris), the South London Gallery, Brisbane's QAGOMA, and London's ultra-hip Carroll/Fletcher.
Read our Biennale of Sydney guide to find out what and who is where.
---
Five things to know about the Biennale
It's all (well, mostly) about performance. Rosenthal's speciality is movement and performance-based art, and her Biennale includes choreographic giant William Forsythe (whose Quintett was performed by Sydney Dance Company in March 2015), Boris Charmatz, and expat young Australian choreographer Adam Linder.

The art has spread inner-west. More than a third of the Biennale artworks can be found at venues in the inner-west, and Rosenthal has activated two new venues in the area: the former train stop 'Mortuary Station', on Regent Street; and the Camperdown Cemetery.

The Biennale title is taken from the William Gibson quote "The future is already here — it's just not very evenly distributed." The theme, at its simplest, is understanding the 'now'. Rosenthal says, "If each era posits its own view of reality, what is ours? One of the key ideas this Biennale explores is how the common distinction between the virtual and the physical has become ever more elusive."

The art is arranged in 'embassies of thought': Cockatoo Island (Embassy of the Real); Art Gallery of New South Wales (Embassy of Spirits); Carriageworks (Embassy of Disappearance); Artspace (Embassy of Non-Participation); Museum of Contemporary Art (Embassy of Translation); a bookshop (Embassy of Stanislaw Lem); and the Mortuary Station (Embassy of Transition).

Of the 83 artists and collectives presenting work, there are 14 from Australia: Justene Williams, Nyapanyapa Yunupingu, Richard Bell, Daniel Boyd, Adam Linder, Lauren Brincat, Jamie North, Mike Parr, Brown Council (Frances Barrett, Kate Blackmore, Kelly Doley, Diana Smith), Agatha Gothe-Snape, Archie Moore, Keg de Souza, Erub Arts and Ken Thaiday Snr.