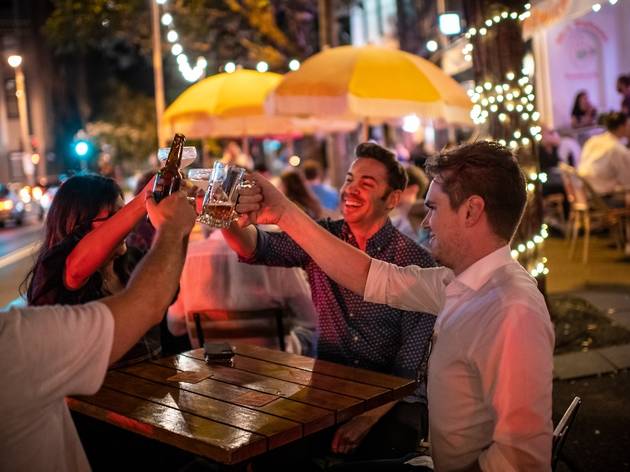 Brand new alfresco dining spots in the city
Dine like a champion at these outdoor locations in the city, Surry Hills and Darlinghurst
One of the unexpected benefits of Covid has been the loosening up of regulations when it comes to restaurants and bars and their usage of the streets. At the end of last year the City of Sydney began trialling a fast-tracked application process for outdoor dining permits as well as offering new on-street dining opportunities. Fees are being waived, trading hours extended, and venues now have more freedom to turn car parks and footpaths into dining space.
Your lunch or dinner in the city, Surry Hills and Darlo is now more likely than ever to be out in the open air in a Covid-safe, outdoor environment. Check out some of these Time Out recommended restaurants, cafés and bars offering alfresco – a list that is growing all the time.
If you're lunching outdoors the City of Sydney would love to hear about it on social. Use the #alfrescosyd hashtag to share your experience.
Eat and drink out of doors
This Circular Quay café opposite the Marriot in Pitt Street boasts the Wood Roaster coffee, an eclectic menu and a couple of rainbow lorikeets as loyal customers. Take your latte and chicken burger with sweet potato fries out on the street, as alfresco seating is now available.
The Australian outpost of the New York classic bar is all gleaming brass, the garnishes laid out on it in heavy tumblers. The music is '80s pop, and the bartenders wear chef's jackets with the word "Bartender" embroidered where a person's name might go. The full menu runs from five to 11pm, the bar menu runs to three in the morning and, as with all Employees Only bars, complimentary chicken soup is doled out to the faithful at closing time.
This ultra-glossy coffee and juice joint (which is a part of a chain that hails originally from Denmark) is an excellent freelancer or officeworker pitstop. You'll find Wi-Fi, plenty of tables with powerpoints, a meeting room (which is available for booking) and of course, loads of smoothies. Nowadays you'll also find plenty of on-street seating with cute little wooden tables.
Not only does the Dolphin boast a buzzy public bar, dining room and open air terrace, it also has a wine room and salumeria. The venue got a major overhaul in 2016 and a tweak in 2020, and now every dish on the menu is available no matter where in (or out) of the Dolphin you happen to be sitting. The Crown Street passing parade is always good for a gander, so be sure to make the most of the outdoor seating.
This Mexican joint can be found on Pitt Street in the city, doing a roaring trade in guac and blackened corn, messy, glazed pork ribs, lamb shoulder tacos and agave-glazed caramel fudge. The wine list is almost exclusively sourced from Chilean, Spanish and Argentinian wineries and for the adventurous there is also a chilli beer. They have a massive tequila list but also do chia-based non-alcoholic cocktails. Enjoy it all out on the street if you wish.
The Big Easy pays homage to N'Awlins across two cosy levels on the busy Stanley Street strip in Darlinghurst, accented by exposed timber, plenty of greenery and the soft glow of fairy lights come nightfall. When it comes to the cocktails, expect twists on some of the canon's greatest hits, like a Sazerac with a hint of yellow Chartreuse and lemon bitters, or naughty take on a Mint Julep spiked with chocolate bitters, chocolate bark and a chocolate-stout syrup. Snacking takes a similarly American bent, headlined by their famous Louisiana Fireball Fried Chicken.
Brick Lane is a thoroughly modern iteration of a curry house, which is why it has managed to slip through the Italian stranglehold on Stanley Street and set up shop in an old terrace. Their roti tacos are the stuff off legend, and you can get two plus a tinnie for $20 at lunchtime Friday and Saturday. You can also get a bottomless 90-minute feast for $55 at any time – the price includes wine and beer. Now you can eat at Brick Lane alfresco and pretend it's the famous London curry strip that gave it its name.
A building with great old bones, cold beers and a classic steak Diane, the Republic Hotel has been around since 1865 if you can believe it. Right now they have a four-part offering: Republic Bar at street level, Republic Dining up one level, event space Taylor's Social Lounge on three and open-air Taylor's Rooftop bar up top. But that's not all, because the fun has spilled out onto Pitt Street for a more Covid-safe outdoor experience.
Sometimes brunch is an event, which is when you go to Bills. Dress up, aim for one of on-street seats and embrace a little breakfast cocktail – everyone is doing it here, so you'll get no side eye. This is the number one spot for American style-brunching with booze, where your perfectly poached eggs are served in a light, bright, elegant space and white awnings keep the sun off the footpath tables.
Corduroy is the third prong in the trifecta of awesome that sits at the top of Foster Street. You'll find it tucked in next to Tio's, everyone's favourite den of tequila-soaked iniquity, and the Hotel Hollywood. Coffee comes first here. With Little Marionette beans in the grinder they punch out some really excellent espressi to the soundtrack of sweet '70s tunes like Mungo Jerry and Fleetwood Mac. The long, narrow café is more of a fly-by joint, but if it is a sunny day you can perch on the concrete planter boxes out on the corner, or take a seat on one of the sweet little wooden stools that look like giant buttons up the back the room.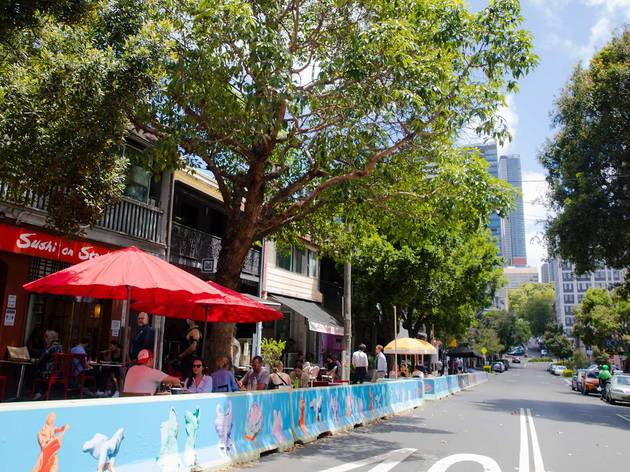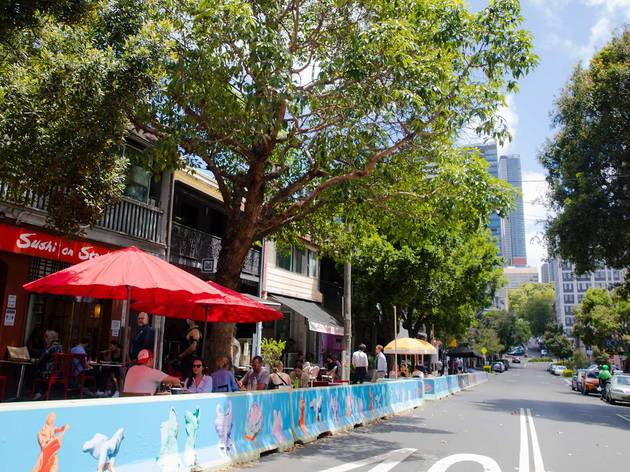 Photograph: Supplied/City of Sydney
Stanley Street is reborn! Sushi on Stanley joins its neighbours Bar Reggio, Noodle Bay, the Big Easy, Brick Lane and Dumplings and Beer in having a new alfresco space, lined by a decorated concrete barrier. The longtime East Sydney eat street is now a fully fledged outdoor dining precinct. Get down there and check it out.
Nomad is back in its original Foster Street home, with double the seats, more open-kitchen dining, and a whole new menu (though some of the favourites are sticking around – we're looking at you, kingfish and coriander crackers). It has also extended its trading hours for summer, so you can now book in on Sundays from noon to 3pm for a long, lazy weekend lunch. Nab an outdoor table for the best vantage point of Surry Hills' street-side action.
All venues will follow Covid-safe regulations and guests are reminded to follow the latest NSW Health advice regarding social distancing, hygiene and staying home if unwell.
Best selling Time Out Offers