Our favourite places to eat hummus in Sydney
Because hummus = everything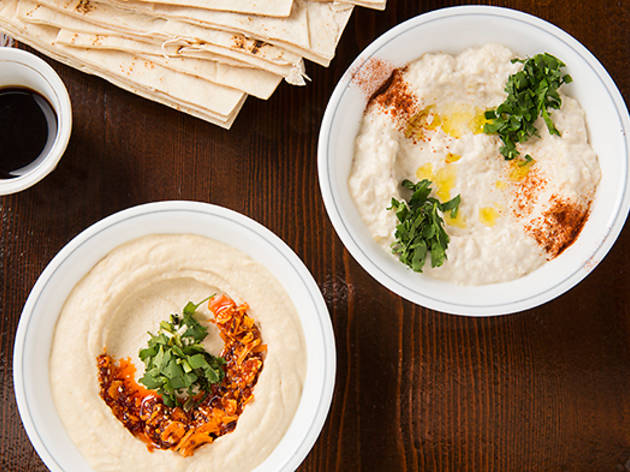 We love hummus. You love hummus. The whole Goddamn world loves hummus. It's pretty much a human condition to love hummus. So here are the hummuses we are loving in Sydney right now, as a celebration of the creamiest, carbiest dip of all.
At Kepos & Co they make the hummus at the table, crushing hot, soft chickpeas into a rough paste in a pestle and mortar in front of your eyes and topping it with fruity olive oil. Order the house-made flatbread on the side – it's soft, thick and puffy, almost like a focaccia, but charred.
Read more
Emma's do hummus all kinds of ways ­– go spicy with a slick of warm, garlic-infused chilli oil spilled over the top, try it with roast pumpkin, or served as a kawarma – topped with spiced lamb mince and toasty pine nuts.
Read more
Before you even sit down, all branches of Al Aseel have flatbread and mixed pickles waiting on the table. Order up some of their creamy, substantial hummus and get dipping while you wait for the rest of your food to arrive.
Read more
At Shenkin, hummus isn't just a side dish; it's the main event. They serve it five ways on their 'hummus plates' – topped with minced beef; fava beans and boiled egg; grilled eggplant; mushrooms and onions, or solo. Plus you get two falafels and pita bread on the side for dipping. And you can even get it delivered to your door by foodora. True story.
Read more
And there's always this...
Hit up this definitive list of restaurants all around our fair town serving up tasty food at prices that won't leave your wallet empty.
Read more